Those of you who have read my previous articles may have gathered that I love trees. So when we drove down into Blackwood Forest, surrounded by green majesty, I felt relaxed.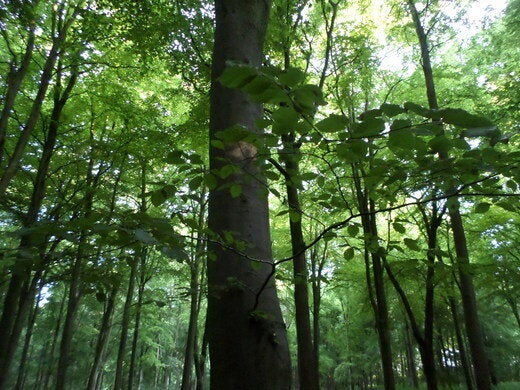 Family trees are also a great interest of mine. Unfortunately, my own family tree has had a bit of surgery. A few branches have been cut off and some of that wood has been used to fuel fire. However, recently, this tree of mine has seen some new growth. I'm pleased to feel strength in it again.
My sister and I were split up at aged nine and 11 respectively. She lived with Dad. I lived with Mum. We saw very, very little of each other over the years. We made a few attempts at reconciliation over the last few years, but this was difficult due to the extent of our pain, the strength of our emotions and the distance geographically, since we lived on different continents. This year, 27 years on, I spent a few months living a mere 20 minute drive from my sister's home. More importantly, we had something new in common, we were now both mothers of three children.
Just hours after we landed, my sister, and her gang, came to see us. She came to meet her niece and nephews for the first time, and I got to do the same. The six cousins were not shy with each other (for very long) and were soon playing with giggles. My sister swooped up each of my children in turn to squeeze some Auntie love into them. I was not quite so forward, her three are a lot older than mine and I have missed out on much in their lives. I felt guilty.
As the weeks passed, my sister was a star in carving out time for us, to help where she could, to enjoy the company of my trio, to be an auntie. I was not able to do the same, since her threesome went to school and had an impressive list of extra-curricular activities. What I could do was invite them on a family holiday. We were, after all, a family.
A Golden Oak Treehouse at Blackwood Forest with Forest Holidays, was the perfect place for six kids aged between two and twelve, two mums and a grandmother. In short, it's the perfect place for anyone.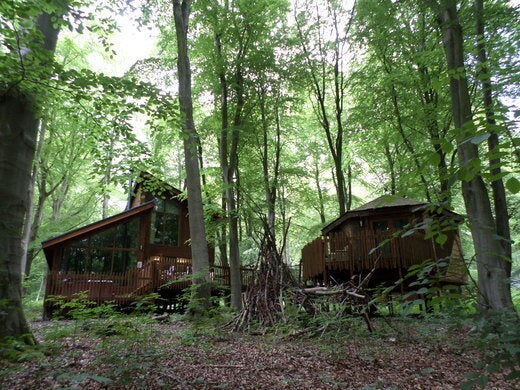 Stepping into the spacious cabin, the glass wall offering an emerald view immediately worked its magic on us. It halted all movement and extracted from us a communal exhale. Nature.
The four bedrooms of the main cabin were quickly allocated. I smiled as I stepped out of the backdoor, crossed the deck and beamed as I strolled across the bridge to retreat into nature even further, since I wood be dreaming in the treehouse extension... with my two-year old daughter.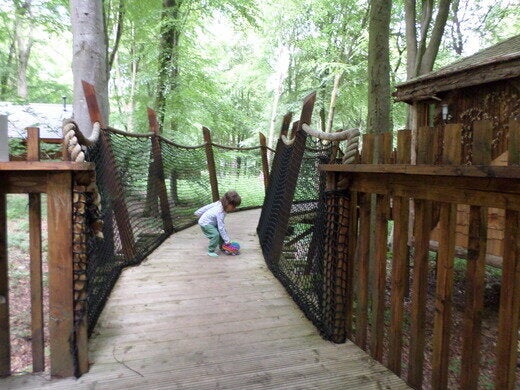 Crossing that bridge to the treehouse could be seen as falling into the hole that led to Wonderland, since the treehouse was whimsically decorated with images of Lewis Carroll's characters. However, it was the magnificent character that stood just outside of the treehouse which was the true wonderland of our adventures, Blackwood Forest.
We introduced ourselves to this verdant giant by slipping into our bathing suits and jumping into the hot tub out on the deck of the main cabin. The vista from the steaming, bubbling water bath was therapeutic and surreal. Several times throughout our stay, I took pause and devoured the backdrop, thinking, "This just does not look real." Have we moved so far from nature that its beauty seems so unreal or is it a sign that our souls recognise what is truly breathtaking, and hunger for it?
Our four day immersion into nature took us down many pathways. We admired the pillars of the forest, embraced and celebrated the fallen, where cartwheels were performed on logs and dens were engineered as a team. I headed a nighttime expedition with the young of our tribe, where slug-trails glittered in torchlight and the snapping and crackling of our footsteps were cause for excitement.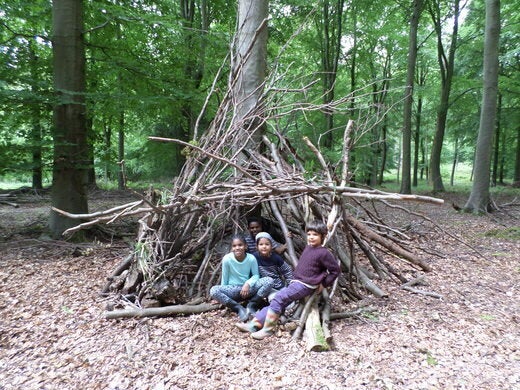 Before we broke our fast in the morning my sister and mum also led yoga sessions on the deck, again, I have to bow down to that serene view that we faced as we stretched and inhaled. They also prepared all our meals with love, we broke bread together and enjoyed each other, all nine of us at one table. A family.
Despite our distance over decades and continents, spending those four days together, listening to nature, listening to each other, I now feel as close to my sister as I did in the fondest of my childhood memories. I also now feel I've embraced the role of being an Auntie. I will forever cherish the words of my sister's second born, as he and I found ourselves alone, walking and talking, "Auntie Harmeet, imagine a whole field of moss this thick and just walking barefooted all over it."
I give thanks for the healing power of nature, of Mother Nature and of human nature. Oh, and the hot tub deserves a big thanks too. It was the scene of many giggles, smiles, questions and answers... and a party too!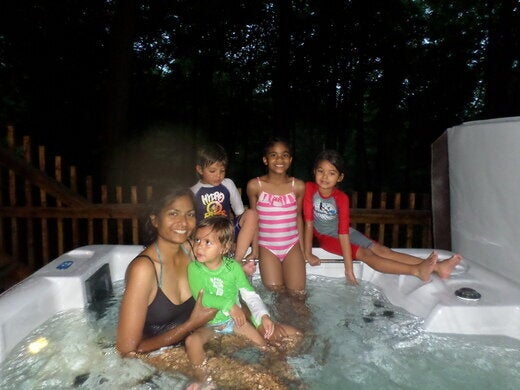 "In every walk with nature one receives far more than he seeks." John Muir