San Miguel de Allende, a small colonial city in the central highlands of Mexico has been honoured with many accolades, the most recent being named as Latin America's Best City by Travel+Leisure.
Being familiar with this UNESCO World Heritage Site city, in the state of Guanajuato, I decided to re-visit San Miguel de Allende, as a tourist, with my three young children and husband, relishing the No.1 spots of this No.1 city.
We checked into Belmond Casa de Sierra Nevada, where Alejandra welcomed us. Her warmth and smile immediately put us at ease since she encouraged the kids to be involved in the routine of check-in, and let's be honest, happy and engaged kids means relaxed and happy parents. We were off to a great start.
We had arrived a little early so our rooms were not yet available to us. We were all a little hungry so the logical choice was to step across from reception into the hotel's restaurant, 'Andanza'. The menu was so appealing that being a member of a family of five again proved beneficial, everyone ordered a different dish and I had a cheeky sampling of them all. The three tomato soup with goat's cheese pearls was my favourite of the starters, I loved how it was poured over the slender tortilla chips. The main that was devoured con much gusto was the Tamarind Salmon Supreme with Amaranth Tabbouleh. One of my six-year-old twin boys, ravished it without commentary, I was lucky to get my fork to it!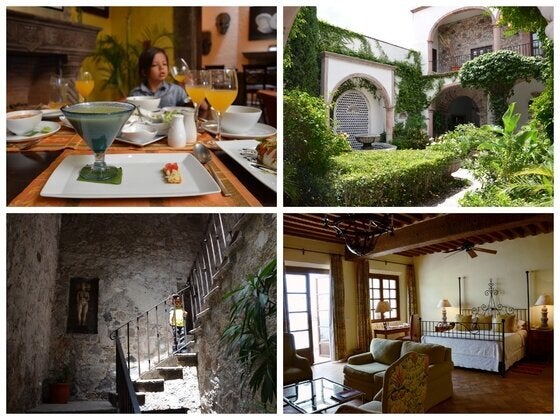 Once we had thanked the wait staff for a wonderful meal, we were advised that when we were ready someone would accompany us to our rooms. The kids did a little dance since they knew they would soon be catching sight of the swimming pool, always No.1 on their list of factors that make a great getaway. Their excitement was infectious, the staff joined in with the dance for a brief moment. Mexico: if there are kids about there are smiles, if there aren't kids about there are still smiles. Viva!
We were led out of the building to cross the narrow cobble-stone road, where we had earlier seen a donkey wearing a Mexican sombrero, carrying a beautiful arrangement of colourful tissue-paper flowers. The sound that burro made as it clip-clopped on the picture-perfect road was magic. The building directly opposite reception, Casa Limon was equally magical. We stepped into one courtyard, were led through a short art-filled corridor and up into the central garden where stepping-stones traversed the lawn and guided us beside the pool, under stone archways and into our luxury suite.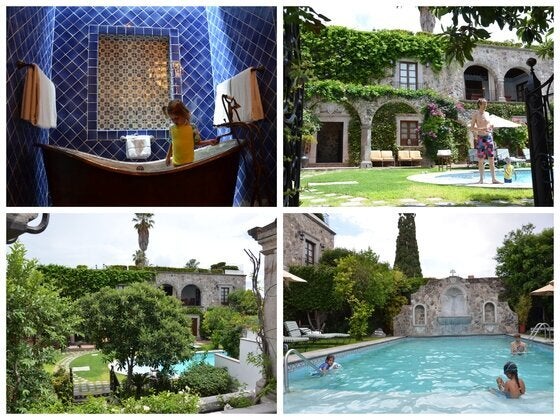 My first thought, after "Wow!", was that I wished we had booked more time at the hotel. After just a couple of hours at the hotel, one of my sons already asked if we might be able to return to Casa de Sierra Nevada sometime. "I'd love that!" I enthused in support. Casa de Sierra Nevada was nothing like our own casa, but we sure felt at home. Between leisurely meals, the elegant pool, the on suite plunge pool and the beaten-tin, free-standing bathtub, our time was going to zip by, and we had yet to take a stroll about Plaza Principal.
We did eventually get the kids dried off and off of the hotel property. We moseyed-on-down around the two corners to the vibrant town square. That dressed up donkey had not travelled far, as there it was pleasing the under-8 set with rides across the plaza. Mojigangas, giant puppets, spun about as a 13-piece brass band played crowd-pleasing tunes whilst couples of all ages danced about in complete joy. Colour, music, the smell of street tacos, this was the heart of the town, the pulse was strong and the beat was grooving. My three year-old daughter chased the mojigangas around, running back to us in giggles, the boys' eyes were fixed up on a drone recording from its birds-eye-view the spectacular wedding party gathered outside the pink Parroquia, baroque-style church which presided over the plaza. Viva!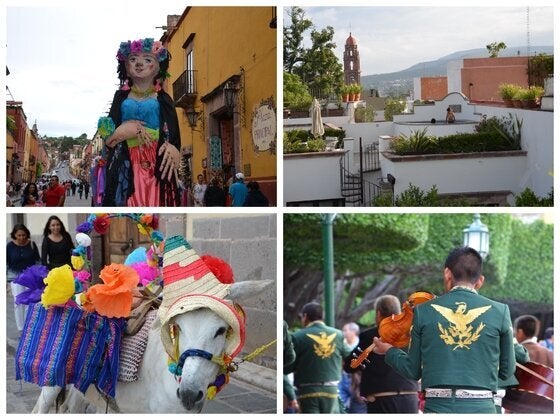 Us parents had grabbed some coffee from 'La Ventana', an adorable little window from which to purchase your organic coffee, from the Mexican state of Chaipas, on our very short walk from hotel to the plaza. We were now on the lookout for a similar treat for the kids. We didn't have to search for long, as a queue outside 'Churros & Chocolate' on calle San Francisco told us there was something worth waiting for. Both the finger-shaped, sugar-covered doughnuts and the rich Mexican hot chocolate were just what the kids needed to stay up way past their usual bedtime, so as to take a dip in the rooftop plunge pool whilst watching fireworks overhead. Viva!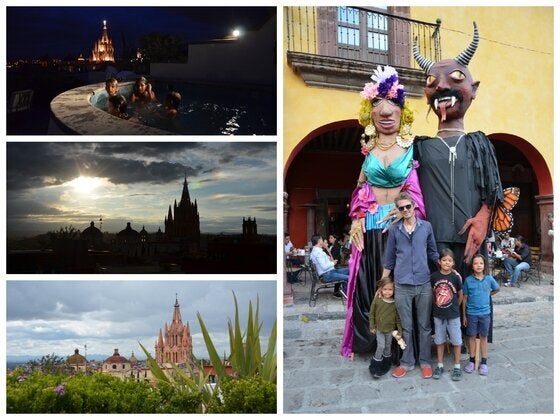 If you'd like to know more about San Miguel de Allende, just ask me in the comments below.