Bliss. From the second that we stepped into our oceanfront one-bedroom suite at Belmond Maroma Resort and Spa, I knew that we had stepped into a beach experience like no other we had previously known, and that maybe, just maybe, all other beach holidays would score second, at best. The huge private plunge pool right on our door-step was a massive indicator of what was to come. We had entered the realm of the 'ultra-luxurious'.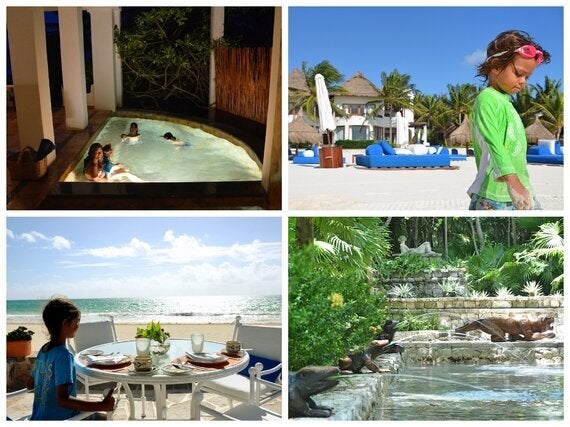 The view to the heavenly hues of blue of the Caribbean Sea from the large, light living room would have been enough to hold me for hours each day, but as a mother of three young children I do not have that privilege of 'me time' right now. The way the years are passing, it won't be long though! So I followed my trio into the master bedroom, where M'ax the crocheted monkey was waiting to meet my three-year-old, and an array of gifts and garlands greeted my twin boys in their bedroom. (Okay, this might actually be a two-bedroom suite since the yoga/weights room is easily converted into an ample second bedroom if needed.)
The step-up, step-down bathtub-built-for-two, complete with oversized candles perched on individual shelves were a treat for when the kids were asleep. To hurry that bedtime along, the double shower room showed us its worth. We could choose between the indoor shower or the outdoor shower. Only ten minutes into our stay and we were already envisioning spending the rest of our lives there. It would be pure bliss.
A complimentary bottle of red wine and a beautiful arrangement of fruit was found on the table top. Was there anything Belmond Maroma had not thought of? Clearly not, as there was also a beach bag, sarong, slippers and kaftans to be discovered, including kaftans for the 'mini-mes'. Splendid!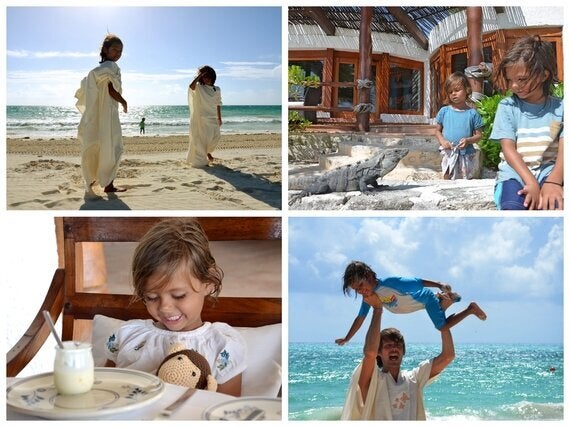 Without further ado, we were barefoot on the powdery white sand right in front of our suite, heading straight into the lapping waves of the incredibly clear Caribbean sea. We were floating on bliss.
The next day started earlier than usual, and considering we had contemplated not sleeping at all for not wanting to miss a minute at Maroma, we were pleased. But the four-poster bed, draped with white gauzy fabric and my choice from a cocktail menu of essential oils made closing our eyes on paradise easier than expected. Waking up to paradise was even easier. Piping hot coffee and hot chocolate was placed outside our suite. We had only to bring it in, place it on the coffee table, serve and sit back to feel, once again, amazed by such a heavenly vista.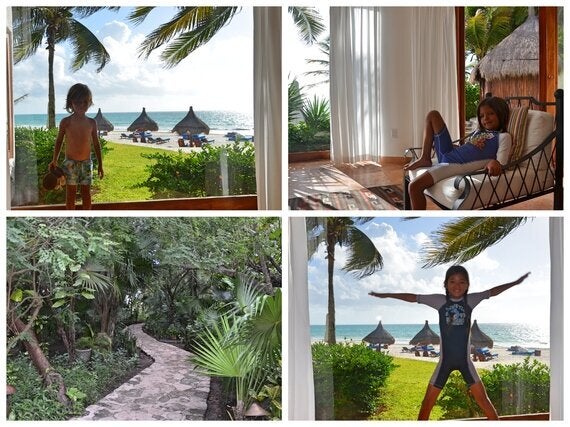 The day was spent blissfully, with strolls along the beach, scrumptious food, sand play, surf, suite time to make sure we enjoyed the use of our private plunge pool, siestas for the youngest, and even a mummy-and-son spa session at the award-winning Kinan Spa. Yes, we were thoroughly spoilt!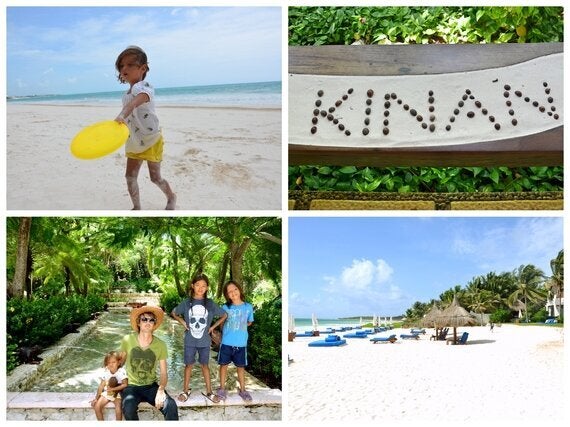 For dinner, we did something that we need to do more of... 'Date Night'! I took my twin boys out to El Restaurante, and Daddy ordered room service with our three-year-old daughter. I got to enjoy the faces and excitement of my six-year-olds who, just as the cliche says, are growing too fast. I delighted, by candlelight, in their hunger for life and the restaurant's wonderful food. Sorry, no photos here, we were too busy enjoying all that was in that very moment. The flavours, making eye contact, giggling, sharing, the sea breeze and the sound of the waves meeting the shore.
We walked along the beach back to our suite, where we found daddy and daughter telling stories on the sofa. We all found a seat, and we ended our night, as we do almost every night, in a 'Thank You Circle', and gave thanks for such a magical day. Bliss at Belmond Maroma. Truly a little piece of paradise!