I fell in love with San Pedro. Warm wind carried on the sea, at Ambergris Caye.
On mainland Belize, when we were asked where we'd be staying on Ambergris Caye, Belize's largest island, everyone (without exception) said that we were in for a treat at The Phoenix. The resort is blessed with a trifecta winning position of being 1) in the centre of San Pedro town, 2) on the beachfront, and 3) magically tucked away, giving you with a sense of being "away from it all".
We checked-in to The Phoenix and the staff had our three young travellers chatting away, allowing us to enjoy our welcoming (and welcomed) rum punch with ginger cocktails, the resort's signature tipple. We were lead to our two-bedroom Caribbean view suite by Tatiana, who continued to tease out more tales from our trio, but when we entered the suite, the kids were off. The suite was huge, and they were eager to explore. Us parents, we were left standing excited and thankful; for the stylish yet homely space in which we could sink into, for the thoughtful inclusion of a mobile phone (with twenty Belizean dollars worth of credit), for the fully equipped kitchen, for the tucked-out-of-view washer-dryer (as a family of five emerging from a week in the Belizean jungle this was a prize), for the Jacuzzi tub (another prize), the list goes on... And, oh, did I mention the Caribbean Sea view? Past one of the salt water swimming pools, over the grassy garden was the waterway to a marine wonderland. Every now-and-then, a boat would travel by, carrying adventurers to and from the second largest barrier reef in the world. The reef was part of our view, and the breaking waves were continuously beckoning us to grab hold of our masks and dive in.
We found we didn't actually need to get wet to lay eyes on some spectacular sea-life. A walk to the seawall by the hotel had us pointing at hundreds of tiny fish swimming in the shallows, larger fish swam (yellow fin snappers we were to learn) around the jetty where local kids were snorkelling, and a walk back down the jetty had me gasp as I saw a stingray gently pass under the wooden slats. It led me back to the gate of The Phoenix. Both north and south of our home-away-from-home were a number a dive shops. We walked two minutes north and were attracted to the sea-green wooden hut with a pirate flag waving boldly. Chuck + Robbie's Dive Shop soon had us signed up for the Hol Chan + Shark Ray Alley guided snorkel adventure. The repeat scuba diving clients who were hanging out on the dock (and who described Chuck + Robbie's dive team as friends and family) were so animated when chatting about their experiences at the reef. We left the dock with cooling watermelon slices in our hands and excitement in our hearts.
Hol Chan Marine Reserve, established in 1987, is testament to how a reef can flourish if respected and protected. Our family of five headed out with our guide 'Tallest' to the cut in the reef, which channels a strong current and generates a richly diverse underwater world. With all the environmental disasters that we hear of, I was not expecting the reef to be teaming with the kind of marvellous marine life that we witnessed in spectacular visibility conditions. Frequently, 'Tallest' would grab our attention with a "Check it out!", and lead our eyes from wonder to wonder. A variety of coral was home to parrot fish, blue-tangs, squirrel fish, four-eyed butterfly fish, a green moray eel, and my personal favourite, a spotted eagle ray. The myriad of fish, some seen in tightly packed schools, was beautifully reassuring. Hol Chan is Healthy. Hol Chan is Hope.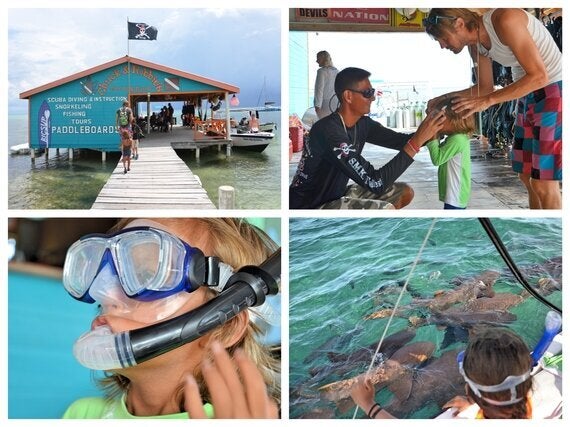 Returning to land after such an incredible adventure was made easier by the fact that we were returning to The Phoenix. The enormous suites provide you with the space and amenities to completely relax, and the Happy Hour at the bar brings guests together to exchange stories of their 'UnBelizeable' adventures. I spoke to a guest who adored diving and she was currently clocking up her 11th stay at The Phoenix. Its website talks a great talk, and well, it walks a great walk and in more ways than you may imagine. Saturday mornings invite guests to participate in a beach sweep, a bold and important resort activity. Gloves and bin bags are provided and The Phoenix team leads a clean up on the beachfront, to the Blue Water Grill restaurant, and then back along one of the roads. My three young children, who refuse straws in drinks as a small way to trend lightly upon this earth, were eager to join in whilst chatting away about the many ways we could all help to reduce consumption in order to reduce waste.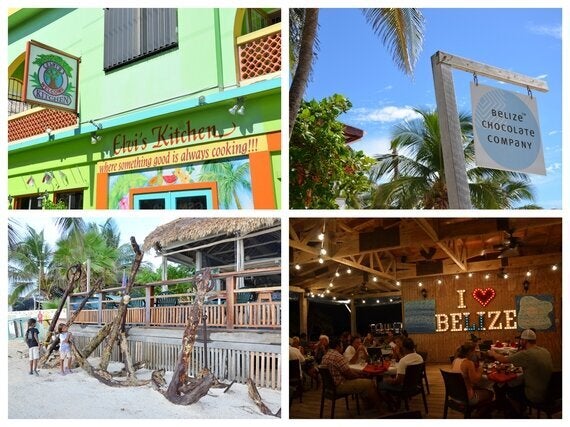 The Phoenix resort has won numerous awards, which comes as no surprise to me. It knows how to treat its guests, it knows how to treat the environment and it's not afraid to show it. The Phoenix is one haven that will help keep Ambergris Caye, La Isla Bonita.