We live in San Miguel de Allende, Mexico; a beautiful colonial city known as the 'Cradle of Independence'. We have seen some spectacular September celebrations over the years, multitudes rejoicing for freedom, cheering for liberty. Viva! This year, we found ourselves in on a small and paradisaical island in the Caribbean sea, Isla Mujeres, just a 20-minute ferry ride from Cancun. Festivities were just a fraction of those that we were used to, but the island life gifted us a dreamlike independence that we shall treasure forever.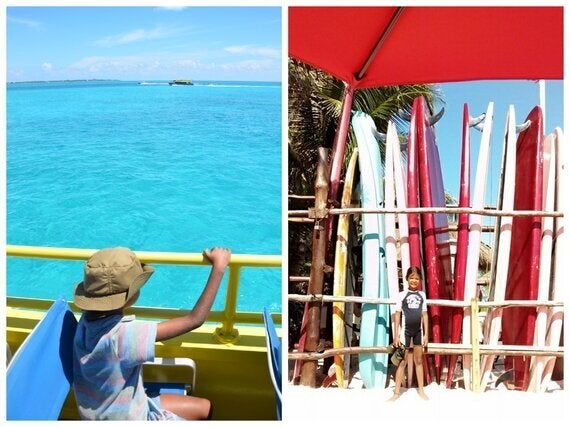 We choose Na Balam Hotel and Beach Resort for a couple of reasons. Some good friends of ours have a cat called 'Balam', meaning Jaguar, and the Mayan arches within the hotel seemed so familiar to us, having visited a number of Mayan ruins, that we just felt right at home. Na Balam, house of the jaguar.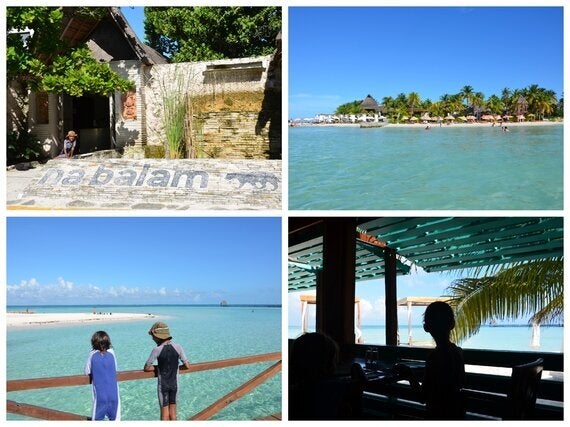 Once we had checked in and deposited our luggage into our spacious family suite, we rushed to get into our beachwear and get into the water. The sun was shining and we were hot. We were told that Playa Norte was great for kids, but we were totally unprepared for what was just 20 metres away from our suite. When our feet hit the sand our gaze was fixed on the expanse of crystal clear, turquoise water, lapping gently onto the shore. It was incredible. Furthermore, the shallows stretched out to the buoys 50 metres out, so that an average height adult was still barely shoulder deep in water, giving my three-year-old non-sea swimmer a huge area to splash in and wade about in. It was unlike any beach I have ever visited (and within Mexico, I have visited quite a few!).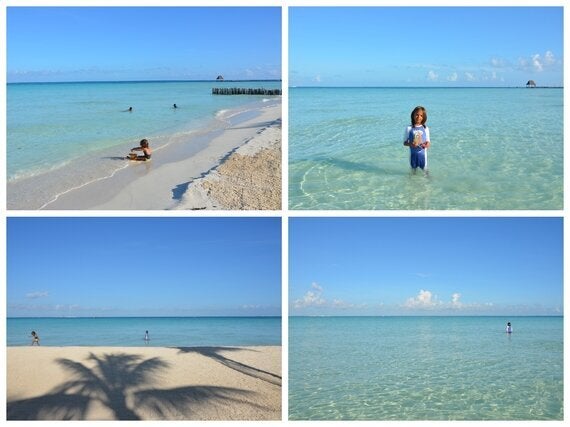 Exactly where the sea met the shore, a few white-sand coloured fish with yellow bellies and big black eyes swam up to meet our toes. A little snorkelling close to the line of yellow buoys introduced us to a starfish and a type of ray (whether it was a stingray or a manta, I could not say, we kept our distance). And magnificently hundreds of small fish leap up out of the water, and then a second time, to dazzle us with their sliver splendour. Admittedly, on the other side of the line of buoys were anchored boat, after boat after boat. At one time there may have been 45 daytrip boats bringing visitors in from Cancun. However, since the mornings were so peaceful, with several hours of having the beach and waters to ourselves, we found the comings and goings of vessels interesting and thankfully the music was managed so that just one tune was playing for the beach at any one time, and there were a few awesome tracks being played. Once the day-trippers departed, there were just a handful of sun-kissed swimmers left to enjoy the sunset. It was just perfect.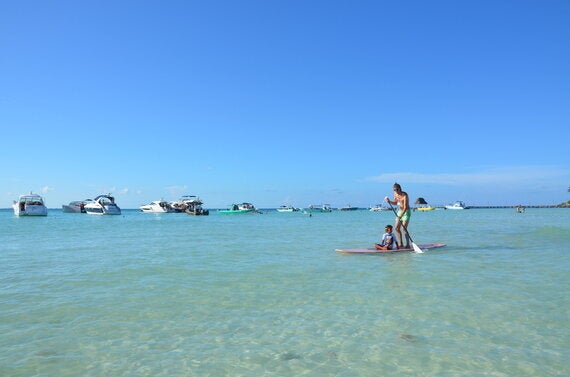 We continued our holiday by exploring the ways in which we could enjoy the waters. We rented out a paddle board from SUP Boards just a couple of doors down from our hotel. My six-year-old boys balanced and posed as they imagined themselves to be the surfers they aspire to be. Mama and Papa took their turn too, and Stand-Up Paddling provided quite a different perspective. I really enjoyed it.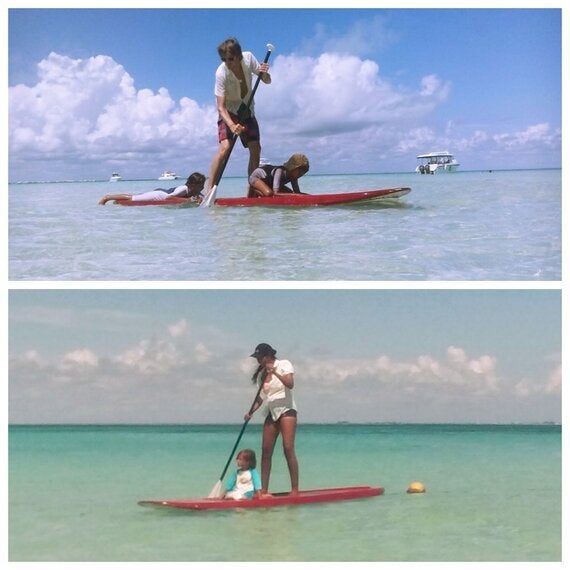 SUP boards is also right beside Fenix Restaurant and Beach Club where we enjoyed some delicious meals, including Massaman Curry and some succulent skewered skirt steak. We alternated between masking and snorkelling in the cove and below a cute wooden bridge, where a mix of colourful fish surrounded us. We kayaked in pairs or solo, and my three-year-old often jumped overboard. The shallow waters gave her a confidence and independence that she looks for as she tries to imitate all that her older brothers do. It was not long before she was edging to deeper waters and wading became trending water, which then in turn evolved into swimming, which became proud shouts of, "Mum, look at me!".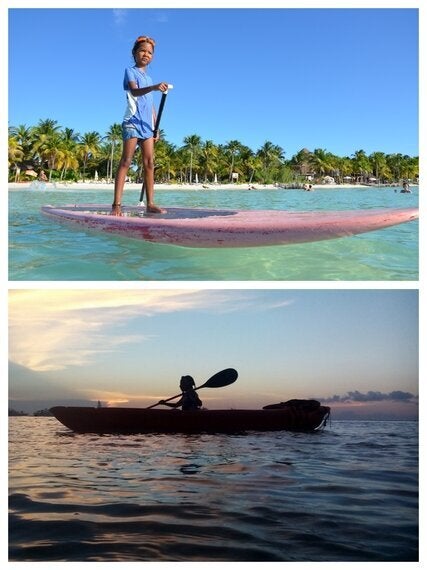 Na Balam is not only located at the top of an incredible stretch of beach, it was only a 10 minute walk to the pedestrianised Avenida Hidalgo which boasts variety of restaurants. We enjoyed the evening walk but stuck with Fenix, since the food and service coupled with the sound of the sea and the sight of the full moon rising was all we could have wished for. Plus, once the kids had eaten, they could just get up to join other children to play in the sand, whilst us parents got to enjoy a drink or two and admire our kids growing into their space, showing us more of themselves, becoming more independent.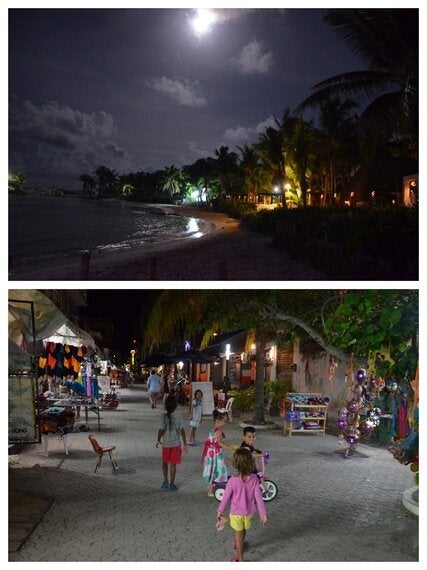 Isla Mujeres, your gentle island ways have made an incredible impression on our young individuals. Viva la Independencia!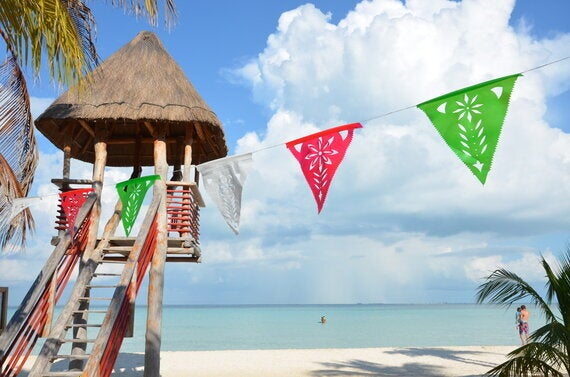 For more details on hotel Na Balam, please visit nabalam.com
Share your island recommendations with me in the comments below.