When I first met my husband in Mexico, the opening lines of two people from England went something like this... Why was he in Mexico? For the sunshine. Why was I in Mexico? For the sunshine. So we already had something in common. It was January and we were both in short sleeves under a beamingly blue sky. The natural topic to turn to was further tales of travelling. He impressed with talk of combi driving the perimeter of Australia, I reciprocated with roadtrip revelations along route San Francisco to Las Vegas. I spoke of Cuba, he talked of Tulum. This was twelve years ago. We have just visited Tulum together, with our three young children. He did not do Tulum justice!
Okay, so much has changed in Tulum since his month or two of hammock sleeping under a palapa for twenty-pesos-a-night, and riding a bike several miles up the road to pick up groceries since there were no restaurants along the beach. The road parallel to the beach is now inundated with every kind of food you could desire, every kind except the cheap eats kind that is, you'd still have to old skool it and hop on your bike to Tulum town for that. There are also still hammocks to jump into for a night's kip but the price tag attached to that hipster hammock woven from the hair-of-mermaids might not be so conducive to sound sleeping. However, that Carribean sea that is there today was there twelve years ago and... He did not do Tulum justice!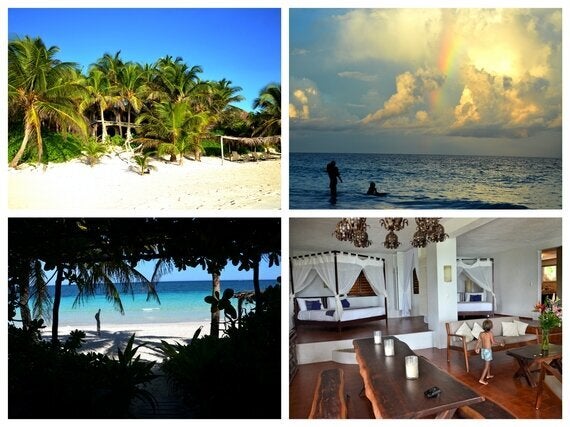 When we drove up the highway to heaven, I had my face pressed up to the glass, trying to car-window-shop to determine where we would be dining during the days (and nights) to come. We were heading to Casa de las Olas, which would be our home in Tulum, and since it has the incredible address of the last property before entering the Sian Ka'an Biosphere I had the opportunity to give every place on the stretch the once over.
However, once we reached Casa de las Olas, I forgot about every other place. Sam Shendow greeted us with a graceful radiance. She led us to our Oceanfront Master Suite of two king beds and a huge living space, with kitchen attached. Whilst stylish, it had the feel of a strong and rooted home. I later found out that having been built in the 1970s and now being 100% sustainable by using underground cenote water and solar energy, it was strong with history and good vibrations as it was rooted with love and renewable resources. Perhaps this was the source of Sam's radiance, the knowledge that she was stepping ever so lightly on this wondrous earth. Our indoor space opened up onto a huge balcony (with hammock) from where we could admire the azules of the sea and the fine white sand, framed by gorgeously green palm trees.
There were just a couple more hours of sunlight left in that October evening, so we wriggled into our bathing suits and walked down the plant-framed path onto the beach. The emerald sea was bathwater warm and as transparent as perfection. My wet brown toes turned to gold as they popped up out of the sea to catch the soft sunlight. Just when I thought the scene could not be any more beautiful, a rainbow caught my eye. It stretched straight up to the magnificent skies... earth was linked to heaven.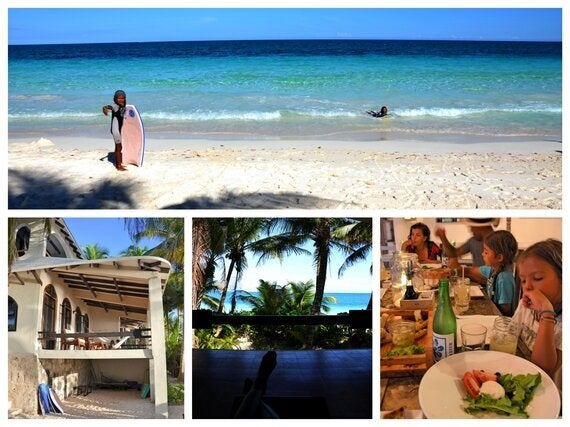 The next morning, it was pure pleasure to have the sun rise up from the water to gently stream in through the huge east facing windows to wake us. The long table, set beside the main house of Casa de las Olas was a stage where strangers faced each other and had the opportunity to talk themselves into a friendship. The beach, for us, was where the friendship rooted itself into hearts. Sculpting sand with three-year-olds saw small hands sharing and big smiles beaming (most of the time). Six-year-olds boogie boarding become families tying knots and paddling out together to snorkel and marvel at modest but miraculous coral formations. The sight of a pelican created excitement and a uniting cry of "Pelicano!", whilst a turtle hatchling caused delight and a united sense of adoration and hope. Then tacos! What better way to celebrate friendship and the future than tacos in Tulum town. Having lived (and travelled) in Mexico for the past twelve years, I can testify that the tacos (and salsa) at Chiapaneca taqueria were divine. (And the ice-cream at the parlour next door was pretty great too!)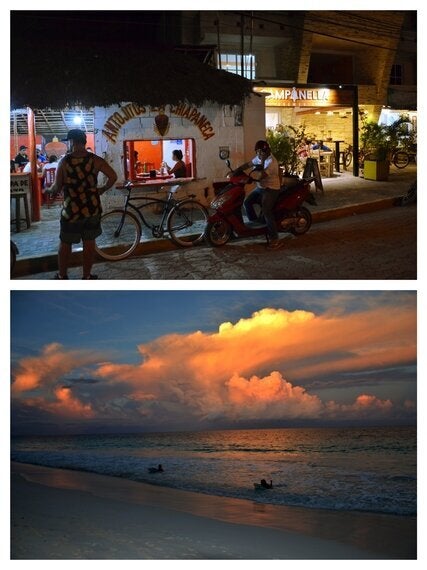 I'm sure you have a friend or two who have been raving about Tulum ever since they returned. Believe me, they probably are not doing it justice. Go to Tulum to find out for yourself, and stay at Casa de las Olas so that you too can leave a lighter footprint on the fine white sand.
Please visit casadelasolas.com for more details