To my mind, the word 'hacienda' conjures up images of bold splendour set under sticky, tropical climes, of opulent histories so very different to those lived out by my own family, and now, with the rebranding of many haciendas as ultra-luxury hotels, they offer an opportunity to enter a bygone age, whilst also being able to indulge in the conveniences of our instatimes.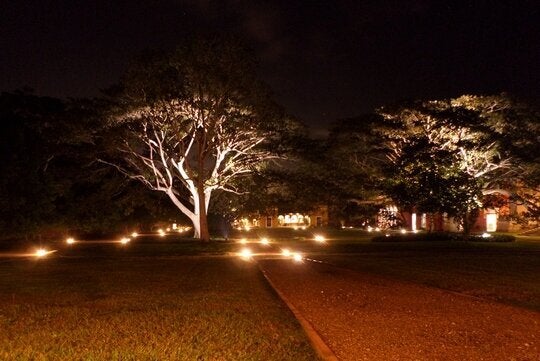 La Hacienda San Antonio Millet, one of the older haciendas of the Yucatan state in Mexico and just 23km from the city of Merida, opened its gates and greeted us, a family of five, into what would be a paradisal sojourn.
Jesus, our concierge, almost danced down the palatial steps of the main house to welcome us whilst we were still in the car on the long curving driveway. He proudly directed us to the old hacienda schoolhouse which would serve as our dreamy sleeping quarters.
Three young children, all under six, eager to stretch their legs and delve into their new environment, jumped out of the car and ran towards the mustard coloured building. We followed, leaving our luggage in the car as we did not want to miss out on the excited searching faces of our trio, (and since they were searching for a swimming pool... we needed to be close at hand. Experience has taught us that one member of our little gang is not shy about skinny dipping!)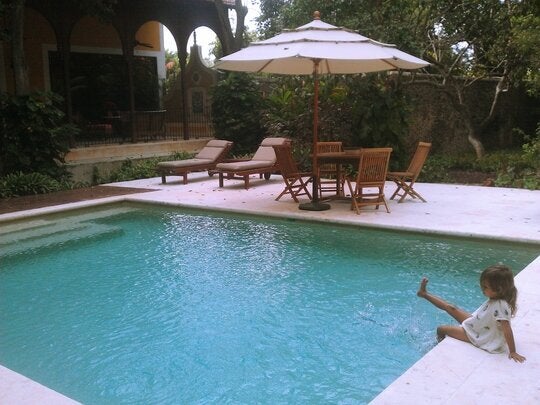 The old schoolhouse, furnished simply and gracefully, could not have been more comfortable or inviting. This edifice, previously used to educate the children of the hacienda workers, proved it could continue instruction, this time to me in how comfortable a bed could actually be. My husband did argue that we had been camping (not glamping) for the past week, but I insist, it was so agreeable that my first thought upon waking was, "How lucky am I?! I have another night in this bed!"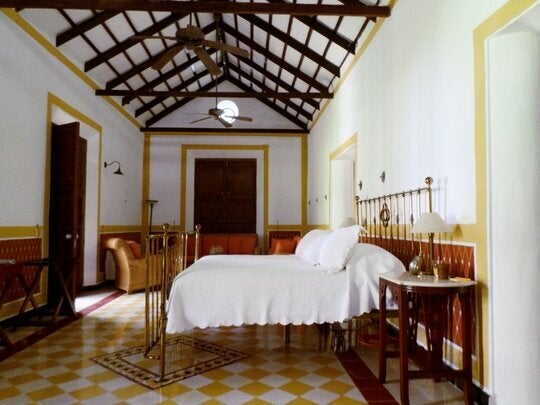 However, before we retired for the evening, there were adventures to be had. We strolled through the central courtyard marvelling at the centennial trees which umbrellaed over the lush lawns. Jesus, again appeared on the steps of the 'casa principal', inviting us over to take a tour of the interior. Stepping through the mosquito screen doors, I was instantly reminded of the French chateaux we had the pleasure of visiting last summer. Here, as in the chateaux, we spun around admiring the eclectic but harmonious collection of treasures on display, giving a very European charm to this Mexican hacienda. Though it was the original stencilled wallpaper stretching up to the high ceilings which really widened my eyes, giving the rooms its historic weight. If only these walls could whisper their stories into my ear.
The children, not able to resist the pool any longer, took us by the hands to lead us back to the schoolhouse. Mid-stride they froze, the temptation of a sparkling jug of hibiscus iced tea, which had been laid out on the veranda whilst we had been in the house, was too strong, and their tiny bodies eased into the cushioned reed armchairs to sip (and spill) the cool crimson infusion. This gave Jesus the opportunity to make some off-site recommendations. One suggestion that we took up was Izamal, on Mexico's offical 'Pueblos Magicos' (magical towns) list. With pyramids, plazas and such outstandingly friendly people, Izamal was indeed magical, and is now on our list as a destination to return to.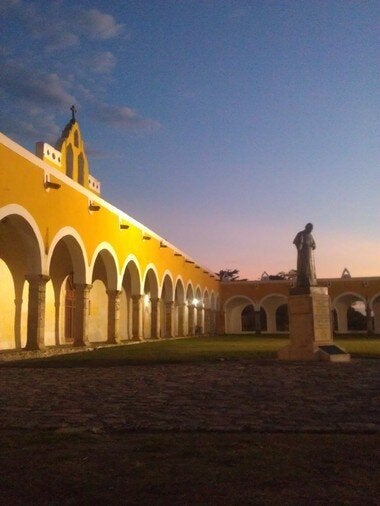 Waking up well rested, in that fabulously comfortable king-size throne-of-a-bed, we were all drawn into the tropical mist of the hacienda's seemingly endless northern garden. Following paths to delight in spiralling twigs and moist cobwebs, it was enchanting to stumble upon an old irrigation system which we trailed one way until we became hungry. We then trailed it another way, turned to dance around a gazebo which lead us to the northern veranda where we were to take breakfast.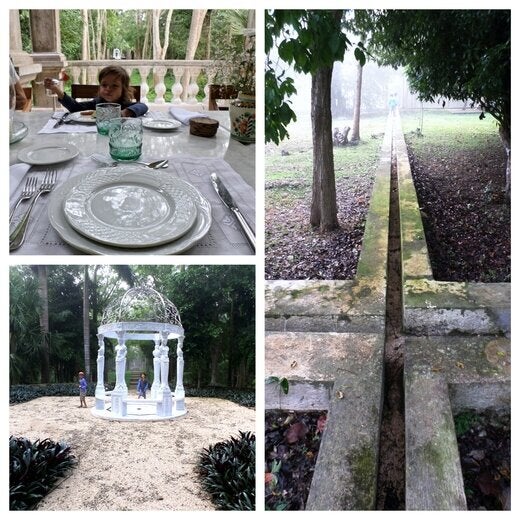 Enjoying reaching views from the breakfast table out to the gazebo, Toty, the concierge for international guests, joined us to feed our curiosity with stories and knowledge spanning a vast spectrum of subjects. As we prepared to leave for that day's escapades, Toty handed us a folder, very clearly detailing numerous day and half-day excursions. We had already planned to visit a number of 'cenotes', sinkholes filled with groundwater where you can swim, but that little black folder lead us to some of the most incredible waters we had ever dived into. Imagine crouching down to enter and descend into a cave filled with crystal blue waters, adorned with pillars of stalactites meeting stalagmites, the gentle beat of a few bats in flight overhead and this otherworldly cavern lit up for your eyes by well-placed mirrors, reflecting sunlight into the darkness. Truly celestial.