The Hard Rock Hotel in Cancun will rock your holiday into next week (or the next fortnight depending on how long you're staying for). It has the crazily-perfect Caribbean sea, party pools, cool cocktails, fine food, super stage shows and hydro-spa tub in your Hard Rockstar suite, but it includes something far more electrically exciting than most all-inclusives on the hotel strip... Guitars!!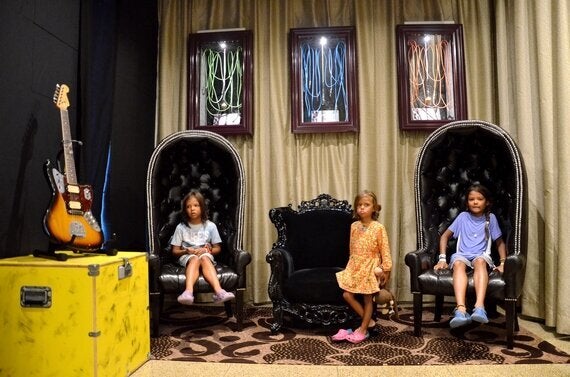 Music Lab, marvellously managed by Luis Navarro and assisted by Luis Casanova, offers four fab ways to rock out during your stay; Mix: be the DJ; Rocktube: style-up and shoot a video; Studio Time: select a song and get recording; Jam Band: turn up to jam and you might find yourself playing a poolside concert. Rock On!!
Many a great hit has only needed three chords to create mega-stars. Hard Rock Hotel Cancun shaped us into rock stars in three easy steps.
One: Having always dreamt of being a Rock Star (who hasn't, right?), and only recently had my first on-stage mic-moment (okay I'm talking karaoke, but it was a grand stage), I opted for Studio Time. After a little indecisiveness on which track to cover (I now understand why albums take so long to record if you've got several big personalities in one band), we agreed on a firm family favourite, '(I Can't Get No) Satisfaction'. With headphones on, mic in hand, hubby on guitar and offspring making contributions, Luis produced a rocking piece for us to listen to (and watch) again, and again, and again... and again. Was I satisfied with the result...? Hey-Yeah!!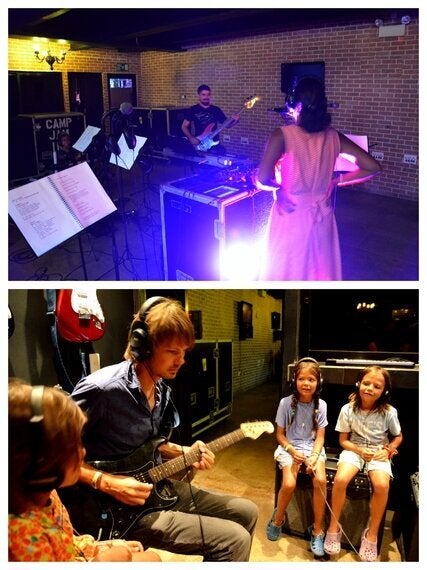 Two: As with all true rock stars, our egos got the better of our grounded, humble selves and we wanted more, much, much more!! My lead guitar hubby decided to break with our band and joined Jam Band, resulting in him switching to drums and playing for the poolside audience, which included us, his former bandmates.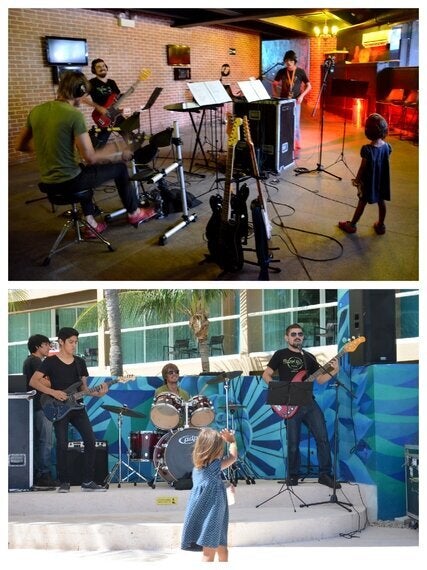 Three: It turned out that hubby's role in Jam Band was a one show wonder kinda-thing, so he returned to the family fold and we made our peace in the privacy of our lagoon 'n' sunset facing double suite. We had borrowed Fenders, pedals and headphones from the lobby seven floors below us and pulled out our own favourite picks from our pockets. We plucked and strummed away until sunset transformed to dawn (okay, my artistic license is stretching there, we are parents of young kids after all). The next day, the order of the day was, 'Guitars Before Breakfast'. Whether it's starlit strumming or dawn distortion, the high-tech headphones allowed us to turn up to 11 without complaint from a sleeping three year old.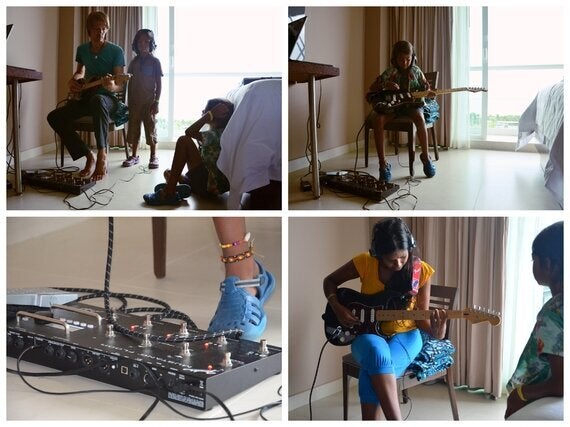 To keep us in good health the various restaurants provided some succulent dishes. Our favourites were Zen, providing teppanyaki in fierce flamed glory along with any number of far-east Asian eats; and Ipanema, Brazilian styled steakhouse where the food was served off of "swords", as the kids put it. Everything we tried was as delicious as could be. Well fed, even the greatly talented love to be entertained and the on-site shows did not disappoint. The Pop Rocked!!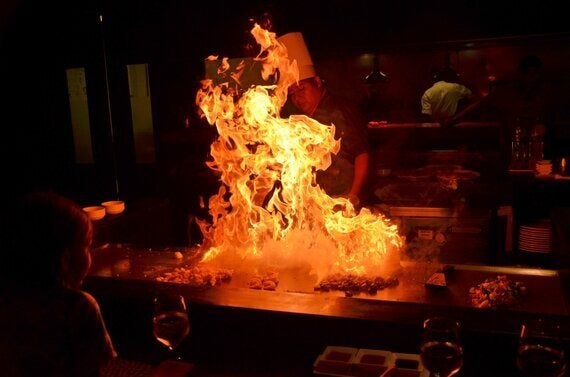 The kids loved running around to gape at guitar memorabilia framed on walls, and sometimes they ran around the guitar-shaped driveway to the kids club to break free from their parents for a while. We've all come away having learnt an important lesson from this institution.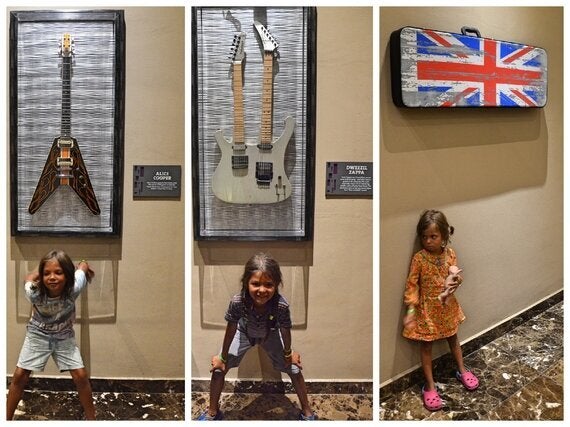 Don't be with the band, be in the band!
And the Hard Rock Hotel Cancun makes this an easy fantasy to realise.
(Heavily distorted guitar solo...)