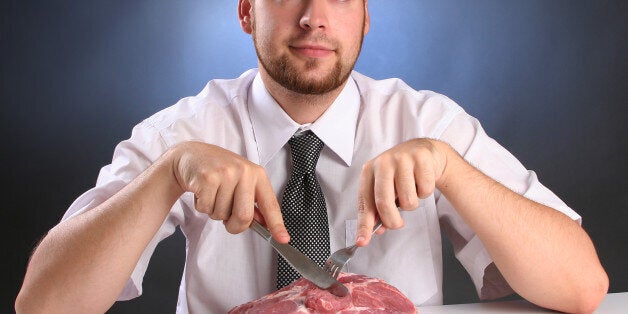 I am young, and yes perhaps naïve young lass, so maybe I am not entitled to criticise? I will anyway. Sorry. Where is my critiquing mind taking you? Mr Gordon Ramsay, the renowned chef. The heart-breaker, and dream crusher of many Michelin hopefuls. The man who would probably only be able to spell swear words in a spelling bee. And, that person who cannot, despite his best efforts sit still for more than a millisecond it seems. Above all that, an individual who forgot that patience is a virtue.
Correct me if I'm wrong, but this is what a lot of Brits, and now Americans are witnesses of whilst gaining square eyes with the TV. In spite of this though, while he may demonstrate an inability to be told and taught, I sincerely believe that maybe Gordon should be off gaining his PGCE. He is a good teacher. For instance, in his show, 'Gordon Behind Bars' he managed to turn the lives of some of Britain's biggest criminals and troubled men into nifty little bakers by a few simple lessons in the kitchen. Praise him for his on-screen success, but praise him also for the quiet work he has been venturing on after the lights are off, cameras down and action finished.
We wouldn't usually associate the rustic, vintage dishes with Mr Ramsay. I imagine the flames firing in the kitchen from an intricate dish that only an innovative guy like him thought of?
Nevertheless back to the main notion of this writing. Pie. It is a wonderful thing. Classic, British and oh so diverse. What else is it though? It's simple. Monsieur Ramsay has clocked on that simplicity is key, and implemented this on a Tuesday night at one of Sheffield's hidden gems - Silversmiths. Usually attracting the more affluent of Sheffield folk, Silversmiths have given us a reasonable bill that doesn't tear a part of our soul away when we see it.
For myself and mother dearest the bill came to £30. We didn't order sparsely either. Double everything I type out here; a pie, side of chips and mushy peas, a glass of wine and a cup of tea. All to the highest quality we could have wished for and genuine 'service with a smile' can't say we were regretting spending the dollar that is helping keep the business alive.
It was not the primitive, yet lavish interior decor that made for a more pleasurable dining experience. Or the surrounding of happy customers - evident by the smiles. It was in fact for the following. This is a family run business headed by the innovative Justin Rowntree. It is purely local produce that is served up, which brings a happy community vibe and ethos to the restaurant, knowing what your devouring is known down to the 't' by the chefs.
It's also that preservation and heritage you are sitting in. Dining the Sheffield, British experience is quite literally supported by the building which once was a Silversmiths, subtly shown by the silverhall marks in the bold, brash logo that prominently stands outside the small, slightly derelict street. It is this that can truly deliver the 'full' experience.
Recently, I read an article from The Times critic, Giles Coren who described that a menu bursting at the seams is an indication of the lack of confidence a kitchen has in themselves. I agree. I also want to add to that by expressing how grateful I am when a menu is a bit on the sparse side, makes my decision like choosing between a hot sunbed abroad or a rainy British day - easy. Plus, when the staff are questioned they answer quickly because they know it better than the route home they will take at the end of said shift. Confidence, it's a bit of a charmer.
They had an array of pies. One of which was the fish pie which beautifully fell apart, melting in your mouth, accompanied by cream that wasn't clogging up your throat and mash that you wished was served on your plate in all restaurants. The beef pie, had equally melting way and again a gravy that had a perfect consistency. The vegetables were al dente, and the short crust a little messy in presence (reiterating the fact that no microwaves were used) but moreish in taste. Gordon would have been proud. I think that the Chicken and the Cauliflower would have nourished us as well, but we were satisfied with our choices. Nigella Lawson set the bar high with her Chicken Pie when my mum made it, but I think Lawson may have some competition on her hands...
The atmosphere of the Yorkshire visitors was warm, a lot like the humour I've come across since making the move to the midlands. But I have to say that the one downfall of the night was a contrasting cold temperature we were accompanied with. A tip, if you are after a little guidance is to book your table, and to request it fairly deep into the restaurant. The busy swinging door, although delightful for the restaurateurs deterred us from being settled properly through the night.
Some have described this as 'Yorkshire's best dining experience', the Internet gave it nothing but praise, therefore it came as no surprise to see their attempt at being featured, in the The Good Food Guide. Are they worthy? Well, I have to say they encompass the country we are proud to call home. Yes, I do love gaining a cultural dining experience in the many place we have on offer. To an extent.
Right now, I could recite the pastas on offer, the twenty-billion different styles of pizza one has to make and the wondrous amounts of potato a chef can cut, cook and create. And to be quite frank it gets a little tedious. So seizing the moment I say lets be a bit Al Murrayish for the time being -"TRUUULY BRIT-ISH". Why don't we do a radical act and not be the grumpy Brits we are notorious for, and smile - for Silversmiths gives us something to smile for. Visit, eat and use the muscles to chomp, and then smile - not frown.
silversmiths-restaurant.com