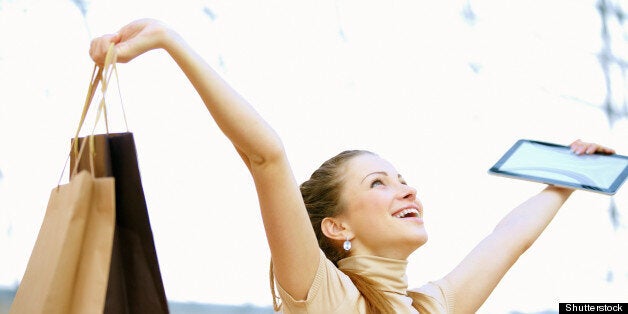 I'm lucky enough to be heading off to Ibiza next month, but compiling a beach-friendly wardrobe is usually a source of stress if I've already blown my cash on the flights and a gallon of factor 30. Looking like a cooked lobster doesn't exactly scream 'stylish'! However, this year I vow to be both prepared and thrifty. You don't have to spend a bomb to look beautiful on the beach, even if you are jetting off to the white isle, where I suspect everyone will be enviably well-dressed and have great hair even in the heat! When moving from the beach to a restaurant, or from a relaxed bar to an exclusive underground club, a girl needs a few staple garments that will see her through these transitions. Here is my pick of budget-friendly summer style, hopefully some of which I will be packing into my suitcase! Don't forget curling serum for effortless beach waves and after-sun or a good moisturizer to rehydrate your skin after a long day soaking up the sun.
The Maxi-Dress: Forever 21's Tropical Print Chiffon Maxi Dress at £16.75 will be my maxi of choice. Tropical prints are still going strong, you can't argue with the price and the split-skirt on this dress is catwalk friendly, as seen at Preen and Alexander Wang.
The Mini-Dress: Ibiza is notorious for its hordes of scantily dresses party-goers and acres of bare flesh on show, but to really stand out I'm going to opt for a slightly more covered-up look with River Island's Bodycon Dress with Print and Cold Shoulder, found on asos.co.uk for £25. The bold geometric patterns and off-the-shoulder short sleeves make this dress both eclectic and eye-catching.
The Trousers: ASOS' Bandana Print Beach Trousers for £25 are perfect for covering up when you move from your spot on the sand to a seafront restaurant for lunch or simply for lazing around in your villa (in style, of course). They are wonderfully comfortable and the tribal pattern keeps them bang on trend.
The Cover-Up: Topshop's Spider Floral Kimono is a little more expensive than I'd like at £55, but the detailed print and wide sleeves are exquisite and it's perfect for covering up at the beach. This garment nods to the Oriental look favoured at Prada, Etne and Emillio Pucci's summer shows.
The Bikini: I'm usually drawn to simple block colours when it comes to bikinis, but since Ibiza is all about performance and extravagance (think parties that would shame Jay Gatsby), I'll broaden my swimwear horizons with this Leopard and Floral Triangle Bikini from Forever 21. The top is £8.90 and the bottoms £8.40, suggesting a mix and match approach. For women with small busts (like me), a triangle, halter-neck or push-up bikini top is best for giving the illusion of boobs! There are plenty of interesting swimsuits and monokinis available this season but I'd rather steer clear of odd tan lines.
The Wedges: Topshop's shoes are often a bit more expensive and can be hit and miss in terms of quality, but their WHISPERED Cross Over Wedges come in red, blue, lime, nude and leopard print and have excellent reviews. For a simple pair of beach-to-bar wedges with real suede straps, I think £42 actually constitutes a bargain!
The Sunglasses: I love Nasty Gal's sunglasses, they make me feel as if I've stumbled into a glamorous 50s film. The Phase Out Shades, available in grey or mint for £11.59 have the super-glam cat's eye shape and unusual ombre-style frames, sure to make you stand out on the sand.
The Accessory: The Whole Lotta Rosie headband, £20 from http://crownandglory.bigcartel.com/ combines both festival chic and stand-out party style by giving the wearer a halo of realistic foam roses. Team with beachy waves or loose curls and a flowing maxi.
Fantasy Item: Camilla Franks is an Australian designer, fast becoming known for her bold, luxe patterns and exotic, almost festive feel. Her summer collection is inspired by Massai mythology and I'm coveting her Entaki Long Dress in silk georgette at AU$599. Just about any piece from her Ready To Wear section would turn heads, even in Ibiza!
Popular in the Community