When the ASDA Wonky Veg box hit the shelves just over a week ago, the UK went nuts for wobbly leeks and misshapen onions. At just £3.50 per 5kg it was a bargain not to be laughed at. The Wonky Veg box is an idea grown from Hugh Fearnley Whittingstall's popular one off TV show, Hugh's War On Waste. The show opened the eyes of millions of viewers how farmers are under pressure to sell only the best looking veg to supermarket chains, and leave as much as 40% of their total crop to rot - because the supermarkets believe them to be too ugly to sell.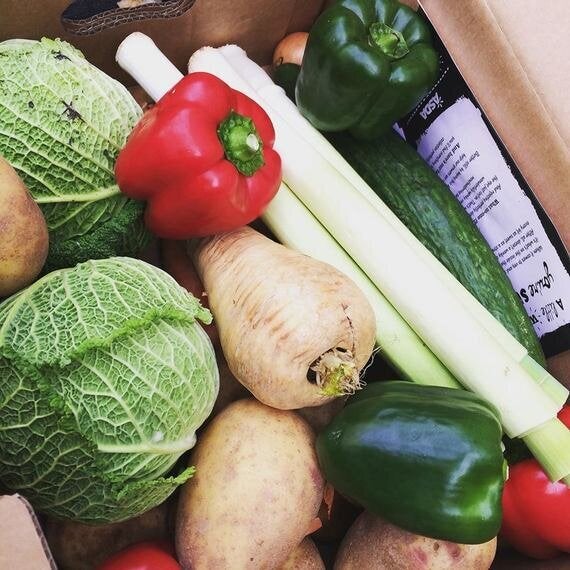 For this reason, any vegetables that were off colour, too large, too small, a funny shape or simply just not 'pretty' enough were doomed to be wasted.
And lets not entirely blame the big cats of the supermarkets for all of the food waste that happens in the UK. Staggeringly more than half of all food thrown away is from our own homes! We seem to have forgotten how to make food last, how to savour every last scrap. In my home nearly all of our dinners live in the chest freezer. I'm not talking chips, and fish fingers - instead our freezer is packed with chopped carrots, leeks, parsnips, mushrooms, cabbages - the list goes on. We go around all the local supermarkets once or twice a month, at a certain time of night and buy £30 worth of food, for around £3. I'm not exaggerating. We do this. It's how we survive financially, and maintain a healthy, balanced diet. With a careful eye for bargains and up to 90% price reductions from major supermarkets we can feed our family fresh (if frozen) vegetables for about £5/6 a month. And considering we are vegan, we eat a lot of vegetables.
When the Wonky Veg box was released I had to get my hands on one - if only to see how the supermarkets had gone about joining the war on waste. I would never normally spend money on full priced veg, but this had to be done. First of all the Wonky Veg box took a little effort to find. In my local Biggleswade store, the boxes were tucked away discretely at the back of the fruit and veg aisle, closer to the fish counter than the actual veg. I think they should have placed the boxes proudly at the front of the store, with all the other "amazing" and "unmissable" offers that they had on that day. As soon as I picked up the box I was surprised. 5kg is a lot of veg. That box was heavy! But was it going to feed my family of five for a week?
We are eating a vegan diet, so all of my meals were vegan, and made in no time at all. I am a busy mum, so I don't tend to have time to faff around with fancy recipes.
Day 1: Leek, Onion and Potato pie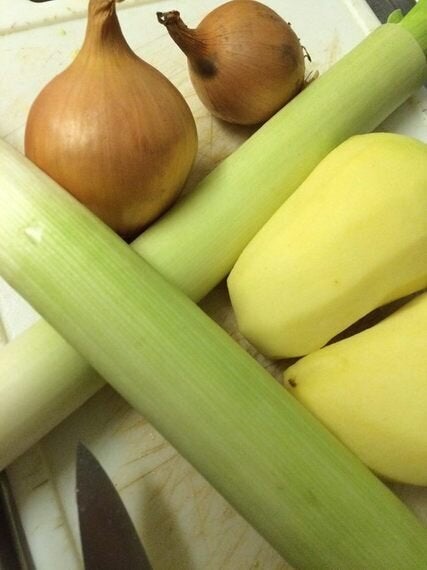 A real simple dinner, made from a leek, two small potatoes and two of the small onions, topped with a vegan made pastry topping. Served with a portion of cabbage.
Day Two: Cream of carrot and parsnip soup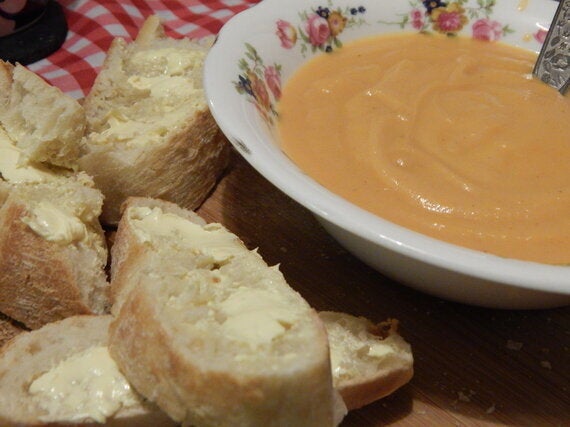 I grated the large parsnip and a couple of carrots, boil until soft, drained then added a knob of Vitalite vegan spread, and a dash of milk alternative. Blend until smooth and serve with some home-made rolls.
All you need extra is some vegan mince and a tin of chopped tomatoes. Fry off the mince and add the tin of chopped tomatoes. Chop up a carrot, couple of onions, pepper, and a leek. Drain, put in a dish and top with mashed potatoes made from the potatoes in your Wonky Box.
A British favourite, with baked beans! You cannot go wrong with a good crispy jacket potato. We cooked ours wrapped in tin foil, over the side of our DIY fire pit.
Day 5: Potato and cabbage bake
A really easy dinner, I invented myself. Slice your potato and half of your cabbage and layer in a deep dish. Make a simple white sauce, or use a tin of condensed mushroom soup if you fancy jazzing it up a bit, pour over the cabbage and potato, and top with a good layer of breadcrumbs. Bake for 30-40 minutes on medium heat.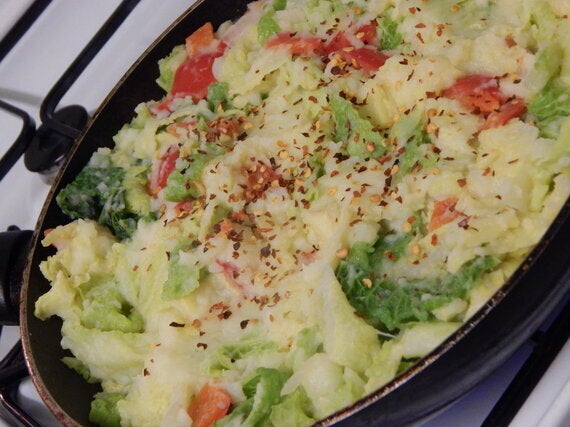 This one takes me back to my childhood. Prepare some mashed potatoes, and some cabbage sliced into strips, mix it all together with a dash of milk alternative, and a knob of Vitalite, pan fry until crispy and serve. I like to add some crushed chillis into the mix or some sweetcorn for a bit of extra flavour.
Day 7: Slow cooker pot mush
A real lazy Sunday afternoon dinner that takes minimal effort. At the end of the week I had some veg left over. A couple of onion, a potato, a third of a cabbage, two peppers and a handful of leek. I bunged it all into my slow cooker, with handful of lentils, crushed chillis, pearl barley and some split peas. Simmer away all day and serve with some fresh home-made rolls. Filling, warming and delicious.
That was easy! I fed my family of five a tasty, hearty and healthy dinner every night for 1 week. I also made enough to give my husband a healthy lunch from the leftovers. So that's five meals x seven days of the week = 35 meals + five lunches = 40 meals.
So, would I buy the Wonky Veg box again? I'd like to say no. My reason being that I don't want to see these boxes of wonky veg on the shelves in the first place. All veg whether wonky or "perfect" should find its common place for all to buy in the supermarkets. It's time we stopped the veggie-snobbery and realised that we are throwing away too much food, families are going hungry because they can't afford the only options given to them.
For now, I suppose, while the Wonky Veg Boxes are hitting the shelves we should all be buying them, just to prove a point to the top-dogs of the supermarket industry. Let's help our families and our farmers.
Related