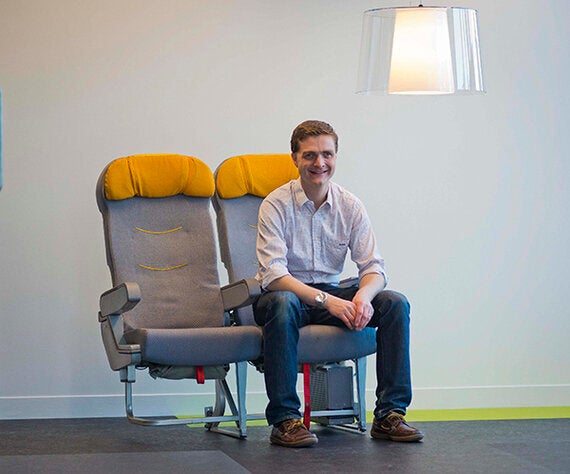 Heather Irish of Yankee Doodles brings you part two of a three part blog series on Skyscanner's business, communications and tech.
To any non-technical person out there, the large and varied tech sector can be intimidating. So when I arrived at my interview with the Chief Technology Officer of Skyscanner, who has a doctorate from Oxford University, I was a bit apprehensive of sounding like an ignorant fool to say the least. However, Alistair Hann is far from a stereotype with his friendly and welcoming demeanour. He's equally as passionate talking about his love of cooking and travelling around China as he is speaking about APIs, big data and mobile platforms.
Six and a half years ago you would have found Alistair living in London running his travel business, which was born from his frustration of travelling from airport-less Oxford.
"The reason I got into this area was the same reason Gareth [Williams, Skyscanner CEO] got into it - out of personal frustration. I kind of came through the same route because I wanted to go away to Rome and I was spending hours pulling together data and had that engineer's view of the world of 'OK, here's a problem. I can fix it and build something that does that and that turned into an idea.' It stuck and people believed in it and we raised investments."
More than four years ago, Skyscanner acquired Alistair's travel company with Alistair joining the company as CTO. Since then, he has seen the company grow more than ten times the size.
"We think a lot more on a daily basis about how things will work for mobile users and the organisational scale - how we organise ourselves to keep the process running. We have simulated 2G and 3G networks to see what happens if the data connection isn't very quick. We do more monitoring in terms of what our page loads are while using mobile dongles to really experience what it's like on a mobile network. It's driven by the trend on where the users are going that made us realise that we really have to focus on getting that experience absolutely right."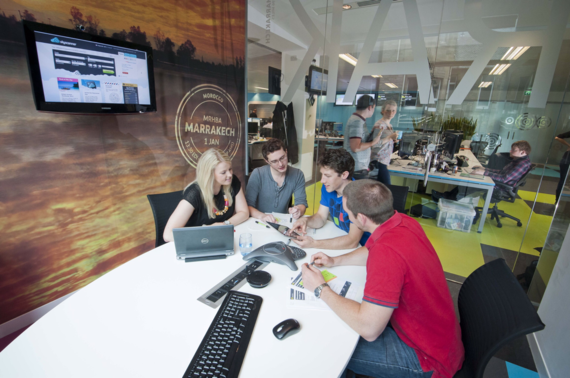 Since Skyscanner launched its first IOS flights app in February 2011, the company has noticed a shift to mobile usage with 74% of bookings on mobile and a 150% increase in searches on mobile. Posters around the company's Edinburgh headquarters flash a constant reminder to its employees - "mobile first and desktop last".
"What's interesting about mobile is that because you have so little screen real estate, you have to work out what exactly the minimum features set is to execute a particular task so you really understand what the minimum workflow is in order to build that app. I think it's healthy from a product perspective to remember what the core of what we're doing and it encourages some simpler design for the desktop as well."
Skyscanner has recently acquired three other travel businesses in China, Hungary and Spain that work together to support Skyscanner's mobile first focus.
"In the case of the Barcelona acquisition of Fogg, that was a key part in [Skyscanner] moving from flights to travel as a business. The team built some really brilliant hotel search product and we'll see more application of that elsewhere in the future. That is now what powers our website for hotel search and has allowed us to build our first mobile applications for hotel search."
"The team in Budapest from Distinction have some interesting ideas that they've developed for their own work so they really understand the mobile app development. I think we'll see some really rich products coming from them in terms of combining our different travel products to provide a consistent, rich travel experience rather than of just flights."
"So you have two acquisitions working together there in terms of raw ability to deliver a rich hotel search experience and some brilliant mobile app developers who built the first mobile app for hotels and they can also work on how to make that an overall travel experience."
Over a year ago, Skyscanner acquired the Chinese travel company Youbibi, which brought its local knowledge of the Chinese travel market to Tianxun, Skyscanner's Chinese website.
"That acquisition has been very rich in terms of getting the best possible experience for our users in China. There are a lot of offline travel agents in China similar to high street travel agencies and a cool piece of the [Tianxun] platform lets you book tickets with those offline travel agents but online. A fundamental thing for us is this notion of coverage, so you have the best available price for the ticket. We have all the airlines so you see all the flights that go somewhere and this enables us to cover more of the agencies in China - not just the online travel agencies but we can get hundreds of offline travel agencies into the product so they have individual rates to travelling to a particular region. It also brings us better integration in Chinese social platforms and brought us integration with more payment methods in China."
Skyscanner's platforms not only support customers' needs but businesses as well. Recently they launched Skyscanner for Business.
"We're also looking at how we can use this data to better inform travellers in terms of their decision making process. As we grow, we acquire more data and useful insight and how we actually turn that into value for our customers will be a really important scenario for us. It's a really exciting time for a technologist's point of view, disk space is getting cheaper and computing resources are coming down so you can actually afford to do analyses on these apps. A) You can afford to store it and it's easy to do so and B) you can start running analyses on these things to find useful insights."
Skyscanner also powers other websites with their technology, which they build in house.
"We provide that technology essentially as APIs to power other websites so for example we power websites like Lonely Planet in terms of their travel search. For companies that don't necessarily have the technical capability to integrate the data feed, we provide them with white label [software] to brand the website as their own so it's a really nice user interface. We take things a little bit further for them and that's a very easy level of integration for them. So we're providing businesses with the ability to make the most of our platform and technology and provide consumers with travel search, but we also have these business-to-business products - like route planning and to look at how they're performing in certain markets. This is an emerging market for us where we're producing products and seeing what people want."
As my time with Alistair draws to a close, it is apparent that Skyscanner will be focusing on big data, with the advent of its new Chief Data Officer, Adam Drake, and its mobile platform in the foreseeable future. Skyscanner will be an interesting travel company to watch as it continues to make its transition from start up into a growing multinational travel company. Before Alistair leaves, he gives one travel recommendation for those who appreciate good food and technology.
"I love the food you get in China. It's so cheap and there's such variety but it's also just a phenomenally exciting place. In Shenzhen, the rate at which skyscrapers are going up and the mum and dad shops that are building mobile phones with open sourcing of chips and even creating custom mobile phones that will have small distributions and people selling electronic components to put things together is unbelievably exciting. So it inspires my stomach and also my intellectual interests."