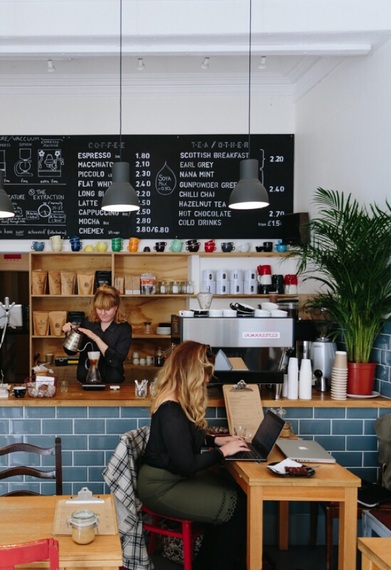 This is the first post in an Edinburgh café series highlighting top cafes in Edinburgh's various boroughs. It's a collaboration between Yankee Doodles and local photographer Martin Vrzal of @Pascalpics. All photos in this post are taken by Martin and you can check out his amazing views of the city on his Instagram. Originally posted on Yankee Doodles.
September marked seven years since I arrived in Edinburgh and during those years as a student/new expat with a minor coffee and tea obsession, I definitely have my favourite places dotted around the city. So to those who are visiting, just arrived or who are long-term Edinburghers looking for some new places to add to your own collection, here are my top café spots in the Meadows (around the University of Edinburgh) - a lush green park in the city.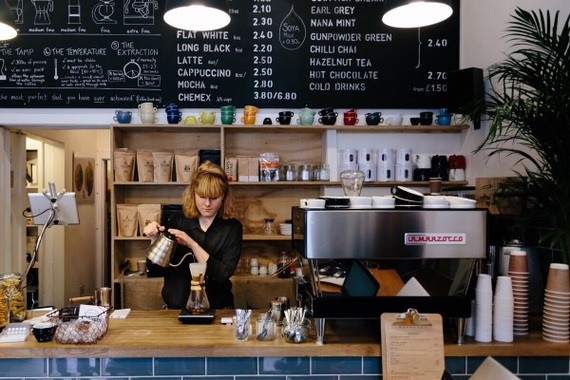 Best place in the Meadows for coffee
2 Brougham Place
I don't know how many times I've passed by this shop enroute from Tollcross to the Meadows without realising what I was passing! It was only after a friend recommended this café that I bothered to take notice and I'm so glad that I did. This is now my favourite café in the Meadows area for great coffee and, while this series is young, it's currently my favourite coffee in Edinburgh. Cue #Edinburghcoffeebattle.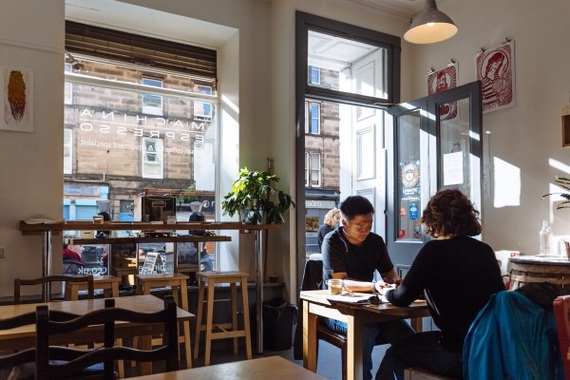 The shop is owned by Steve Glencross who is friendly to all customers and keen to share his passion and knowledge about coffee - his shop showcases that. Strike up a conversation with Steve while you're there and he'll recommend his favourite coffee, Bear Pond Espresso. Nestled in busy Tokyo, it often has a queue of a 100 people first thing in the morning waiting for their morning shot. The owner always wears a wooly hat no matter the weather and will not serve espresso past 11 am because it's too warm.
But enough about Bear Pond and more about Machina Espresso. It's clear that Steve knows what he's talking about and he offers barista classes on weekday evenings for people wanting to learn the craft. Just don't expect to go to bed after tasting espressos until 9 pm. Steve has travelled around the States, Europe and Japan trying coffee and learning the best ways to make coffee. You have plenty of options in Machina Espresso and the staff are more than happy to recommend a featured coffee. My favourite was The Barn (a Berlin coffee company, which produces what people call the best coffee in Europe at the moment) coffees - in particular a Ethiopian filter coffee with hints of blueberry and vanilla. It even managed to leave me on an epic caffeine high - bonus! If you like a particular coffee, you can purchase some to perk up your weekday mornings. And if you want to splurge you can purchase one of the various coffee filters, machines and grinders for sale in the shop.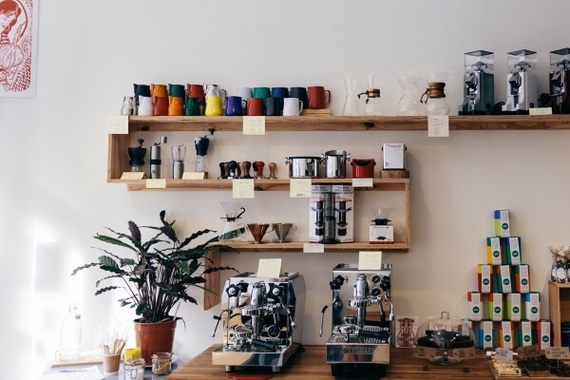 Keep an eye out for even more coffee options at Machina Espresso as Steve has plans to roast the shop's own beans. Watch this space and in the meantime share your #Machinajitters with me on Twitter or Instagram. Oh and another perk, this shop has wifi.
Best café/independent bookshop
36 Simpson Loan, Quartermile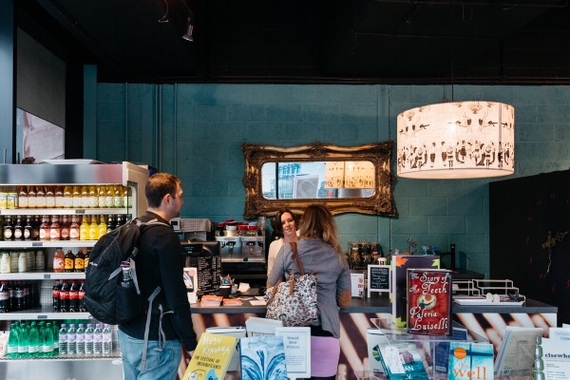 Online bookshops are pretty amazing - but what's even better? An independent local bookshop and café making it despite the competition with the large online book suppliers. Because sometimes (aka ALWAYS) you want to have some good coffee/tea and cake while discovering some new books. And let's be honest, cause we're all friends here, what's better than being surrounded by hundreds of books with that special parchment smell. Coffee + book smell = I died.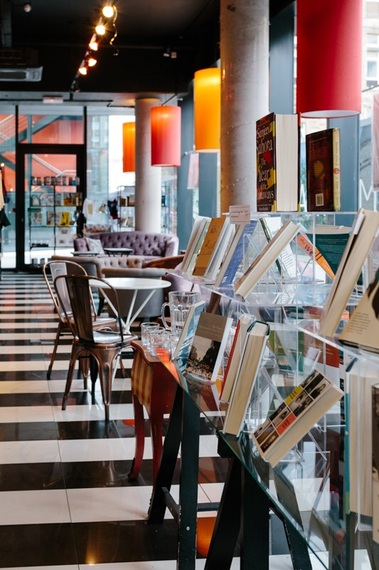 The shop has a reasonably sized bookshop with everything from fiction, culture, politics, poetry, non-fiction, biographies and more. If you don't see a book you want, ask one of the staff who will try to source it for you. You can even request a book order online and it'll arrive in their shop within 48 hours. And if you're looking for some fellow bibliophiles or just wanting some book recommendations, check out Looking Glass Books' book club held the last Tuesday of every month.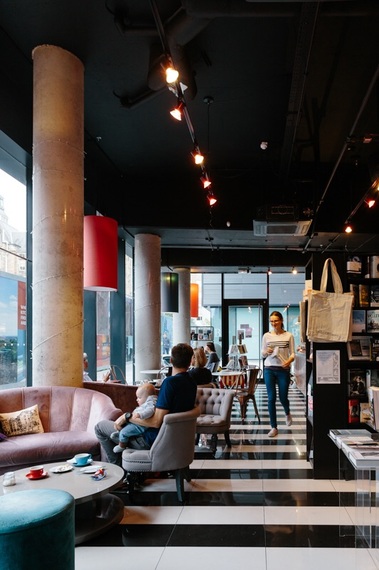 The other side of the shop has comfortable chairs and sofa with pillows depicting locations around Edinburgh. The shop has free wifi for customers so settle in with a good book/online project and a tea from the local tea shop Eteaket. I helped myself to the Earl Grey and a delicious raspberry, chocolate moelleux with a raspberry centre. Let's just say it was hard to resist eating it while Martin took some photos.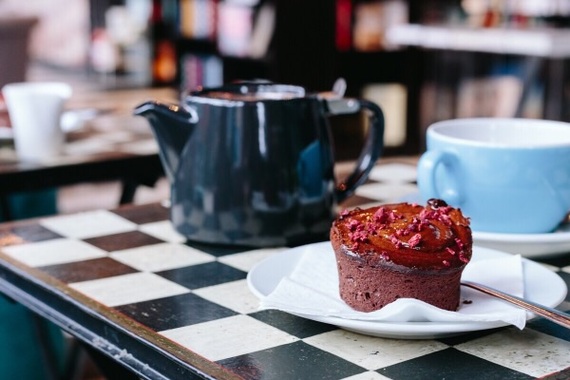 Overall, the shop is a great little nook where you can make some erudite discoveries. It's adorable checkered tables could be bigger for the massive amount of food you may purchase but that's a minor technicality. Overall it's personal touches from the staff win you over.
Best place all-rounder
8 Lister Square, Quartermile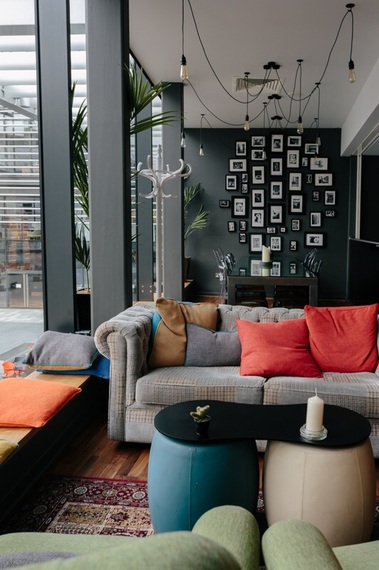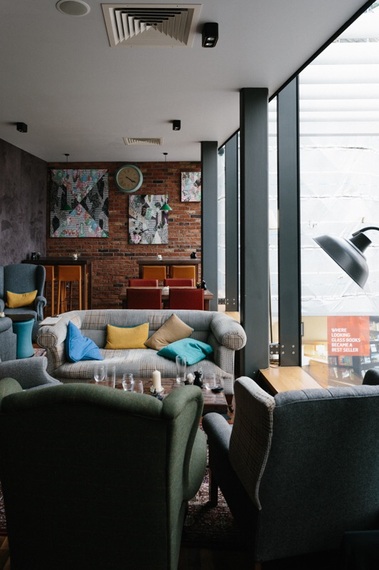 This is one of my new favourite places to go to start the night. Whether you want a coffee, tea, a bite or more to eat or cocktails this is the place. A new kid on the Quartermile block near the Meadows, opens up to a small courtyard with decking, astroturf and bamboo. Inside is spacious with pops of colour, wood and interesting light fixtures. The ground floor has a pool table and bar seating while the first floor has relaxing sofas, chairs and a bar - perfect for dinners/coffees/teas and parties. In fact, I'll be having my birthday party here in a week's time but more on that in another post.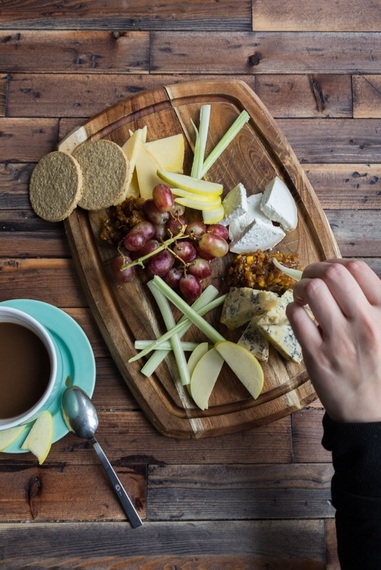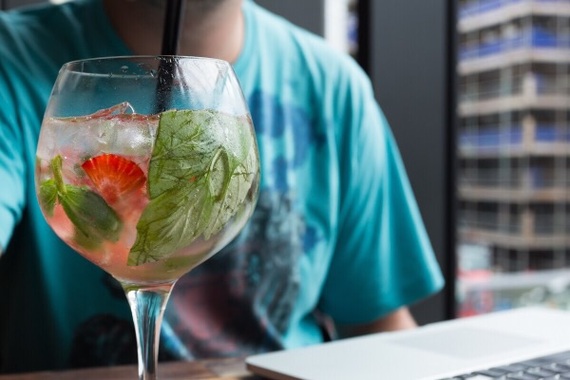 Everything I've eaten here is pretty amazing. I've had their fruits and cheeses platter full of local cheeses (applewood cheese - a smoked mild cheese is a must have) and their warm salad with potatoes, hollandaise sauce, cheese and asparagus - a good hangover cure. Also try their special gin and tonic with strawberries - but let it sit for awhile to let the strawberry taste sink in. I'm also a fan of their rum cocktails - served in cute aluminium can cups. What's even better - the prices are very reasonable while you relax in a comfortable couch while looking out the massive windows. On weekends they also showcase various local bands - so check this place out. I have a feeling that this new bar won't be quiet for long.
Best deli/café for foodies
Victor Hugo Continental Delicatessen
26/27 Melville Terrace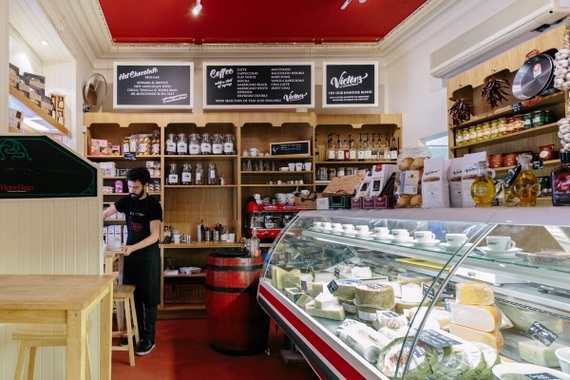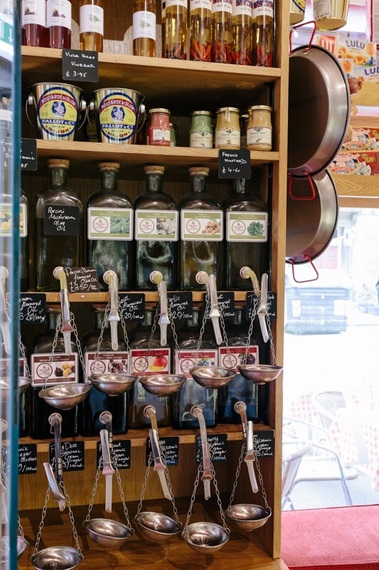 Nestled next to the Meadows is a bright red French shop full of delicious items guaranteed to make your kitchen smell amazing. You can grab a coffee/tea/lunch with a friend after a Meadows stroll or pick up some goodies for your favourite foodie. From quiche, cheeses, flavoured olive oil and various amazing desserts this definitely makes for a great Sunday destination. Get inspired by some of the foods like bacon chilli jam and who knows what you might create? The colder months create a perfect atmosphere for kitchen inspiration. It's a bit pricier, but a nice treat for yourself or even great Christmas presents for your friends and family.