The UK Foreign and Commonwealth Office has been receiving increasing criticism from both the UK media and Tunisian officials due to the decision it made to change its advice for travellers to Tunisia. The idea is that without the tourists and the tourist dollars they bring with them, the country will suffer financially and the number of Tunisian terrorists will grow. As it stands, it has been suggested that more jihadi fighters come from Tunisia than any other country.
However, we must remember the Sousse beach attack on the 26th of June was not the first for 2015. March saw the Bardo Museum in the capital city come under siege and claim 23 lives. Two weeks after the Bardo attack, I travelled to Sousse to carry out interviews as part of my PhD in tourism. I decided to do so because I had already booked the trip, I felt I knew the country and I was safe, and after having travelled and lived in Tunisia I felt I owed the country that had shown me such kindness. Evidence of the attack was visible in the museum and on the faces of my friends. During my time there I managed to speak to tourists and tourism staff alike, but this only led me to believe that Tunisia would suffer a severe decline in tourist arrivals.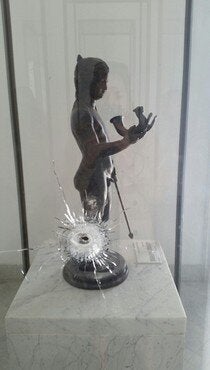 Two weeks after the Bardo attack and evidence of the event remained in the museum
Speaking to tourists just two weeks after the Bardo attack, a completely different picture was painted in my mind than that circulating in the media today. A German tourist in Sousse claimed he was only there because he had booked the trip prior to the attack and could not claim his money back. This sentiment was quite common among tourists in the Sousse area, with a primary school teacher saying 'I only came because the Foreign Office didn't tell me I couldn't'. The idea that travellers would have preferred not to travel to Tunisia if refunds had been made available opposed what was being said on Facebook and Twitter.
The messages on Social media appeared to be one of solidarity, with #IwillcometoTunisia trending on Twitter. One Tunisian tour leader actually claimed it might become a new brand for the country and attract more tourists, and entrepreneurs were quick to print #jesuisbardo on souvenirs. The ministry for tourism also planned to appropriate the social media attention and follow up with a publicity campaign using a similar tag line, but I am sure they will be rethinking this as I write.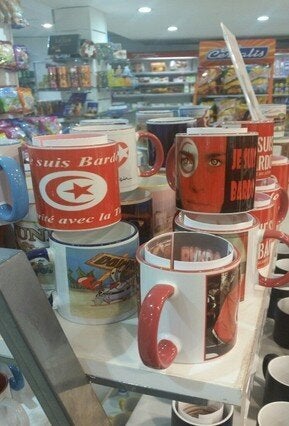 Entrepreneurs quick to create #jesuisbardo souvenirs
The claim that Tunisia will suffer a lack of tourist arrivals is one I cannot refute, but what I can say is that this was always going to be the case. Several Sousse hotel managers (from luxury and budget chains alike) commented that whilst they had not had cancellations, there were no new bookings coming in two weeks after the Bardo attack. These managers were devastated by what had happened and even more devastated by the French media claiming Tunisian tourism was dead.
Those criticising the FCO need to think about this first attack and maybe even change their discourse. Whilst I am sure Tunisia will find the coming year financially difficult, I am less sure that the help they need would ever arrive with its bags packed of suntan lotion, swimming costumes and flip flops. Yet, several questions remain: What of those tourists who only travelled because they could not get their money back, if the Foreign Office had acted earlier would this second attack have happened? Would Sousse now be receiving tourists, as a secure destination?