Oh yes, healthy snickers bombs, just what the doctor ordered.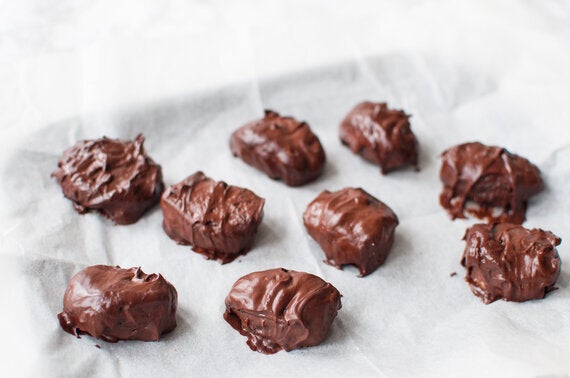 I think it is safe to say we all love snickers. Now imagine if I share with you a recipe that has no refined sugar added, there is no dairy, gluten or chemicals and you only need 4 ingredients? No baking or real cooking involved neither.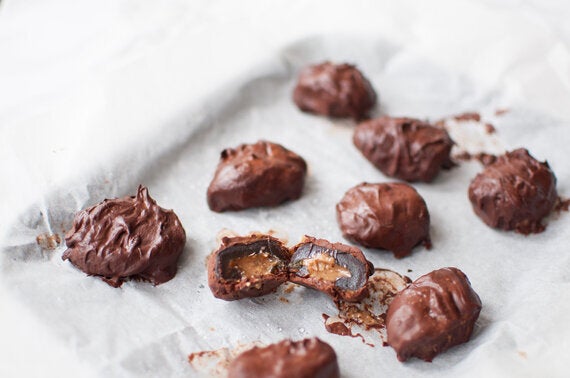 These look and taste naughty, but they are honestly not. All you need is Medjool dates, peanuts, peanut butter and dark chocolate or raw chocolate. Are you sold? Let's go!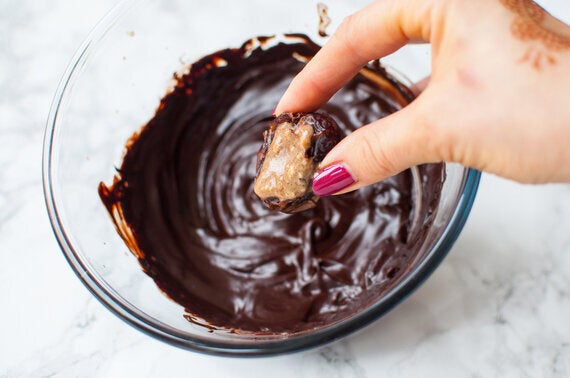 10 big medjool dates, pitted
Peanut butter approx. ¼ cup depending on the size of your dates (make sure no sugar or oil added)
70g raw chocolate, dark chocolate or dark chocolate chips, but watch the added sugars
Line a baking tray or dish with baking paper, set aside.
Take the pitted dates and place in each of them 2 peanuts. Once done add the peanut butter, you will probably need only a small bit but make sure you add as much as you can.
Pop the stuffed dates in a freezer for approx. 15 minutes
In the meantime, melt the raw chocolate.
Take the dates out of the freezer and dip each of them in the melted chocolate.
Place the well coated dates on the baking tray lined with baking paper. Continue until you have no dates left.
Place the tray/dish into a freezer to set for around 15 minutes
Before eating let it thaw for a few minutes...that is if you can!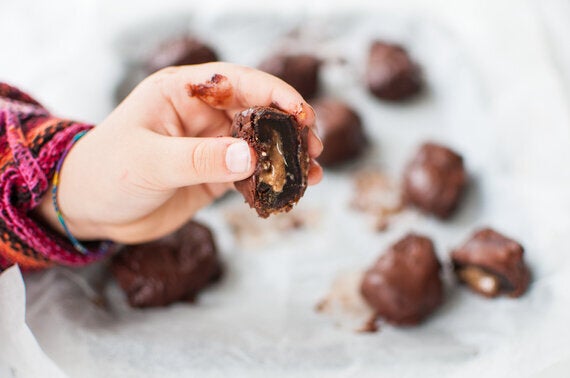 Don't forget to lick every drop of the melted raw chocolate left in the bowl, this mustn't go to waste. These are ready to be enjoyed straight away, or can be kept in the fridge or frozen up to 1 month.
Now check out the face of my daughter, she adores making them and even more eating them!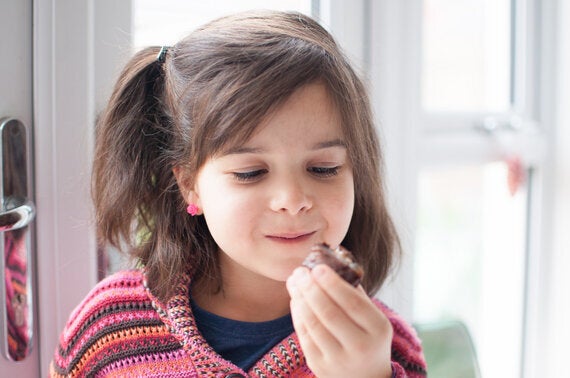 For more simple and delicious recipes head on over to Hedi Hearts.