"Where are you from, beautiful lady? You're not from the west coast are you? From Þingeyri? Oh! Ok... Really? Was your grandfather's name maybe Þorleifur? I see. Well then. See you later". This is a typical dialogue that could have happened between me a beautiful young lady late at night in a Reykjavik bar when I was a single man and looking for a lady I would have seen as my potential future wife some many years ago. You see, as a local here you don't just walk into a bar and go out with the next beautiful girl you meet, you have to make sure you are not related.
"There is more salmon in this river, then the whole population of Iceland". Johannes who is our surprise guest and a professional in the art of catching salmon is tells us. He tells us many stories about catching a salmon and from what he says it seems to me that it is much easier to catch a salmon in Ranga river then it is for a local to find a date in a bar in Reykjavik. The Ranga river does happen to be one of the top salmon rivers in Iceland though.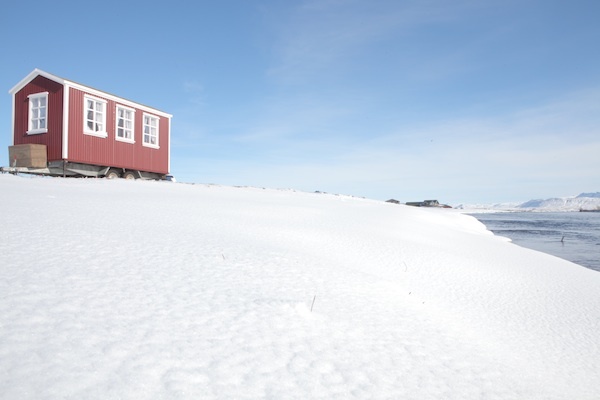 Today (15th March) we have the most beautiful day of Eldhús' journey so far, the sun is shining, there is no wind, blue skies, and a clear view at Hekla volcano and our famous E15 (Eyjafjallajökull) volcano. What a day! Yesterday (14th March) we had a snowstorm which temporarily put the fire out in Eldhús and then we get a day like this where I have to face the fact that I forget to bring the sun block with me on the trip.
Our guests today are two lovely couples from the UK, Paul and Eileen and Andrew and Louise. Neither couple has been to Iceland before. They are so excited because they were driving in the snowstorm the day before and they tell me that it "was an amazing adventure." It's funny but this happens a lot with tourists. When they come to Iceland they love it when they have an unplanned adventure like this, I thought it would scare them away.
Outside the house we met Johannes with his fishing gear in tow, he started showing us the technic how to catch a salmon. The salmon season starts at end of June although it differs between rivers the season is a total of three months. He shows us a spot in the river where 700 salmon were caught in one season! I glanced across to our guest Paul and saw that his eyes where glowing. I think he must have been thinking that he'd like to come back here one day to catch some salmon himself. You see Paul is the adventurer of the group he dives and loves to paraglide as well. Paul's wife Eileen told us she was never scared of him doing these extreme hobbies, she goes along and assists him.
"You won't have a better fish than the wild salmon of Ranga river. You don't really need anything but the salmon, a bit of salt and some good butter. That's it" says Haraldur, the chef of hotel Ranga restaurant. I often walk down to the river early in the morning before I start my shift and sit on the bench down by lake. He told me he sometimes sees the salmon jumping out of the water and this really inspires his cooking. It makes him feel challenged to serve the salmon in many different ways and to be creative with the fresh ingredients from the famers in the local area and this is exactly what he did for us today. Smoked salmon, laxtartar, raw salmon and then just on the pan with butter and salt served with root vegetables. It was absolutely delicious.
It is time to get going but before I go I want to thank Paul and Andrew for keeping me entertained with their funny jokes and to Eileen and Louise for being great company. It was great to meet you and I feel I've made great friends in you all. Have fun at the Blue Lagoon before you leave.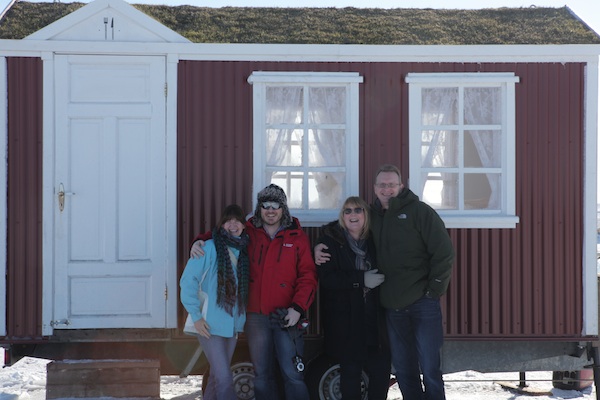 Next we have to serve dinner cooked by Vík at the black beach tonight. As white and beautiful as our location was today, everything will be black tonight. I wonder what delights the next chef will serve us at the black beach.