There is a misconception that equality means treating women the same as men. For women in the criminal justice system, government reports have tried to address the differences between male and female offenders. Despite these reports, the specific needs of women are not addressed. International women's day 2016 is a day when people everywhere have an opportunity to support the idea of gender equality.
#HeForShe? is an international campaign which invites people around the world to stand together for gender equality. International women's day is a time to understand that gender equality is not just a women's issue. It is a human rights issue, where powerful voices are heard in order to try and change the world.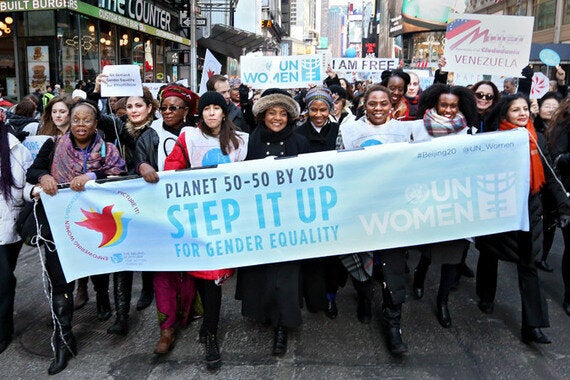 The theme for International women's day 2016 is "Planet 50-50 by 2030: Step it Up for Gender Equality". On Tuesday 8th March, the United Nations, governments and others in civil society will encourage the implementation of new goals to step up commitments on gender equality, women's empowerment and human rights. In particular the United Nations is encouraging women's access to food, reducing hunger, ensuring access to water and sanitation. The agenda is not just focusing on a few countries but is designed for all countries. In particular, the United Nations aim to create an action plan for people, planet, prosperity, peace and partnership.
Equality for women in prison
Women in prison have human rights and will need specific understandings of humanity which can take into account their issues. There are many ways that the compliance and implementation of human rights can be achieved for women in prison. Feminist academics highlight the gap between international rhetoric and the reality for women. International Women's Day 2016 is an opportunity to recognize how equality for women affects everyone and can be applied to all areas of life including women in prison. The first step towards change is to be aware of the issues. This means understanding issues for women in prison beyond stereotypes.
Initiated by Her Royal Highness Princess Bajrakityapha from Thailand, the Bangkok Rules (2010) were aimed at supplementing the 1995 United Nations Standard Minimum Rules for The Treatment of Prisoners. The Bangkok Rules are a significant development in the official recognition of the specific issues for imprisoned women as well as support from within the prison and stakeholders in the community. In order to monitor the compliance of nation-states there is a reliance on naming and shaming by the United Nations, international or national non-governmental organisations and the media (Follesdal et al, 2014; Nash, 2009; Van Gundy and Buamann-Grau, 2013). Since the introduction of the Bangkok rules there have been criticisms about the lack of compliance by nation-states and how there are few empirical studies connected to their implementation (Barberet, 2014; Van-Gundy and Baumann-Grau, 2013; Walby, 2011). The international and regional legislative frameworks relevant for women in prison overlap and have guidance which is difficult to interpret.
In order to analyse these complex issues and the relevant standards, research for women in prison is a blog and website which has the aim of educating people about international and local issues which affect women in prison. Research for women in prison promotes the work of organisations involved in prisons, the views of prisoners and research findings. Research for women in prison uses international legislation and provides knowledge about broad issues such as housing or healthcare that could improve the equality of women everywhere.
Telling women's stories is a powerful way of making change. The prison was an institution which formed an important part of the campaigns of the suffrage campaigners who fought to win the vote for women in England. Thousands of women were imprisoned for their campaigns for women to have the vote. Despite winning this battle, there is a need for all women today to become involved and care about equality. This doesn't mean everyone should start campaigning. If actions taken by people challenged issues or recognized areas for change then this could collectively led to steps towards the United Nations goals.
It is surprising how much knowledge there is available about women in prison. Despite this, their minority status has led to a small chapter or paragraph in a policy manual. Research for women in prison provides accessible and helpful information which could be used to promote equality for women in prison. Research for women in prison highlights the Agenda for 2016. This explains how different countries around the world treat women in prison, legislation and the rights of women in prison. A section about family life explains that equality for women in prison is important for their children, partners and the involvement of women in society.