The Ab Fab rehearsing week was colourful... Baby Spice arrives - I luvs her. I hold her hand for a long time. Lulu arrives - teeny, white trousers and abundant hair but amazingly calm and cheery for someone who's on that dancy dancy show as well. There's Lindsay Duncan - amazing actress and soooo normal so I start rabbiting on about clothes- and my gorgeous Jane Horrocks (genius) who makes me talk about fabrics. And this is in the first ten minutes! Don't know if I'm coming or going...
Actually, I'm going since MY SCENE (as I like to call it) takes a few mins - it is about piscean feet nibbling which is a new fashion.
More Ab Fab goss: Kirsty Wark is playing herself (not with) which is a feat in itself. Listen, if I could play myself I'd be the success I'd always wanted to be - but shyness always kicks in, damn it.
Completed my Ab Fb episode - am now besties with Lulu I do hope - LOVE her hair. Would have asked for the name of her hair dye if I'd thought, but was too busy remembering my lines. How does she do it? I must copy.
Get drunk in Green Room at Ab Fab after party. Shove mobile phone down cleavage. Want to take pics of everyone but think it will look uncool. Forget the phone is in there. Get home and hysterically call the production manager that I have left my mobile phone in green room probably down sofa where Jane Horrocks and I were being shouty.
In fact it falls out of my cleavage when I get into PJ's. Mortified. At least got one pic of me and Mo Gaffney.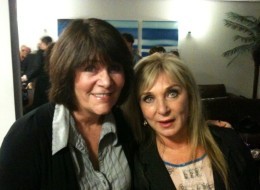 I now experience a BIG segue into youth culture. I was invited on to Big Brother's Bit On The Side.
I got to sit between two much younger women with shiny beige corrective shoes and competing false eyelashes (both were very generous - the eyelashes) I felt like I was their Nan. I sensed they did too.
As I was required to comment on the latest 'goings on' in the pretend house I made it my business to watch avidly the proper Big Brother for authenticity (in between rehearsing as a lesbian fortune teller in 'Killing of Sister George'). Big mistake: I called the Store Cupboard - THE FRIDGE! I know! Everyone stared at me as if I'd said 'plop' (someone had mentioned fisting earlier so I felt I was safe ). Then clever Emma Willis deciphered I was referring to the Store Room where I'd noticed a heinous crime occurring between the now ejected Rebekka (spelt with quite a few K's) who had whistleblown on those ferals who had illegally eaten biscuits: HOW DARE THEY? I loved it - am going back I'm told .... (continued below)
• My birthday - I fell twice. Man on drugs made a play. Yes I can still pull (if people have taken artificial stimulants).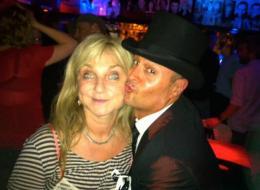 Meanwhile, I'm now rehearsing for The Killing of sister George at The Arts Theatre
A week to go before we DO IT. Am so scared I can hardly type.
Meera Syal, Belinda Lang and Elizabeth Cadwallader are all proper good actresses.
Does anyone know it's on? It's that nice pretty red seated little theatre in Newport Street which I count as WEST END. YOU COMING? (We share the varying agendas of sexuality, politics and minority groups....much coffee)
The Killing Of Sister George is on at London's Arts Theatre from 5th - 29th October. For tickets and more information, click here.