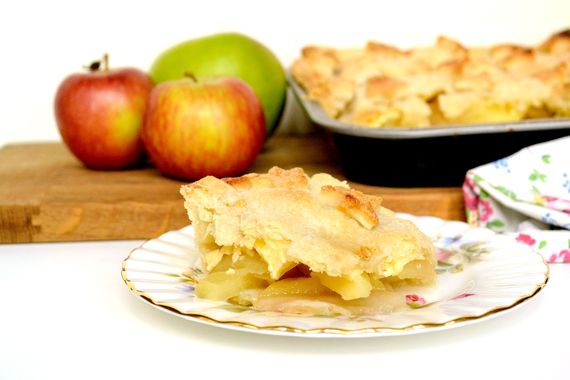 Photo by Helen Redfern
As a child I adored Enid Blyton books. By that I mean I was absolutely infatuated with them. They would captivate me, fire my imagination and would be responsible for much tiredness in the morning as I lay, at night under the duvet, utterly absorbed.
Whether it was because of the exciting adventures; be it on a farm, in the dungeons of a ruined castle or up a magical tree, or the (unrecognisable now) amount of freedom the children had, I devoured many. And whole.
But the element that stood out for me, above the adventures, above the freedom and the magic, was the food. Picnics, high tea, amazing cooked breakfasts; everything an Enid Blyton character ate sounded utterly divine. Her food has bewitched me for years. It has seeped into my adult life; has inspired me to create my blog, to write my Feasting on Romantic Comedy column for women's fiction website Novelicious, and has given me a love of cooking, baking and eating food and cake. Who knows, she may have also, indirectly, inspired me to keep chickens.
My daughter is now at the age where she too is becoming entranced by Enid Blyton. On our recent holiday she, like me many years ago, devoured The Children of Cherry Tree Farm, The Children of Willow Farm and More Adventures on the Farm. So, of course, I had to re-read them.
Enid Blyton is particularly excellent at firing up the tastebuds with her descriptions of food on farms. New-laid eggs, milk straight from the cow, a ham gleaming and glistening on the table, tomatoes and fresh lettuce from the kitchen garden and fruit picked with small fingers straight from the bushes served with cream skimmed from the milk.
The Children of Cherry Tree Farm introduces us to four children: Rory, Sheila, Benjy and Penny. Due to illness they are sent from the family home in London to their aunt and uncle's farm in the countryside. There they would reap the benefits of fresh air, exercise and good, wholesome and homemade food.
Any guesses to what the children first thought about when they were told the news that they would be staying at the farm? Why yes, of course. The food!
"Golly! Cream every day! And those apple-pies with cheese that Auntie Bess makes! And strawberries straight out of the garden."
Hold on. Hold ON. Rewind...
Apple-pies with cheese?!
Yes, I hadn't mis-read. There wasn't an editing error. A few pages later Auntie Bess tells them about the high tea she has waiting for them:
"Cold ham, and apple-pie and cheese, and buttery scones, and my own strawberry jam, and those ginger buns you loved last time you came..."
I have never heard of an apple pie with cheese.I googled it, and came across some, quite frankly, disgusting combinations of pie and cheese. Mainly with the cheese melted over the top of the pie.
But on further investigation I found an old Yorkshire saying which was "apple pie without the cheese is like a kiss without a squeeze". Cheese is either added to the pastry or crumbled in with the apples. I love sliced fresh apple with chunks of English cheese; it combines beautifully. And I love pie. Who doesn't?
So, with thanks to Enid Blyton, Aunt Bessie and the children of Cherry Tree Farm, here is my recipe for Apple & Cheese Pie:
You will need a deep baking tin aprox 23cm x 23cm
Ingredients:
2 x 320g ready rolled shortcrust pastry
250g Bramley apples
750g eating apples
75g caster sugar
100g Wensleydale cheese
A splash of milk and sugar to finish
Method:
Pre-heat oven to 180°C/160°C Fan.
Grease your baking tin including up the sides.
Un-roll one of the pastry sheets and lay it onto the tin, pushing gently into the sides and corners.
Peel and core the apples. Slice onto the pastry.
Sprinkle with the sugar, toss the apples lightly with it and crumble in the cheese.
Un-roll the second pastry and lay it over the top.
Pinch the edges together then trim off the excess. I used the excess to create shapes for the top.
Make two holes in the centre of the pie, brush with milk and sprinkle with sugar, then place into the pre-heated oven for about 30 minutes.
Serve cold or hot.
Helen Redfern is currently baking her way through her favourite Enid Blyton stories. She blogs and writes about Food in Fiction on her blog at helenredfern.co.uk
This article was first published on Helen Redfern's blog.