Blogging ideas really do come from the strangest places.
On Saturday evening, I met Rob Brydon of Gavin and Stacey, Would I Lie To You and general welsh funny-ness fame. Below is photographic evidence of this brief yet significant encounter.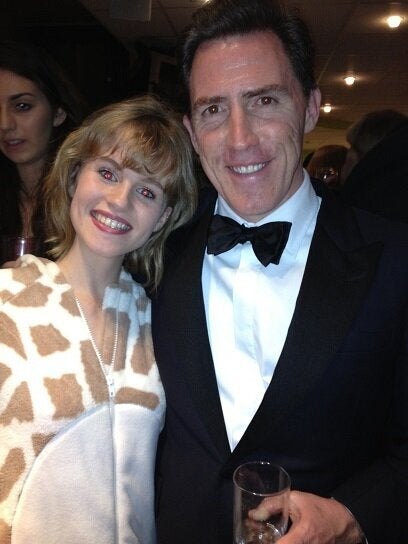 No, your eyes are not deceiving you, I am actually wearing a giraffe onesie and Mr Brydon is actually sporting a very smart penguin suit. A match made in heaven, don't you think?
If I'm being honest, I am not quite sure how this rendez - vous came to be. Nevertheless, Rob Brydon and I unexpectedly shared a beautiful moment in Queens College Bar, Cambridge. Neither of us expected it, but, like all significant moments in life, who can tell that they are just round the corner?
Hold: yes, Mr Brydon is very happily married and no, we are not eloping and no, there will not be another series of Gavin and Stacey where Uncle Bryn brings home a peculiar giraffe/girl hybrid to Gwen. (Unless, Ruth Jones is reading this blog in which case I am available for filming in December.)
In all seriousness, this random haphazard meeting got me thinking:
If a slightly inebriated undergraduate dressed as a giraffe can legitimately hold a conversation with a national treasure in one of the best universities in the world without being laughed at, patronised or thrown out - why aren't talented young people being taken more seriously by our corporations?
The diversity of the workforce is currently a hot topic. The focus is often on ethnic, gender and geographic diversity, all of which are imperative to a company's ability to provide services to a broad range of clients.
But where do young people fit in?
I often feel as though young peoples' talents are overlooked in the context of business. There appears to be the sentiment that experience equates to success. Of course, an element of this is true. But, equally, young people have a range of equally valid skills to bring to the table which can enhance a more experienced team.
During my gap year at IBM I worked in European Recruitment Marketing. I knew nothing about marketing plans. Nonetheless, I could still make a positive contribution. As a student, I was the target audience of these marketing campaigns and I could bring fresh eyes to comment on what might and might not appeal.
My manager often said that teams get so involved in the elaborate detail of a project that it takes someone who is one step removed to say why not use that web banner as a Facebook cover photo too, let's update the way we gather that information or simply: the blue isn't working.
I feel blessed to have had the opportunity to contribute to European projects. I learned so much so quickly and can now proudly say that I know what a marketing plan is. I can even write one.
A company may feel that it has a responsibility to promote diversity in the workplace. However, I believe that diversity is actually the key to a company's success. The more diverse a workforce, the more representative it is of the clients that it seeks to acquire.
"Dare to be Different" aims to provide young people with the opportunity to understand what it is really like to work in business and technology through presentations and workshops given by young employees. Not only does this work inspire students but it provides companies with a bright, informed, YOUTHFUL workforce.
Anyway, back to Rob. I view my serendipitous meeting with Mr Brydon as a celebration of diversity. A young whipper - snapper of a giraffe meets self-assured penguin in a bar. I can't wait to see the same in the work place. Maybe without the wildlife references.
Helena Eccles is shortlisted for the 2013 Women of the Future Awards.
For further information click here.
The awards ceremony will take place on Wednesday 13 November and is hosted by Real Business in association with Shell.