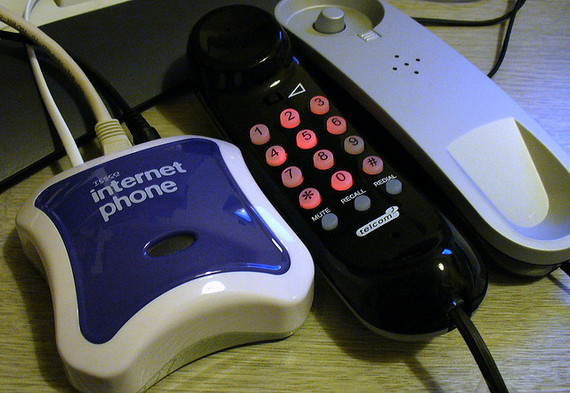 Cheap or free Voice Over Internet Protocol calls- commonly known as VoIP - have become hugely popular in recent years popularity thanks to the success of mass market services such as Skype. The benefits of VoIP calls are well documented: free web video chat that makes it cheap and easy to keep in touch with relatives abroad; financial savings for international businesses - not to mention reliability. Despite the increasing popularity of VoIP there are tons of fantastic and creative uses for Skype and other video chat services that most people still aren't exploiting. Here are ten of the best.
1. Record podcasts
It's a little known fact that you can record interviews for podcasts by combining the free, open source audio software Audacity with your VoIP software. Once you have Audacity installed, select 'stereo mix' as your recording device to allow it to record your contact's voice. Then, ensure your mic is connected and select it as the second recording device. You'll end up with two recordings: just splice them together to create the finished podcast.
2. Hold a (gigantic) video conference- or webinar- for free.
Thought that the three way video conference calls were exciting when VoIP first came out? That's nothing compared to the group video calls offered by some services. Google Hangouts limits you to ten active participants, so some alternative services are offering to fill the gap. One of the best at the moment is AnyMeeting. It positions itself as a video conference service for up to 200 participants rather than a video chat app so it's structured around corporate clients. Even better: it's free to use (if you don't mind ads!)
3. Speak in other languages (sort of).
The challenges of running an international business are as varied as they are well documented. As well as the issues caused by different teams and offices based in different time zones, many international businesses often have language barriers that make it hard to pick up a traditional phone and ask a question. Now, thanks to the Universal Chat Translator app, you can now at least muddle through an effective text based online chat with an overseas colleague- as long as they speak one of 15 pre-set languages.
4. Take your gaming to another- chattier- level.
VoIP also allows online gamers to stay in touch as they explore open world, team based games such as World of Warcraft. A particularly effective and lightweight VoIP service that's proven very popular with gamers is Mumble. It's entirely free and it also operates on a variety of platforms too: ideal if your best gaming buddies use a different operating system. Also, contrary to its name Mumble's audio is crystal clear so you'll always be able to hear your team's instructions in combat situations.
5. Use Skype like a regular phone.
Do you love the fact that VoIP makes keeping in touch with your auntie Janice in Melbourne a breeze, but miss actually picking up a handset and talking into it? Don't worry, the mcePhone for Skype lets you use a traditional phone with your Skype account to make calls, see your call history on your TV, receive voice mails when your computer is offline and send text messages from your TV.
6. Teach a class.
If you have a key skill or ability then there's now no reason that you can't offer a one off online course to teach others what you know, with students signing in and discussing points via video chat. You could advertise it widely and teach remotely, even recording your lessons as podcasts or video lectures. Massive Online Open Courses - or MOOCs- already make great use of VoIP chat and online tutorials, so there's no reason that individuals shouldn't benefit too.
7. Book a VoIP wake up call.
If you know how to use Skype's scheduled task feature, you already know how to book a wake up call to ensure you don't miss that vital video meeting in the morning. If you don't know how to schedule a task, here's a handy guide courtesy of Lifehacker.com.
8. Work with your colleagues remotely.
Being able to speak or text chat with anyone in your VoIP address book at any time is a great way to keep in touch with colleagues in other offices, but what if you're working on a project together and need to share documents via VoIP? Thanks to Talkandwrite, you can. It's an app that creates a funky collaborative whiteboard and it's increasingly the go to sharing solution for businesses and education institutions who need to work on projects in real time.
9. Keep permanent records of client conversations.
This is another useful tool for both local and international businesses. You can record VoIP calls much more easily than traditional calls, meaning that if you want a permanent record of a phone-based agreement or client deal you can keep track of the clauses and details and save the conversation as an audio file. Remember to ask permission from the person you're chatting to though: it's only polite!
10. Listen to the radio.
Speaking of Skype, there is also a great add on that allows you to listen to the popular streaming radio service Last.FM via the service. The app fuses Last.fm and Skype together, making it easy to share the song you're currently listening to as a message on Skype. It helps keep interactions with remote colleagues light, especially if you describe it as your 'office radio'. It's also a great way to brighten up a friend's or colleague's day by sharing a song that you both enjoy. Or you could Rickroll them, but that's another story.