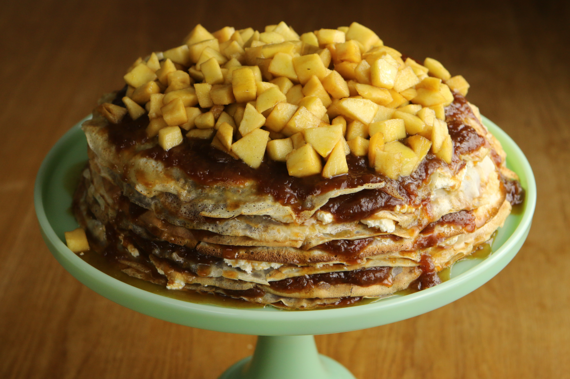 It's Bramley Apple Week! I am very proud to be one of the bloggers chosen to create a recipe to celebrate this home grown gem of ours; the great British Bramley apple. And given it's also pancake week it felt right and fitting to make a delicious crepe cake - layers and layers of pancakes sandwiched together with a spiced cinnamon Bramley apple sauce and a cream cheese icing. Topped of course with yet more Bramley apples, gently cooked in a little sugar.
Did you know the Bramley apple is only grown in Britain and is over 200 years old? It's loved by both chefs and home cooks for its excellent flavour and texture. It's higher malic acid content and lower sugar levels give it a stronger, tangier taste that retains its flavour when cooked. Texture wise, the Bramley contains up to 20% less dry matter than dessert apples meaning it stays moist when cooked and has a melt in the mouth texture. Basically, if you're going to cook with apples, for the best results, you need Bramley's.
Pop over to www.bramleyapples.co.uk for more inspiration and information - there are loads of great recipes to choose from. There's also a great Bramley Apple Week pinterest board here, plus I put together my own here for added inspiration. And don't forget to share your Bramley recipes and tips using the hashtag #LoveBramley and #BramleyAppleWeek
I made a video of the recipe too, for you to watch here!
Preparation time: 3.5 hours
For the cinnamon Bramley apple sauce:
8 large Bramley apples, peeled, cored and chopped (about 1.6kg prepared weight)
470mls cider
400g dark brown sugar
1 tsp salt
1 tbsp fresh lemon juice
2 tsp ground cinnamon
1 teaspoon vanilla extract
200g plain flour
4 large eggs
400mls whole or semi skimmed milk
160mls cold water
30g melted butter
Rapeseed or other vegetable oil (but not olive oil)
For the cream cheese filling:
230g full fat cream cheese, at room temperature
450mls double cream
80g icing sugar
1 Bramley apple, peeled, cored and cut into 1cm cubes
2 tbsp lemon juice
¼ tsp ground cinnamon
2 tbsp soft brown sugar
Preheat the oven to 120C/1/2 gas mark. Combine the apples, cider, brown sugar and salt in a large hob and oven proof casserole dish or saucepan and bring to a simmer over a medium heat. Cook for about 20 minutes until the apples are soft.
Remove from the heat and stir in the lemon juice, cinnamon and vanilla. Use a stick blender to puree the apple sauce then oven bake without a lid for 2.5 hours, stirring every half hour. The apple sauce is ready when it's as thick as tomato ketchup. Leave to cool then transfer into a lidded container and store in the fridge. (The sauce keeps for 4 days so you can make it ahead).
Measure the flour into a bowl and make a well in the middle. Crack the eggs into the well and add about a quarter of the milk. Whisk well with a handheld whisk until the batter is smooth and thick. Add the rest of the milk in thirds, whisking well after each addition. Add the water and melted butter, whisk well, cover and refrigerate for 30 minutes or up to 2 hours. (This stage is important as it makes the pancakes tenderer).
Heat ½ tsp of oil in a non-stick frying pan (approx. 28cm wide) on a very high heat. Don't be tempted to add more oil as it deep fries the edges making them thicker and rubbery. Hold the hot frying pan away from the heat then take a ladle (or use a jug) to pour just enough pancake batter into the frying pan to thinly cover the base. Tilt the pan to help the batter run over the base of the frying pan. The first one will always be a bit thicker than the rest - it's a learning process to see just how much batter you need to spoon in.
Place the frying pan back on the heat and wait until the edges start to curl and the centre shows large bubbles - this takes about 40 - 60 seconds. Then shake the pan a little to see if the pancake comes loose. If it doesn't use a slice or palate knife to loosen the edges, then flip the pancake over using a slice. (Or you can try tossing them!) Fry the other side of the pancake back on the high heat for about 30 seconds, then slip the pancake onto a plate to cool.
Add another ½ tsp of oil to the pan and repeat until all the pancake batter is used up. Add a layer of non-stick baking parchment between each pancake as you stack them - the mixture should make about 14. Leave to cool completely before assembling the cake.
Make the filling, topping and assemble:
To make the filling beat the cream cheese with an electric mixer or wooden spoon until smooth. Separately whisk the double cream and icing sugar to soft peaks. Stir 1 tbsp of whipped cream through the cream cheese to loosen it, then fold the rest of the whipped cream into the cream cheese with a metal spoon, using a slicing action.
Make the topping by combining all the ingredients in a saucepan and gently warming on the hob until the apples are just soft. Remove from the heat and drain away any excess liquid. Leave to cool.
Assemble by placing a pancake on your cake stand or serving plate, carefully spread a thin layer of the cream mixture over the pancake, about 1cm from the edges all round, them spoon over 2 tbsp of the apple sauce as evenly as possible. Stack a pancake on top and repeat until all 14 pancakes are stacked being careful not to press down on the 'cake' as you go. Finish the last pancake off with the cream and apple sauce then spoon over the cubed Bramley apple topping just before serving. Cut into wedges, just as you would a cake, to serve.
Serve immediately and keep any leftovers in the fridge for up to 3 days.
Related