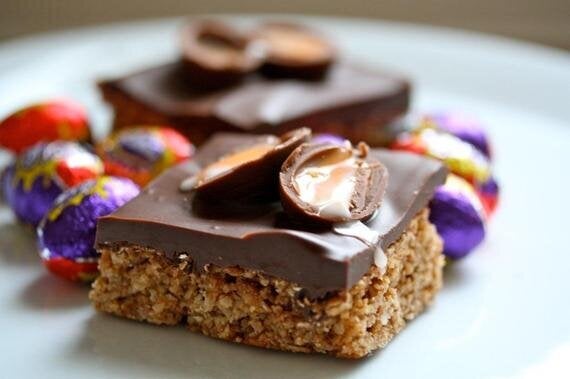 Image supplied by Holly Bell.
I'm becoming one of those women who has an opinion about everything. Yep. You know the type who interrupts someone mid-sentence to say 'you want to know what I think about that?' and then starts wittering on until the other person looks bored, regardless of whether said person even wanted to know what I think or not. It's not good and I'm not proud.
On to my opinion of the day. Cadbury creme egg recipes. If I see one more creme egg brownie picture in my facebook feed I'll scream. It's time to break out, try something new. I know they're good, I know. But a change is as good as a rest. And these babies are a little less guilt inducing. They've got oats in them for goodness sake. Slow release carbs combined with an Eastery sugar fix. Here goes:
Makes one tray to be cut into as many pieces as you wish - I went for nine.
• 50g chocolate spread (you can use Nutella but I know some folks don't like the taste)
• 1 tbsp (15mls) vegetable oil
• 1 x 89g bag of mini Cadbury creme eggs
Pop the mini creme eggs into the fridge to make them easier to cut in half later. Preheat the oven to 180C/gas mark four and line a 20 x 20cm tin with non-stick baking paper. Melt the sugar, butter, golden syrup and chocolate spread in a large saucepan over a low heat until molten. Then add the rolled oats and remove from the heat. Stir well until really well covered then press evenly into the prepared tin. Bake for about 20 minutes until the top of the flapjack appears golden. Remove from the oven and leave to cool.
Whilst the flapjack is cooling melt the milk and dark chocolate in a bowl in the microwave in 30 second bursts being careful not to burn it. (You can use the bain marie method if you prefer.) Then stir the vegetable oil into the chocolate. Leave to cool for five minutes then pour over the flapjack and push carefully into the corners with a spoon. Carefully cut the mini creme eggs in half, then place onto the flapjack.
Leave to set at room temperature for a couple of hours then slice with a very sharp knife. Dip the knife into boiling water before each cut for a really crisp finish.