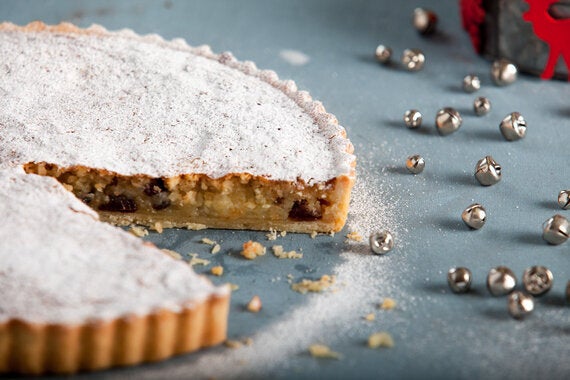 Can I ask you something? Have you ever thought you might have a book in you? A fiction book that is. I have become obsessed lately in writing one. Without temperatures, methods, photos. Just a book. Maybe a love story. Not sure. Surely it's a mistake to diversify. Isn't it? I even have an idea. It's sad in a romantic kind of a way.
Maybe I will start to write it. In the meantime I will stick to what I know and carry on baking. This frangipane tart is all the things you want from a festive tart. It has orange curd and almonds and spices and dried fruit. It's missing marzipan but I daren't chuck that in. I know how shirty some of you get when I become all marzipan-happy.
250g plain flour, plus extra for rolling
50g icing sugar
125g cold butter, cut into 1cm cubes
1 large egg, beaten
For the filling, frangipane and decoration:
580g orange curd
150g butter, softened
150g caster sugar
1 tsp mixed spice
3 large eggs (at room temperature)
150g ground almonds
50g sultanas
50g chopped glace cherries
50g icing sugar
Mix together the flour and icing sugar in a bowl and rub in the butter with your fingertips, to a breadcrumb-like consistency. Add the egg and use a blunt knife to mix. Use your hands to pull the pastry together, wrap in cling film and chill for 20 minutes.
Preheat the oven to 180°C/fan 160°C/gas mark 4. To make the frangipane, beat together the butter, sugar and mixed spice with a mixer/wooden spoon until light and creamy. Add the eggs a little at a time, beating well after each addition. Fold in the ground almonds, sultanas and cherries and set aside.
Roll the pastry out onto a floured surface to the thickness of a pound coin and use to line a 23cm loose bottomed flan tin. Spoon the curd into the case, then the frangipane over the top (spoon around the rim first to seal the pastry to the frangipane) and bake for 35-40 minutes until golden brown.
Cool on a wire rack in the tin. Once cool, remove from the tin and dust with icing sugar.
Related