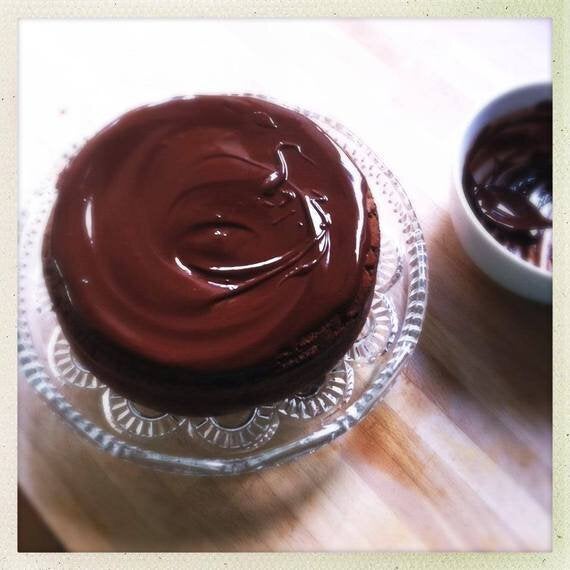 Image supplied by Holly Bell.
I get asked an awful lot about gluten free baking and when I explain that I'm really not very experienced in that department I usually get the reply that it's easy and I should look into it. Well it's still on my list of things to do, but I'm afraid as Baby Bell number three gets steadily closer to being baked other stuff takes over - like sorting through baby clothes, assembling the cot and practising my hypno birthing in the hope I won't completely embarrass myself by crying and screaming like an angry toddler when faced with the joy that is labour.
What I have instead is a cake that's naturally gluten free and that also tastes delicious. I really do love this cake, it's almost damp, which isn't an adjective you'll find me use very often, but it is correct. It also has a crunchy meringue like crust that's addictive.
200g dark chocolate, broken into squares
Four large eggs, at room temperature, separated
Preheat the oven to 150C/gas mark two. Grease and line a 20cm round, loose springform cake tin. Melt the chocolate in the microwave in 30 second blasts or use the bain marie method, stir and set aside to cool. Whisk the egg whites until stiff peaks form and set aside. Then in a separate bowl beat the yolks, butter, sugar and almonds until light and fluffy - about seven minutes by hand or four in a stand mixer. Add the dark chocolate and give it another good beating until well combined.
Take a third of the egg whites and use a spatula to stir into the chocolate cake mixture. You are aiming to loosen the mixture so simply stir well rather than fold. Then when that third has disappeared take the rest of the egg whites and fold into the mixture using large slicing motions with a metal spoon. When all traces of egg white are gone pour/spoon into the tin and bake for 45 - 50 minutes until the top has risen and started to crack a little. Remove from the oven and cool on a wire rack for five minutes before removing from the tin to full cool. Do not worry if the cake sinks a little upon cooling.
To make the icing simply melt the chocolate (as before) and the butter together, stir well then leave to set a little in the bowl before spooning over the top of the cooled cake. (I turn my cake upside down for a smoother top side.) Leave to set at room temperature.
Serve with berries, ice-cream or simply alone. The texture is dense and damp, very grown up indeed.