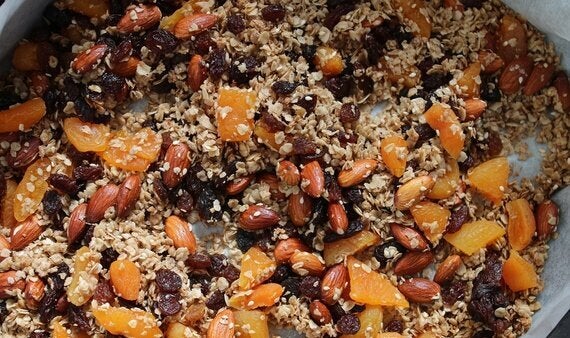 Do you remember the first time?
First love is a slap in the face lesson in vulnerability. You give this heart of yours, this precious, much adored by it's creators heart, to another. And boom! It's smashed into tiny little fragments. Some people just don't look after things very well. They're careless.
And then years later this shattered, scarred heart produces another heart (or three) and there the cycle begins again. Surely if we knew how vulnerable the love for our babies would make us, few of us would dare to tread there.
It's just too raw, even years later. It's like a wound that never fully closes, just covered over with a plaster of respectability for fear of embarrassing others. It hurts.
I'll stop being emotional now (and no, I'm not pregnant). Onto the recipe. This is another of my granola recipes. Gosh, if I carry on at this rate I'll have enough for a book. Though I'm not sure anyone would buy '101 granola recipes', what do you think? Oh hang on, someone beat me to it.
Makes a large kilner jar that holds three litres of liquid
50g maple syrup
120g coconut oil
1 tsp ground cinnamon
200g porridge oats
30g sesame seeds
150g whole almonds
70g jumbo raisins
160g chopped dried apricots
Preheat the oven to 160°C/gas mark 3 and spread two baking sheets with non stick baking paper. Melt the syrup and coconut oil in a saucepan until just molten. Remove from the heat and leave to cool for 5 minutes. Add the cinnamon, oats, seeds and almonds and stir well. Spread carefully over the baking sheets in one thin layer.
Bake for 15 minutes then turn the granola mixture over using a slice/spoon and bake again for another 20 minutes, checking for any burning periodically. You are looking for a golden brown colour to develop. Take the trays from the oven and press the granola down with a potato masher then return to the oven for five-10 minutes until a lovely brown slab of granola has developed.
Remove and leave to cool. When cold break the granola up into bite size pieces and mix with the dried fruit. Pour into jars and enjoy with yoghurt/milk/fresh fruit or whatever you fancy. Or give it as a gift. These little bags are perfect for the purpose.