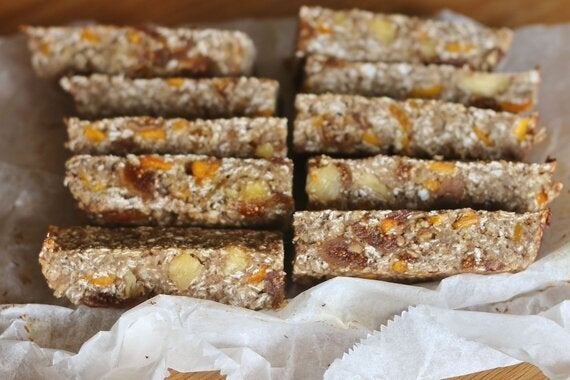 Bake Off is back! So here's a little recipe that starts us all off slowly. I'm not talking about ease of recipe, oh no (though these are very easy indeed), I'm talking about calorifically. Look, we've got weeks ahead of us. We need to pace ourselves. So I'm starting with refined sugar free tropical breakfast bars that I made for a Whitworths workshop.
This is a low refined sugar bar packed full of oats, a little like a flapjack, with a totally tropical taste. A great way to start the day without lots of unnecessary added refined sugar. These freeze well too, so make a batch, store away in your freezer and defrost one overnight ready for breakfast at home or on the go.
1 ripe banana
150g Whitworth deglet dates
20g Whitworths desiccated coconut
70mls boiling water
95g Whitworths soft figs
30g Whitworths sweet mango
30g Whitworths sweet pineapple
160g oats
Preheat the oven to 160°C/gas mark 2 and pop the kettle on. Grease and line a 20cm x 20cm tin.
Peel the banana and break into pieces. Place in a jug with the dates, coconut and boiling water. Leave for 5 minutes and in the meantime chop the figs, mango and pineapple into 1/2 cm chunks using scissors. Use a stick blender to blitz the banana mixture to a fine purée, being careful not to spray yourself with boiling water.
Combine the puree, oats and chopped fruit in a bowl until well mixed then press into the prepared tin. Bake for 30 minutes until the edges are starting to brown and the top feels firm. Remove from the tin and cool on a wire rack then cut with a very sharp knife once cool. Store in a tin for up to 5 days. Freeze, well wrapped for up to a month. Defrost at room temperature before serving.