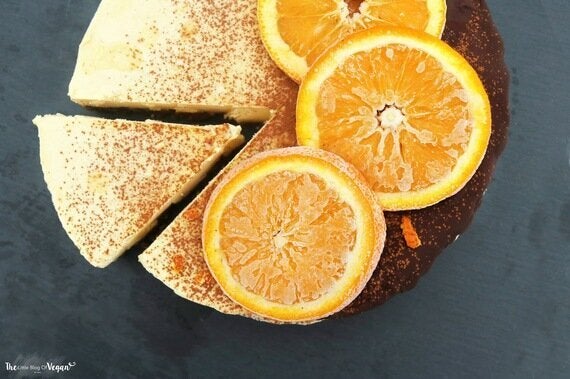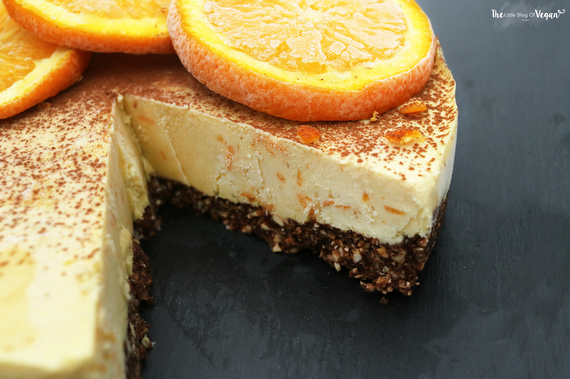 Freezing time- 5-8 hours (or overnight)
-100g of dates (pitted & de-stoned)
-2 tablespoons of cocoa powder (you can use cacao)
-40g of dark chocolate (I used 75% Vivani)
-1 tablespoon of coconut oil (melted)
Ingredients for the orange layer
-200g of cashew nuts (soaked)
-1 teaspoon of vanilla extract
-Juice of 2 large oranges
-110ml of coconut oil (melted)
TIP- The Cashew Nuts need to be soaked overnight in water. Just make sure the water is covering the Nuts!
Step 1- Line a cake tin with grease proof paper.
Step 2- In a food processor/blender, add in the hazelnuts, de-stoned dates, cocoa powder, melted chocolate, coconut oil and salt.
Whizz up on high until like breadcrumbs.
Step 3- Firmly press the mixture into the lined tin and pop into the freezer.
Step 1- Drain the cashew nuts and pop them into a food processor/blender along with the vanilla extract, orange juice, orange zest, melted coconut oil and maple syrup.
Allow to blend on high speed for around 5-8 minutes, until smooth.
Step 2- Pour the creamy orange layer onto the base and pop the tray back into the freezer to set.
Allow the cheesecake to set fully.
This will take around 4-6 hours (but i left mine overnight)
To serve, defrost the cheesecake for around 15-20 minutes until fully defrosted!
I decorated my cheesecake with some orange slices, a sprinkle of orange zest, a dusting of Vivani hot chocolate powder and Vivani chocolate orange chocolate.