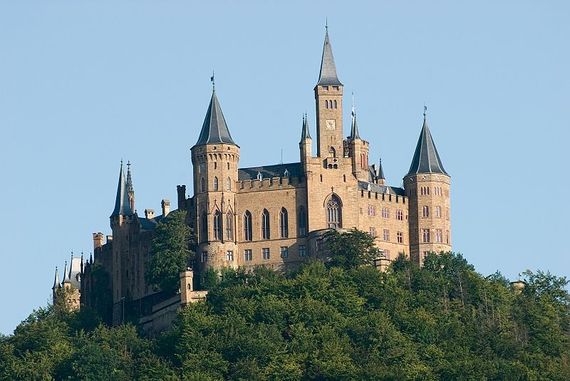 Image credit: Foto Design Ernst Wrba
"Ein, zwei, drei... funf?" We're counting out the train tickets, midway through the latest of this week's many language disasters. It's strange being so lost in a foreign tongue. This summer I swapped
my usual stamping ground -Italy-
for a week in southern Germany, around the Schwarzwald and Swabian Jura. From Frühstuck to Abendessen, I'm completely clueless.
But language aside, the two countries are not so different.
Centuries of history are intertwined. The Guelph-Ghibelline conflict, which left blood on the medieval streets of Florence and Siena, began with a squabble between two German families, the Hohenstaufens and the Welfs. German Emperor Frederick II extended the family reach, building castles across Puglia and southern Italy. There's cultural overhang, too. Like Italy, southern Germany is predominately Catholic. Traditional spätzle ("noodles") are handmade with flour and egg... pasta, in other words. Yet I'll confess to pre-booking jitters. Alongside the linguistic gymnastics, my main worry was the food.
Italy is world renowned for its variety of regional cooking
. It's the home of tortelloni and ravioli and gelato; of spiky seafood stews like cacciucco and brodetto all'anconetana; of gastronomic cities including Parma and Bologna.
Germany has sausage and cabbage... or so the cliché goes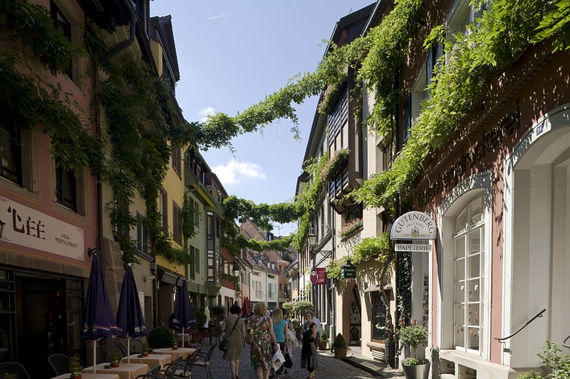 Image credit: Brunner, Ralf
Schwarzwalder food is certainly rustic--just like almost every good Italian meal I've ever eaten: excellent Flammkuchen (pizza-like cheesy flatbread) and pork with wild chanterelle mushrooms at
Salenhof
; bockwurst and a tart gherkin at Freiburg's market. It's fair to say pork lovers have a culinary advantage here. (And which other country does that remind you of?)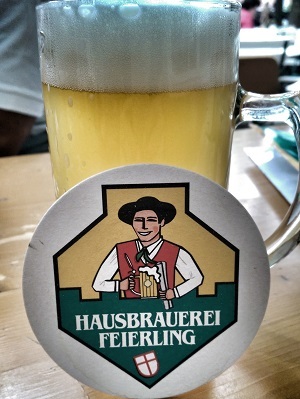 Wild boar is another favourite, just as it is in Tuscany and Umbria. Hard alpine cheeses, cured ham, strudel... some of these menus could have been written in Trentino or the Alto Adige. Craft beer is on the rise in modern Italy. Here in Germany they've been microbrewing with hops for at least a millennium, and they've got rather good at it. At
Freiburg's Hausbrauerei Feierling
, I grab a wooden bench and order a large Insehopf. It's unfiltered, strong and cloudy, with a sour-lemon kick. Zing. And German cakes win hands-down. At
Cafe Feldbergblick
, a waitress in traditional dirndl delivers a huge wedge of Schwarzwalder Kirschtorte, a concoction of chocolate, cream and boozy cherries that's a million miles from the bland Anglo pastiche, "Black Forest Gateau". The kids go for Himmelstochtertorte, moreish layers of meringue and cranberry cream. Next time, I'll take a slice of each.
Of forests, hills and castles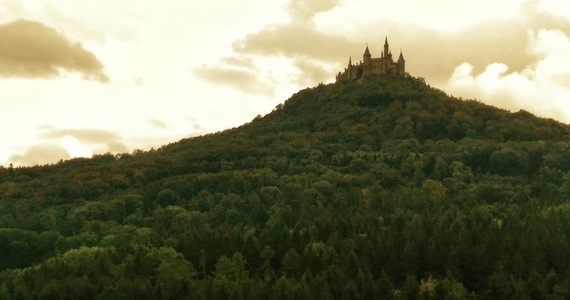 Image credit: Donald Strachan
Trains are spotless and punctual, of course. From a carriage window I examine neat rows of low-rise houses, each with a carefully tended lawn. There are few things less Italian than a lawn. Stretches of the Hochschwarzwald, the Black Forest's uplands, resemble one giant lawn. Hamlets nestle in shallow vales, or bob to the surface among vast tracts of emerald pasture. Gable ends hang from traditional houses like a bob-cut with a sharp, straight fringe.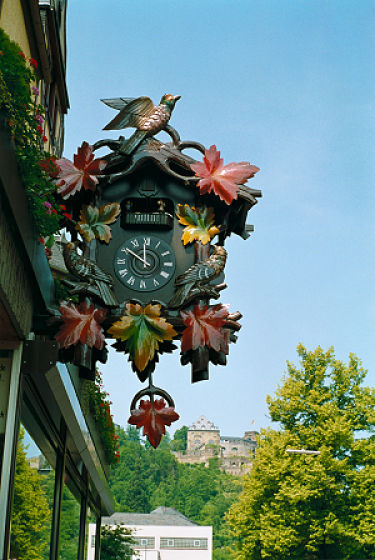 The road meanders through farmland before plunging into dense pine and larch forests at Triberg. The town is known for tourism and cuckoo clocks; at the
Haus der 1000 Uhren
they've been selling hand-made clocks since the 1800's. Above the town are the Gutach Falls, Germany's highest at 163 metres. It's a short, stiff climb through the woods to two footbridges across the tumbling torrent--great photo spots. Later, the Hochschwarzwald falls silent, save for cow bells drifting on the evening breeze. Just east of the Black Forest is
Hohenzollern Castle
, a neo-gothic fantasy high on a hill south of Hechingen. There's been a castle here since at least the 11th century. The current edition was mostly built from 1850 to fulfil a dream of Prussia's King William Frederick IV, who had visited his ruined family seat 30 years earlier. It cuts a spectacular silhouette from the road below; the view over the Swabian Jura from its bastions is even better. Freiburg's Münster (or cathedral) rivals any gothic church in Italy. Its ambulatory chapels include a painted altarpiece by Hans Holbein (1526) and some of Germany's oldest stained glass.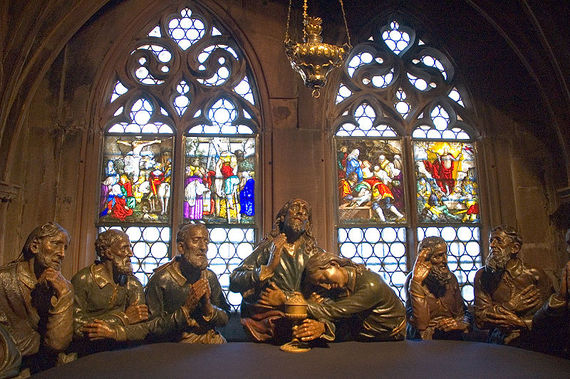 Image credit: Keute, Jochen
Do we need to talk about the weather? It's certainly comparable... with the Alps and Dolomites, not Tuscany or Puglia. One morning, I wake to find it's sluicing it down so hard even upland cows are sheltering under a tree. Thankfully the 18 water slides at
Galaxy Schwarzwald
are encased in a giant glasshouse. It's a wet summer day, so the place is packed, and there's a wait for all the best slides. But queuing is, as Italians sometimes phrase it, "Anglo-Saxon"--efficient and pretty ordered. The kids have a blast. Granted, I'm not ready to swap my Gazzetta dello Sport for a Süddeutsche Zeitung. Not quite yet. But I may just invest a decent German phrasebook.
Beer glass image credit: Donald Strachan.
Cuckoo clock image credit: Marth Gundhard.
Donald Strachan
is a travel and technology journalist, as well as a guide writer who specialises in Italy.