Do you ever have the urge to pack your bags and explore the world after you've watched a good film? Most of my favourite films have been set in exotic locations or based on crazy travel adventures. Something about these foreign backdrops seems to trigger this itch to have an adventure of my own. I recently asked some of my friends what films they found stirred the wanderlust in them and here is what they came up with: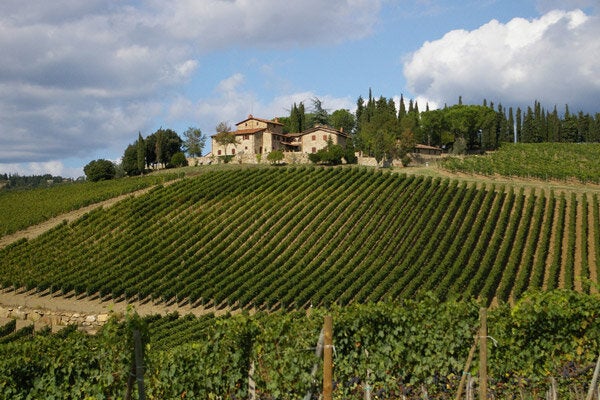 This romantic drama is based on Frances Mayes' memoir of the same name. In this film Diane Lane stars as Frances, who following the failure of her marriage, takes a bus tour of Italy that will change her life. On a whim she ends up buying a beautiful but crumbling Tuscan villa. As she lovingly restores the dilapidated villa she explore the pleasures of Italian life and the stunning Tuscan countryside. What is there is not to love about the setting? Good food and wine, charming hilltop villages and the beautiful Tuscan countryside. Life is beautiful in Tuscany, or "La vita e bella" as the Italians would say!
While Frances makes buying a crumbling Tuscan villa look like a fabulous idea, it might be better for the rest of us to just stick to a holiday under the Tuscan sun. HomeAway.co.uk has a great selection of holiday villas in Italy, to give you a little taste of la bella vita.
Another film that is based on a memoir, Eat, Pray, Love is the story of a woman who leaves her unhappy marriage and takes a trip around the world to find herself. The film stars Julia Roberts and takes us to Italy, India and Indonesia.
She spends four months in Italy, eating and enjoying the Italian way of life ("Eat"). After Italy she heads to India where she finds her spirituality ("Pray"). She ends her year in Bali, Indonesia, where she finds herself and finds love ("Love").
The Best Exotic Marigold Hotel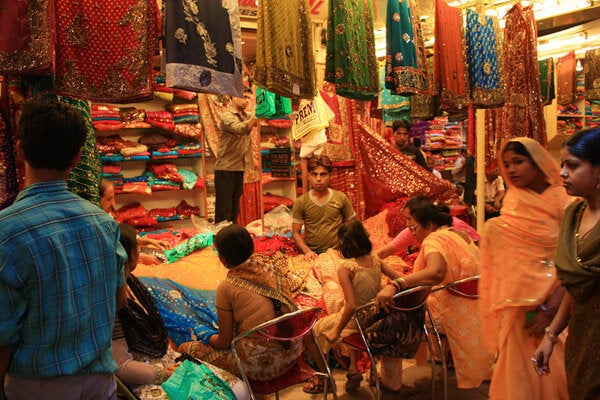 Jaipur's colourful Pink City market © plusgood
This is probably my favourite film on the list. If you haven't seen it, you're really missing something special, it is simply delightful. The film has a stellar cast including Dames Judi Dench and Maggie Smith and Bill Nighy.
It follows the adventures of a bunch of British retirees who head to Jaipur, India to begin a new life at a special hotel for retirees. Life in India is nothing like they imagined and it's wonderful, and sometimes quite touching, to watch how they adjust to life in Jaipur.
It is a comical and beautiful look at how a country can change you. This adorable, light-hearted film will leave you longing to visit vibrant, colourful India, with its friendly people and unique culture.
Seven Years in Tibet is based on a book by Austrian Heinrich Harrer and is about how travel adventures can change your life. The film stars Brad Pitt and tells the story of an Austrian mountaineer who attempts to conquer the Himalayas in 1939, during which time the relationship between China and Tibet is volatile. He gets captured, but breaks out of the prison camp and sneaks into the holy Tibetan city of Lhasa where he befriends the Dalai Lama.
The film highlights how our outlook on life can change when confronted with new experiences in a foreign land. If you've seen the film it's not hard to understand why the crisp blue sky, majestic mountains and Tibetan people stir the wanderlust in all of us.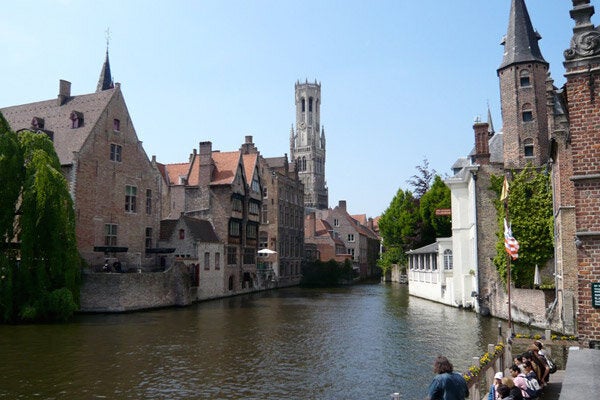 Travel the canals of beautiful Bruges © goforchris
This dark comedy is about two Irish hitmen (Colin Farrell and Brendan Gleeson) who find themselves in Bruges, Belgium. The film shows how the two men experience Bruges with very different attitudes and the historic canals and lamplit cobbled streets form the perfect backdrop to a film that deals with guilt, blame and redemption.
During the course of the film they find their interactions with tourists, locals and a film crew alter their views on life and death. It may be dark, and it may take a little jab at tourism in Burges, but it makes you look at Bruges in a new way because it shows Bruges at its melancholy best.
This film is set in spectacular Provence, France and stars Russell Crowe as a wealthy investment banker who inherits his uncle's chateau and vineyard, which holds many childhood memories for him. As he learns to enjoy the laid-back lifestyle of Provence he meets new people and relives his precious childhood memories that changes the way he looks at the chateau and life in general.
The film takes a look at how meeting people on your travels can inspire you to take chances and do things you normally wouldn't do. It may be your typical feel-good film but there is no doubt that you'll feel the tug of the vineyards and picturesque countryside of Provence.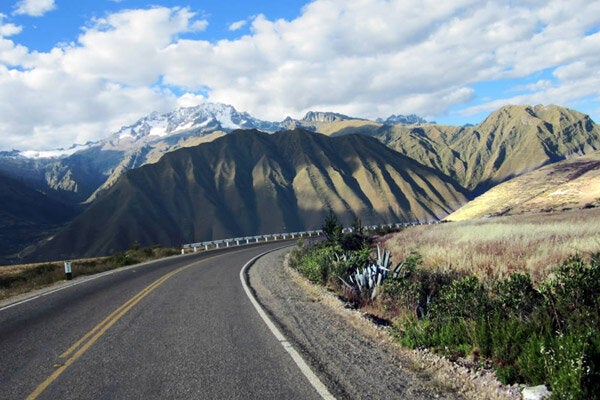 Take to the roads of South America for the road trip of a lifetime © David Stanley
This is the true story of Latin American revolutionary Che Guevara, who embarks on a five-month motorcycle trip across South America with his friend and fellow medical student, Alberto Granado. The film highlights the best things about travel: freedom, adventure and personal discovery. While you may not agree with his politics, it's interesting to see how coming face to face with poverty, hunger and disease can change a person. The scenic countryside of Argentina, Chile, Peru and Venezuela will make you want to have a South American adventure of your own.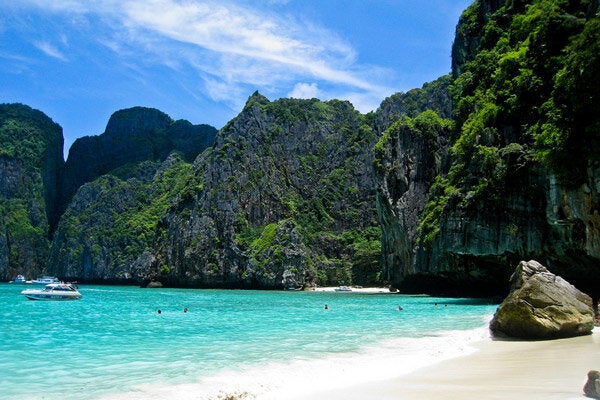 Maya Bay on Koh Phi Phi, where The Beach was filmed © Fah Rojvithee
While it was quite a controversial film, it's no surprise that ever since its release people have been flocking to the pristine beaches of Thailand. The film stars Leonardo DiCaprio who follows a map to the island paradise of Ko Phi Phi Leh, Thailand, where nothing is quite what it seems. To be honest, I didn't find the film particularly enjoyable, but seeing palm-fringed beaches with crystal clear water and soft white sand certainly does make that travel bug bite. Sadly Maya Bay, where The Beach was filmed is usually overrun with tourists.
As wonderful as these films are, there is no substitute for the real thing, so once in a while I hope you get off the couch and experience an incredible travel adventure of your own.
Related