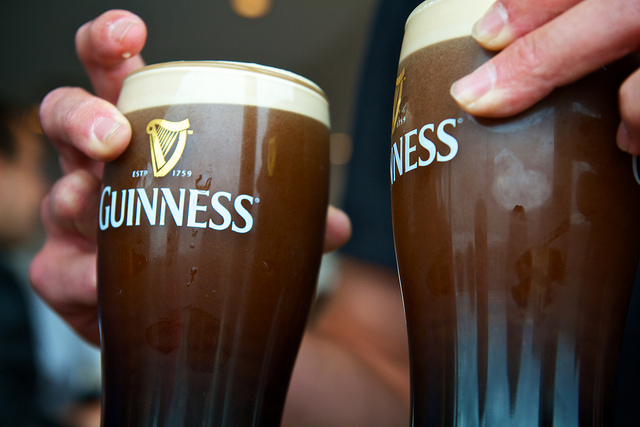 From Dublin with its Guinness to Bamberg with its Rauchbier, Europe is full of amazing destinations for beer lovers © Zach Dischner
For beer lovers in Europe, beer is more than just a frothy beverage - it's a revered elixir that has become a part of European culture, and creating the beverage has become a kind of art form. It's no surprise that Europe boasts nine of the world's 10 countries with the highest beer consumption per capita. With Oktoberfest in full swing I decided to go in search of Europe's best beers. Here is my roundup of great destinations to raise your glass to:
Belgium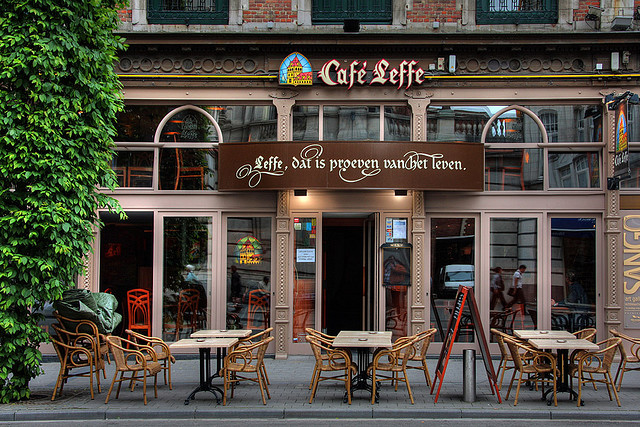 Cafe Leffe in Leuven gets its name from the Belgian abbey style beer that has been brewed in the town for centuries © Michiel Jelijs
Belgium is a beer lover's paradise, not only because of the marvelous quality beer found there, but also because of the staggering number of different kinds of beers, not just different brands.  Local beer was originally brewed by monks, and today the heart of the Belgian beer culture is still the Trappist beers that are brewed in abbeys.  Belgians take their beers seriously, with most having their own uniquely shaped and embossed glass, to enhance the flavour and aroma. There are beers with delightfully strange names like "morte subite" (sudden death). Belgium even has a driving tour called 'The Beer Route'.
Délirium Café in Brussels holds the Guinness World Record for the most beers offered (2,004). The bar offers beers from 60 countries around the world, including famous Belgian beers like Delirium Tremens, the ale that gave the bar its name. If your taste buds are up for something unusual you can always try Délirium's chocolate, banana or coco beers. Visitors to Antwerp, may want to visit the city's most popular beer spot - Kulminator. This bar is renowned for its vast collection of cellar beers, and although you may have to wait to get a seat, it'll be worth it when you get to taste the hard-to-find Westvleteren. Another great Belgian destination for beer tasting is Leuven, the home of Stella Artois. If you're interested in the history of beer, you can visit Café Vlissinghe which dates back to 1515, or take a tour of Poperinge's Hop Museum or De Gouden Boom Brewery Museum where Belgian beer has been produced since 1455.
Germany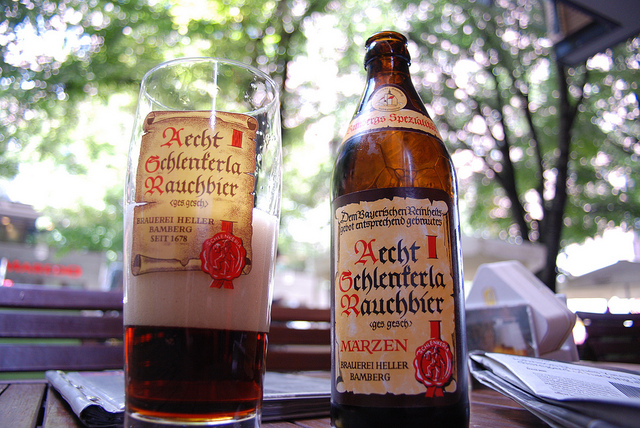 Bamberg in Upper Franconia is famous for its smoked Rauchbier © George M. Groutas
You can't go in search of Europe's best beers without making a trip to Germany. There are about 1,250 breweries in the country that produce around 5,000 different brands. The Reinheitsgebot (Purity Decree) of 1516 regulates the production of beer in Germany. The decree dictates that only four ingredients may be used: malt, yeast, hops, and water. Although Munich is synonymous with beer thanks to the Oktoberfest, you'd be missing out if you didn't visit some of Germany's other fantastic beer cities.
Bamberg in Upper Franconia is the place with the highest density of breweries per square mile in the world. It's famous for its smoked Rauchbier. There are eight breweries and one brewpub in the city itself, and many more in the Bavarian countryside surrounding the city. Beer enthusiasts can join a guided beer tour of Bamberg and the surrounding region by bicycle with Bamberg Beer Me! Other great beer destinations in Germany are Cologne, which has a local specialty brew called Kölsch and Düsseldorf, which is renowned for its top-fermenting beer Altbier.
Czech Republic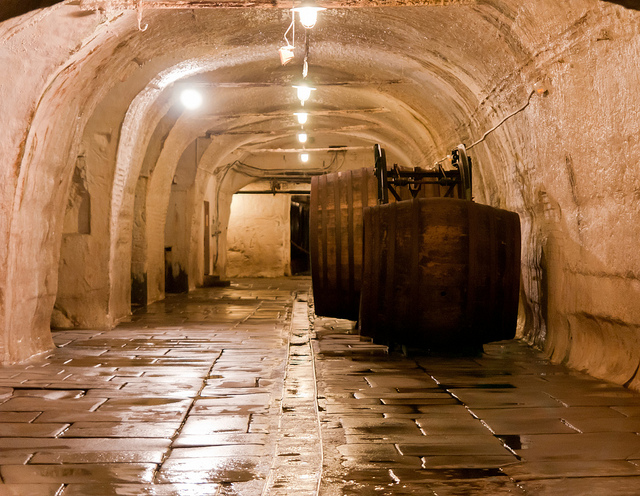 Visit the original cellars of the Pilsner Urquell Brewery on a brewery tour © LenDog64
The Czech Republic is home to beer houses and halls that have been serving locally brewed beer for hundreds of years to generations of beer enthusiasts. The capital city Prague is a fabulous beer destination because not only is the quality of the beer excellent, but you get the beer at bargain prices. We have the Czechs to thank for the original Budweiser (Budvar) and Pilsner Urquell, which was produced in Plzen in 1842. Traditionally bars in the Czech Republic pour one type of beer, although that is slowly changing, so if you're looking for a variety of different tastes you may have to do some pub-crawling.
In Prague's New Town you'll find U Fleku, the world's oldest brewpub, which has been brewing its own caramel coloured lager for 500 years. Here you can sidle up to strangers at long wooden tables and discuss Prague's many attractions and of course, beer. Plzen is just 50 miles from Prague and is home to the fascinating PlzeňskéPivovarské Muzeum, which is well worth the visit.
Ireland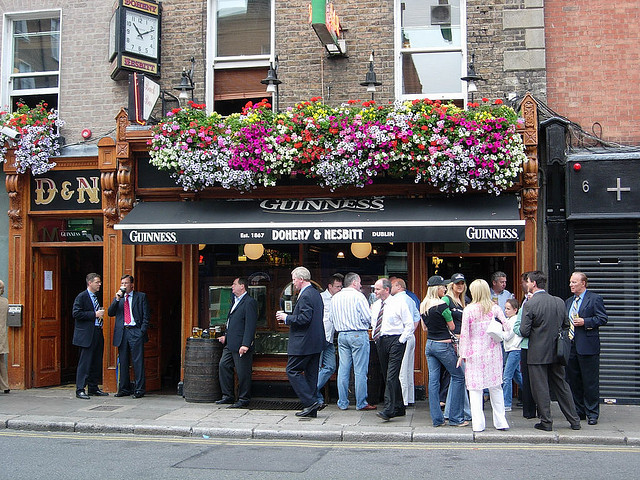 You just can't beat the atmosphere of an Irish pub © Chris Sansenbach
You can't talk about beer without giving a nod to the Irish and their warm and friendly pubs. Ireland produces around 8.5m hectoliters of beer per annum. Beer is like mother's milk here, and you don't get a more charming atmosphere than an Irish pub. Almost every Dubliner you'll meet has an opinion on where to find the best Guinness, the black stout with a thick creamy head the locals are so fond of. A good place to start in Dublin is the St. James's Gate Brewery, where Guinness has been brewed since 1759. For your second pint you can visit The Storehouse on Crown Alley, which is one of the few places in the Temple Bar area which is not ridiculously overpriced.  The Storehouse has great live music, friendly staff and an unbeatable atmosphere. You should also visit Bowes on the east side of Fleet Street, for some excellent Guinness, a great atmosphere and craft beers on tap.
United Kingdom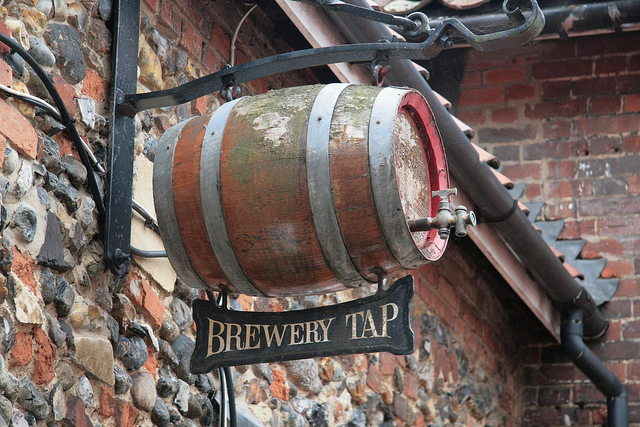 Tour the Greene King Brewery and museum in Suffolk, finishing off the visit with a beer tasting at the Greene King Brewery Tap © Karen Roe
Having a pint in a pub is just a part of the English lifestyle. Pubs are like a second living room for the Brits. Here you'll find long-handled pulls that draw traditional ales up from cellars. The naturally fermented ales vary from bitter to sweet, and are preferable to the locals than cold, mass-produced keg beers. The UK is also home to The Great British Beer Festival, which takes place in London each August, with 450 UK-brewed beers, as well as around 200 beers from countries including Belgium, the USA and Germany.
Finding a pub in London is easier than finding a red telephone box. They're everywhere. Nottingham is also a great destination for beer lovers, with 43 pubs to choose from.  While you're there you can visit the Nottingham Brewery, a microbrewery that was established in 1847. County Durham is a great choice if you enjoy tours of breweries. With Durham Brewery, Black Paw, Hill Island, Yard Of Ale, Gambling Man, Consett Ale Works, Weard'ale, Just A Minute and Stables to choose from you'll be spoilt for choice. If you're in Suffolk you can't miss taking a tour of the Greene King Brewery, which was established in 1799. The brewery tour includes a museum where you can learn about the history of the brewery, and a beer tasting at the Brewery Tap.
So if you're in search of Europe's best beers, what is on tap for your next adventure?
Written by Kerryn du Plessis, a travel writer for HomeAway.co.uk.