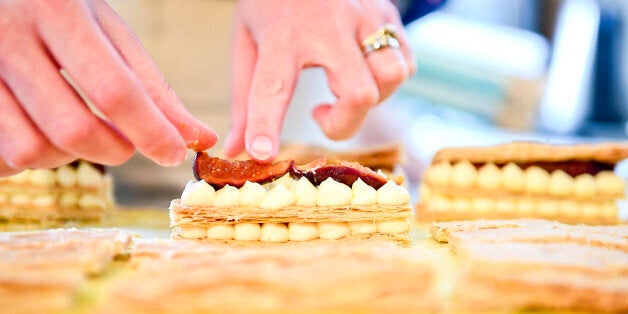 With tonight's GBBO final, I can only feel for what Candice, Andrew and Jane are going through. To see the tent on TV and be a fan of the show, to then stand inside it and have the prospect of winning that great title is the most incredible feeling.
The main word I would use to describe being a contestant on what has become the biggest show on TV is 'surreal', especially initially. Having watched the other series on TV and then to step into the tent to take part was both surreal but also an incredible experience. With every series it seems like its popularity has grown. I think the thing Britain loves is that all contestants are normal people - they have regular jobs and the stresses and strains of everyday life - then suddenly there they are panicking in a tent and baking their hearts out to avoid the dreaded soggy bottom.
I remember my first day in the tent, someone started by giving us instructions on how to use the ovens and hobs but I didn't listen to a thing, being absolutely in awe of the situation. Now though, I look back and see that information could have come in handy - when baking under pressure you need every precious second to focus on the food rather than figure out how to turn your hob on.
All the finalists this year have their own individual talents but it is rare to be as ambitious as Candice and actually deliver that level of detail in the time provided. She is almost operating in what seems like a different time zone and I am totally in awe of that. I always flew pretty close to the clock and I knew the judges were aware of it when Mary started saying to me "Are you going to finish this time?"
The GBBO club is a bond you cannot break. Whether it is the contestants from your series or another one, you always have and will have something in common with each other that so few have experienced.
After the show people ask you 'how does life change?', and for me and lots of other contestants you find that you are presented with the weirdest and most wonderful opportunities. If someone would have told me I would have written my own book and people would have bought it, I never would have believed that dream would come true. But here I am, writing, doing food demos up and down the country and making a living from flour, eggs and sugar rather than the council job I used to have.
The latest project I have become involved with is Bake With a Legend . It's a baking masterclass you can book in different parts of the country with bakers and former GBBO contestants like me. It's perfect for corporate events, team building, office parties, hen parties or really for anyone that wants to be a better baker. The concept reminds me of the privilege being a part of GBBO has been though I wouldn't call myself a legend! In fact only three times have I been called 'a legend': once, in a local pub in Sheffield, another time in an off license late one night in Brighton and now with a new baking concept where I actually teach others! If anyone wants to know more, go to their website and book a class - I'd be thrilled if you ask for one with Howard!
Related