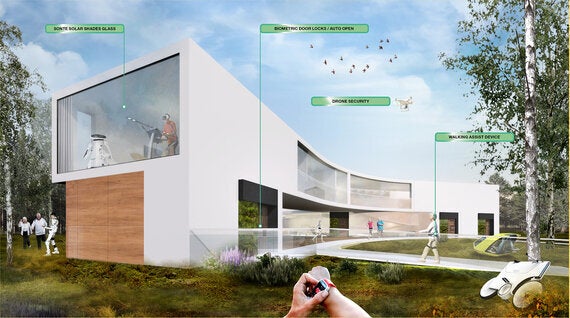 A new report predicts intelligent 'Cognitive Homes' of the future will be able to assess and manage our needs and desires in later life.
Almost 32 million people will be aged 60 or over in the UK by 2039. But what sort of living environment do older people face when they leave the workplace and embark on the next chapter of their lives?
The in-depth investigation, commissioned by McCarthy & Stone, the UK's leading retirement housebuilder, concludes that, within the next 20 years, older people are likely to be living in an intelligent 'Cognitive Home' that is almost human, and which is able to assess and manage individual needs and desires. It is the first ever report commissioned by the housing sector to look at the role new technologies could play in helping to manage the challenges and opportunities presented by a rapidly ageing population.
The home that welcomes, updates and protects you
When we enter our smarter houses and apartments of the future, we'll expect an update on what's going on, which may be shared, if needs be, with those who help us. When problems are imminent, whether in or outdoors, we'll expect to be alerted, in a way which goes far beyond the warnings about open doors or undone seat belts offered to us by our (current) cars.
With an active lifestyle acknowledged to improve wellbeing in later life, mobility issues can affect independence, but there are new solutions to address this, including assistive bodysuits and exoskeletons which will reduce the strain of undertaking tasks around the house and in the local environment. Aesthetically desirable intelligent walking aids that combine intuitive sensors and e-drive functionality will support those keen to get about, and contact carers if someone falls, while assistive robots provide domestic service within the home.
Specific health-related concerns, such as the effects of dwindling hearing or sight loss, or the growth of conditions such as dementia, will be supported through 'sensory-loss' technologies that make homes safer, easier to manage, lighter and more adaptable. Sensitive design solutions using enabling technologies will help prevent incidents from occurring and address, for example, cookers being left on, baths overflowing or people becoming confused about their whereabouts. The report includes movement sensors which are already able to detect when an older adult is likely to fall; up to 3 weeks before the event!
Our personal digital assistant may help us to self-diagnose, sparing trips to the GP and chronic loneliness will become a thing of the past as 'holorportation' allows users to see, hear, and interact with others remotely as if both are present in the same physical space.
Produced by the Agile Ageing Alliance and entitled 'Neighbourhoods of the Future' the report explores the development of 'cognitive living clusters', employing intelligent building materials and smart lighting. These buildings will be independent from external energy supply requirements, and may even produce additional energy to feed into the grid.
Co-living is likely to become more common, with younger couples needing affordable housing and older generations nearby to offer and receive support as required. Good inclusive design and technology can help create modern, flexible spaces that can be adapted in the event that adult children need to care for frail parents.
I asked Tracey McDermott Chief Information Officer at McCarthy & Stone, to explain why the company had invested in this project: "According to the recent housing white paper, helping older people to move at the right time and in the right way could enable them to live independently for longer and improve their quality of life, at the same time as freeing up homes for other buyers and reducing costs to the social care and health systems.
"The government wants to address the many barriers that exist to building more age-friendly housing, but to make sure the right type of properties are being developed, we need to draw on the know-how of a wide range of expert stakeholders to help deliver outcomes that are better for older people. New forms of technology and 'big data' present possibilities for everyone, especially older adults. However, their impact on those in later life is relatively unexplored. This is of great interest to us, and government, particularly how to support this age group to live better at home.
"We commissioned this report to influence our thinking, and the thinking of other housing providers. Our aim has been to summarise in one place, perhaps for the first time, what technology is on the horizon and consider how it could empower older adults. Looking to the future, we want technology to be inclusive - for the benefit of everyone - and ultimately to facilitate the creation of new homes that will support happier, healthier and, hopefully, longer lives."
The future is closer than we think
Some of the ideas covered in our report could be mistaken for science fiction, but they are all based in reality. In the words of science fiction author William Gibson: The future is already here - it's just not very evenly distributed.
McCarthy & Stone is already acting on our findings. The company has committed to installing super-fast broadband as standard in every development and in parallel they are launching a working party to look at the role of smart technologies in the home. If other housing providers are willing to engage and act, we can look forward to the growth of a new breed of smarter homes in our Neighbourhoods of the Future.
Visit www.agileageing.org if you would like to download a free copy of Neighbourhoods of the Future and to find out more about getting involved with the Agile Ageing Alliance.
Image by Marcin Piotrowski commissioned by AAA with permission for use.
Related