Almost no data has existed about the specific things Allies face when they choose to support their LGBT work colleagues. Until now.
People who respect and support LGBT people are known as 'Allies'. These people help build bridges for LGBT people at work.
A new research initiative is finding out just what types of issues LGBT workplace Allies have to confront - and how they deal with them.
How often do they feel the need to act as Allies? In which circumstances? Are there times they feel they can't say or do anything, but want to? How can workplaces better support LGBT Allies? And, how do Allies most effectively respond tactically - in seeking to support their lesbian, gay, bisexual and trans colleagues at work?
Building bridges to the future
Business is learning that LGBT Allies have a powerful function to amplify their LGBT inclusion efforts right through an organisation.
Workplace culture happens when management is not usually looking - and it is Allies who see and influence how the day-to-day experiences of being out as LGBT at work actually plays out. This is a core focus of the new LGBT Allies research. We want to learn more about the ways Allies become better Allies.
LGBT inclusion each year brings new progress and insights on the road to equality of opportunity for all. In 2015 Out Now delivered the world's first dollar value measurement of the value of LGBT workplace inclusion. That report, 'LGBT Diversity: Show Me The Business Case', received significant global recognition.
This year Out Now is working on uncovering more ways to help Allies to become more effective, in workplaces across the globe.
Allies can often prove vital in unlocking the hearts and minds of many of their work colleagues.
Whether people support LGBT diversity at work for reasons of the heart - because it is the 'right' thing to do; or the mind - because it is good for boosting productivity and profits - what matters most to our new research is the recognition that Allies are in some ways like a form of lever, helping make things become better at work for LGBT people. In parts of the world where societies may be less accepting of difference, Allies role can be vital to keeping their LGBT colleagues respected - and safe.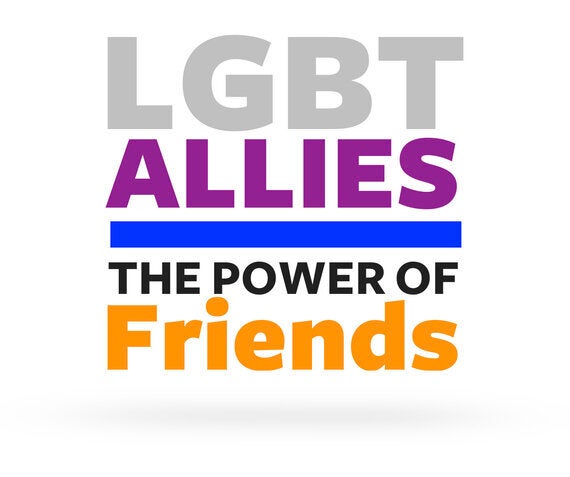 Allies connect with others in ways LGBT people sometimes can't.
If I say you should support me because I am LGBT you might see me as pushing an agenda of self-interest. But if an Ally supports me at work because they choose to - for whatever reasons - a non-Ally might become more likely to notice and, in turn, reconsider their own position towards LGBT people at work.
In Out Now's work we find most non-LGBT people are situated in the middle of a continuum between ignorance and homophobia. Many would willingly become Allies if they just knew more about the kinds of ways they can actually support LGBT colleagues at work.
Up until now though there has been very little available data that potential LGBT workplace Allies could use to understand what kinds of issues they are likely to face - and tactical ways to best face such issues.
New Study: 'LGBT Allies: The Power of Friends'
Hosted on the site http://Work.LGBT this study has already been embraced by non-LGBT people, LGBT people, Allies and those who are curious about the issues LGBT Allies can face at work. The survey takes around 6 minutes to complete and is confidential.
If you would like to take part, we are grateful for your input: just click here.
The research is already being embraced by people wanting to better understand the ways LGBT Allies can better build bridges out into organisations and into societies. The findings will be released by Out Now in a free report to be made available from May 2016.
A number of companies - such as Societe Generale and AXA - have chosen to get onboard early to show their support.
Christiane Bisanzio, AXA's Head of HR for Northern, Central & Eastern Europe and AXA Group Chief Diversity & Inclusion Officer says:
"The global movement towards equality and respect for all people strongly influences our business at AXA. We know that LGBT people are becoming more visible, both as customers and as a valued part of our AXA workforce. We also recognise the critical importance of the role played by the many Allies supporting LGBT family, friends and work colleagues. For this reason AXA's global employee resource group concerning LGBT issues is called 'Allies at AXA PRIDE'. The inclusion of a diverse workforce is a powerful force for good: for society, for business - and for people. Allies regularly play a vital, but often unacknowledged role in reinforcing bridges between LGBT colleagues and others in their workplace, to allow us all to continue making progress. We think there is still much more to do. AXA is pleased to be able to sponsor this pioneering new research by Out Now, to measure and report on the issues faced by Allies. By better understanding the environment Allies face in their own workplaces, in organisations across the world, we are certain that much good will result to the benefit of all people at work."
Out Now believes that 'LGBT spells people'. We see Allies as an essential part of building the bridge to a better future for LGBT people at work, right around the world.
Please feel free to share this link http://Work.LGBT widely through your own networks - to invite your friends, family and colleagues to add their input to the research. Their voices are also important and we hope they participate and can share their own opinions in this new LGBT Allies research.
Findings from the research are released by Out Now in a free download report: 'LGBT Allies: The Power of Friends' from May 2016. #AlliesMatter
Related