New LGBT2020 research shows why leading businesses are now actively encouraging their LGBT staff to come out at work.
Coming out at work can be difficult for lesbian, gay, bisexual and transgender (LGBT) people. Even with growing levels of acceptance in some places, many still fear the repercussions of letting work colleagues know their real sexual orientation or gender identity.
I have been to many workplace diversity conferences where the term "business case" is used routinely - but never with a dollar value attached.
It seemed that we could intrinsically understand it is important to better workplace outcomes that people be allowed to be themselves, but there was no measurement provided of the tangible value of workplace diversity.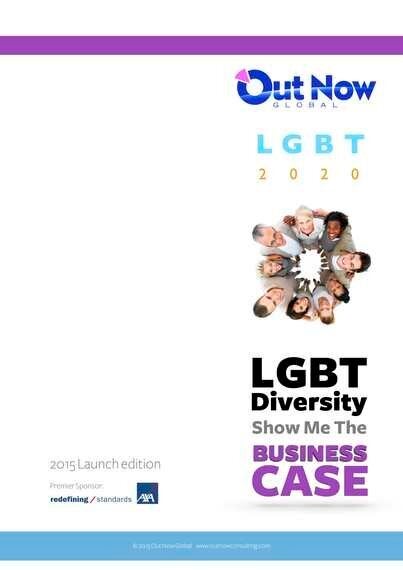 Show Me The Business Case
A new LGBT2020 research report shows that businesses of any size stand to gain handsomely when they build workplaces where LGBT employees feel able to be open with all those that they work with.
The report from Out Now is called 'LGBT Diversity: Show Me The Business Case' and reveals that in most countries measured there is a greater than 25% productivity gain achieved when LGBT workers feel able to be open with all their work colleagues.
In the UK, one in every eight respondents (13%) was personally harassed at work in the past year due to being perceived to be LGBT and almost half (46%) heard something said at work that they considered to be homophobic.
That likely accounts for why only 45% of UK respondents feel able to be out to everyone at work.
A real issue for those that can't - and a big economic loss for their employers.
Being Out Means Better Business
In the 'LGBT Diversity: Show Me The Business Case' report we have measured the differences being out to everyone can make in terms of two metrics: the savings to business from closeted staff not leaving their current employer and the reported increase in respondents' feeling respected and valued as team members.
In the UK the figures are significant on both counts.
For a business employing 100,000 staff, they can expect to save on average USD$4.9million (GBP£3.3million pounds) through not losing closeted staff who plan to leave because they feel unable to be themselves at work. On a national basis, the new report calculates that this amounts to more than USD$1billion (GBP£675million pounds) across the UK economy, on a conservative estimate.
Even smaller businesses can see substantial savings through retaining newly 'out' staff members. Companies with 10,000 workers in the UK can expect to save around half a million dollars (GBP£330,000 pounds) as a result of building workplaces where LGBT staff know they can comfortably come out to all their colleagues.
There is also another great result clear in the data. Workers who are out to all in the UK report on average a 32% increase in strongly agreeing with this statement, compared to those out to nobody at work:
"I feel my work colleagues treat me with respect as a productive and valuable member of the team."
Ten Countries. Millions of People.
The new report includes data from ten countries: Australia, Brazil, Canada, France, Germany, India, Italy, Mexico, United Kingdom and the United States.
The findings show substantial benefits can result when business creates an environment where LGBT members of their workforce feel able to come out to all.
Of course, the economic benefits to business are both substantial and important. But what matters even more are the improvements this research can make to the lives of millions of LGBT people around the world.
Helping build better workplaces where all staff feel comfortable to truly be themselves can be life-changing for LGBT employees.
One Mexican respondent wrote: "They make fun of gays and lesbians - to the degree that a friend is having to change jobs."
An Italian respondents says: "I hear phrases like 'gay people make me sick'."
And a German respondent writes: "In the morning coffee we were together as a team, and a supervisor was angry with various employees from other departments - one of them he called 'f**got' several times."
LGBT workers should be able to come out - and it is up to employers to help make this easier to do. That can not only make LGBT people's lives a lot better, this new research proves it is also smart business.
Download the report via OutNow.LGBT
The LGBT2020 research is the world's most substantial global LGBT research initiative and has now sampled more than 100,000 people living in 24 countries using more than a dozen different languages.
You are able to download your own copy of the new report 'LGBT Diversity: Show Me The Business Case' for free, via the world's first .LGBT domain name website: OutNow.LGBT thanks to the support of the project's sponsors.
Employers who value their LGBT staff and supported the release of this new LGBT2020 study include the report's Premier Sponsor AXA, as well as the following: Societe Generale, .LGBT, the NHS, Aviva, IBM, Circle Housing, Tedstrom Associates, The Winters Group, World Travel Market and visitBerlin.
The next report in the LGBT2020 Diversity series is released in May 2015: "LGBT Diversity: The Power of Allies". For details on how to become involved, contact Out Now.