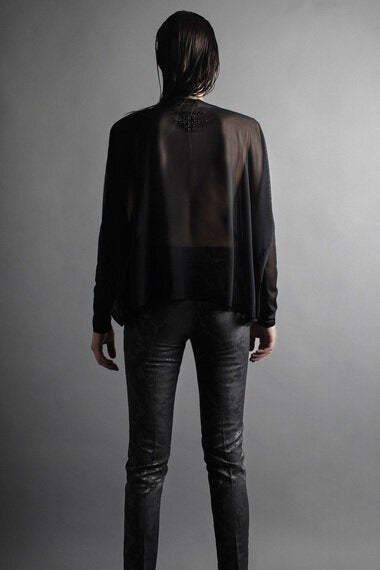 If someone would have asked me if I cared about slow fashion movement, fair trade or sweatshop-free fashion 4-5 years ago, honestly, my answer would have been 'I guess so', while in 5 minutes I would be googling 'slow fashion' to actually understand what they meant. I stopped wearing fur some time ago but that's about it. I always cared about goodwill, human rights, social responsibility, fair politics (right?), children's welfare and equal rights for women and LGBT community. Have I thought about fashion in the same sense? Rest assured, I haven't. Don't get me wrong, I try to be a good person, I just wasn't in the know. And really, when you don't know, you don't care.
The only three criterion: good design, good price and good quality
What I actually cared about in fashion - beautiful and affordable design, rich (aka packed) wardrobe, artistic designer fashion (to look at) and my personal style, often appreciated by others. Sounds familiar, right? Fashion is definitely not my aim or lifestyle. Although I already was in the fashion industry back then, I really thought it was quite lame to introduce myself as someone who worked 'in fashion'. Girls found it exciting, I didn't really find it flattering. So, I would always add 'but most of my professional life I've worked as a journalist', meaning, writing is my passion, not the Mulberry bag (which I have never had or intended to have). But girl (or boy), do I love beautiful garments? You bet I do. This is one of the reasons I adore, love love love, my everyday job of sourcing and promoting talented designers.
One of the reasons, I said. And a second reason I love my everyday job - I get to write about those designers and extraordinary, new, undiscovered fashion capitals, emerging fashion and arts scenes. This sounds like a decent everyday motivation to enjoy my work (even writing this piece of... (wait, what did you think?) opinion, I am enjoying myself, most probably, even more than you enjoy reading it. And it sounded right. Fashion Bloc, my start-up, my pain and gain, is a combination of these both everyday joys, good enough to keep you going. I work with talented, ambitious, eager independent designer brands, I am proud to represent them. Do I wear their clothes? Do I wear some other brands too? Yes, and yes. Before I started Fashion Bloc, I was your ordinary fashion consumer. I was buying what I liked and what I could afford, sometimes buying more than I needed, sometimes refraining from buying what I liked because it was too expensive, and then buying two of the cheaper kind and ending up wearing only one, most of the times shopping online (it was time-consuming, otherwise) and my only three criterion was: good design, good price and good quality. I would sometimes compromise on quality if I really liked the design or if I was buying basics.
Unconscious fashion consumer
So here I was, unconscious fashion consumer (I don't even like the word consumer), like most of us. Representing independent designer brands, and at the same time supporting fast-fashion machine. Don't get me wrong, I was supporting our designers as well, but only because I loved their products, not because they were responsibly made, and they WERE responsibly made.
Until a few years ago I watched this documentary, wrote this post and it changed my perception, forever. I finally looked at the fashion industry in the same way I look at human rights, social responsibility... the reason is simple - it is about human rights, it is about social responsibility and we, as consumers, are a part of this system. I will be very honest here - the change is slow and I have to deliberately remind myself to check 'made in' part of the label every time I look at the item.
True luxury is looking good and doing good
Obviously, the easiest way to do this is to shop only from the brands that are socially responsible and sweatshop-free. So I end up buying American Apparel and Fashion Bloc designers. Obviously, there are even more explicitly responsible and transparent brands like The Impossible Shop but it takes time to get used to the new way of shopping and to re-discover the industry altogether. The best thing about this change - I have discovered an important cause that I care about in my existing venture. All designers we represent on Fashion Bloc are sweatshop-free, fair trade brands. This value has become our main focus. Besides beautiful, cutting-edge, innovative designs and affordable luxury concept, they are all manufactured locally. Looking ace and feeling good about it - that's my understanding of true luxury.
When are you going to stop?
Going back to where I started - it changed the way I shop. I am most sure, this is the most helpful tip you can ever get if you want to become a conscious consumer: stop buying loads of shit! I mean really, how many domestic T-shirts do you need? How many denim shorts will make you happier? Do you really need three different dresses of the same style? Do you really think that buying sandals for £10 on the high-street gives you a right to get rid of them if they turn out to be breaking your legs and buy a new pair of the same shitty sandals for one season (best case scenario)? Do you really think that paying £1K+ for a designer bag guarantees sweatshop-free manufacturing? Think again and check the findings of the luxury fashion industry. When are you going to stop? It is much easier than it seems, to be honest. If you constantly think about the origin of the item (manufacturing) while shopping, you most often end up not buying anything. Meaning, you don't actually need that much.
No, I'm not a righteous one. I'm not a perfect fashion consumer, not yet, really (until I source enough fashion designers for Fashion Bloc from all the possible product categories). But I am getting there. There are two reasons I'm doing this - I want to be proud of what I represent (clothes are your mirror, a part of your personality), and I want to be sure I am not supporting slavery. I don't want my cheap fashion to be someone else's worst nightmare. And if I can't change the world, I can definitely try and change a tiny bit of it, the part I belong to. I can't stop stupid people from hating homosexuals, but I can definitely express my strong views about the subject (which I always do), I couldn't stop short-sighted people from voting Brexit, but I tried to, I can't stop the war, I can't stop hate crime, that's not in my hands, I can't stop child slavery. But, apparently, I can stop being a part of it. And as I write this, with tears in my eyes, I'm telling you, I didn't even think I was a part of it. I was ignorant. Sweatshop slavery is what makes me cry. It makes me cry because I used to support it by buying beautiful dresses without ever thinking of their origin. Did I know about ethical fashion? I have heard about it ages ago but it corresponded to hippie, tribal kind of fashion to me, something with a good cause and bad design (at least for my liking). So, being a passionate lover of beautiful garments, I chose to ignore that part of the industry. Thus, today I consider myself damn lucky to shop less, and when I actually need something cool and chic, I just go to my own business. I might actually be our most passionate customer.
Pick your battles, as they say. Some care about dogs, some care about plants, others, about human beings. The best of us care (and do something about it) about the universe. I'm not one of those, definitely not yet. You have to start somewhere.