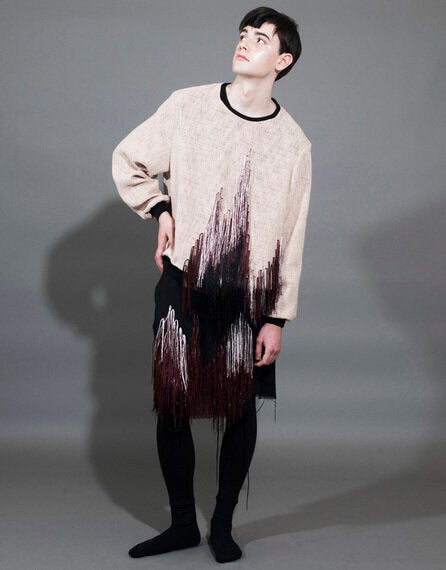 'Fashion comes from Eastern Europe' - the newest trend that has been picked up by major fashion publications and editors lately. 'Eastern Bloc', 'New Eastern Europe', 'post-Soviet' - these references have been spreading around fashion (and beyond) titles from Vogue to WGSN, to The Guardian, to fashion bloggers like a virus of a cool factor.
At the front of this trend - Russian menswear designer Gosha Rubchinskiy. He is a pioneer of a new generation's street fashion originating from Russia. His name and post-Soviet style inspirations have become a subject of every fashion editor's small talk or even big talk. The number of fashion reviews being tied to 'Eastern European' aesthetics is seemingly growing every day, usually related to Gosha Rubchinskiy's international success and Balenciaga's newly appointed creative director Demna Gvasalia's Georgian roots. This is great news to the European fashion community based outside London, Paris and Milan. But do the comparisons and largely vague reviews truly represent the other part of Europe? What do fashion editors mean exactly by 'Eastern Bloc Aesthetics'? Unfortunately, fashion writers are very often unfamiliar with that part of the Europe they're writing about; and a title such as 'Top 3 Eastern European designers' may be short-sighted and sometimes even misleading. Fashion editors might be misrepresenting the Eastern European fashion scene.
With a new fashion hype about the mysterious Eastern Bloc it is time to learn some facts (and make use of them accordingly).
Geopolitics. Historically, a term 'Eastern Bloc' refers to the Eastern and Central European countries that were directly or remotely occupied and controlled by Russia after the WWII. The term itself is very often considered to have negative connotations related to occupation. It is however widely used to collectively refer to Eastern and Central European countries.
Countries. It is useful to know the range of countries that fall under that term: Albania, Bosnia & Herzegovina, Bulgaria, Croatia, Czech Republic, Georgia, Estonia, Hungary, Latvia, Lithuania, Macedonia, Moldova, Montenegro, Poland, Romania, Serbia, Slovakia, Slovenia, and Ukraine. These countries are spread across Europe from Estonia in the North to Albania in the South and more often than not have very different cultures and aesthetics.
Fashion from Eastern and Central Europe. The number of designers that are growing successfully and pioneering their own fashion capitals is definitely infinite. With the access to international markets, media and traveling without borders (hence, most of these countries had completely closed borders until early nineties) the talent is now traveling beyond Eastern and Central Europe. Designers, like all human beings, have very different backgrounds, aesthetics, creative minds and business visions. It is so important to understand that what Gosha Rubchinskiy has successfully translated from Soviet era to the catwalk has nothing to do with modern aesthetics of the region in mind. Gosha plays a card of nostalgia, we all adore it and let's keep it that way.
Fashion Designers. Countries like Ukraine, Georgia, Hungary, Estonia, Poland, Serbia, et al, have a high potential of producing creatively interesting fashion brands. They are relatively young countries that are keen to express a fresh approach and different point of view. A number of young and established designers have been successfully marching their way. Brands like Slovakian Nehera or Serbian Roksanda Ilincic have been around for decades with fully established international profiles. Meanwhile, younger designers and brands from new Europe are definitely making a history at the given moment; a 20-year-old Anna K from Ukraine have been followed by fashionistas around the globe, Hungarian Zsigmond Dora has been changing traditional menswear perceptions since her first collection, while Georgian Anouki are internationally famous for their statement shoes adored by hundreds (including Vogue fashion editors). These are just a few examples of a variety of fashion names coming from astern and Central Europe. Stereotypically, you should look for the names that are difficult to spell or/and pronounce.
Fashion definitely lives and thrives beyond London, Paris and Milan in Europe, with all the different colours and shapes. It is fascinating to watch the changing borders and shifting fashion capitals. Perhaps Kiev may be the next one?
Fashionbloc.co.uk is a London based editorial and shopping destination for curated fashion from new Europe. We represent pioneering fashion designers and promote Made in Europe concept.
Photo credits Zsigmond Dora Menswear