Over the Sallah holiday in Nigeria, I visited Oke Idanre hill in Ondo State with 26 other adventurous and fun people as part of a tour organized by an awesome Nigerian tourism company, Social Prefect tours (SPT). Idanre was my 3rd tour with SPT in 2016, after one other location within Nigeria and one outside Nigeria as part of my goal to visit 5 Countries this year (I have visited 4 now).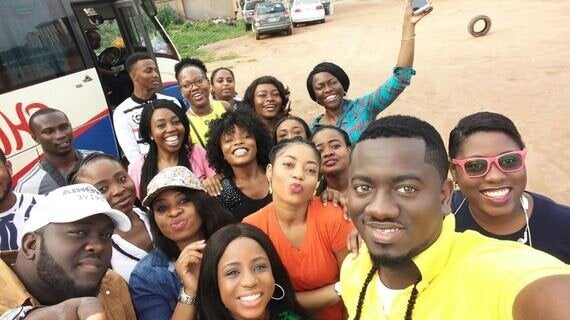 I didn't start out the year planning to visit any tourist location in Nigeria but after stumbling on a testimonial from someone who had used SPT and with the upward sloping nature of the Dollar this year, I have soft pedaled on plans that involve spending dollars and found a new love with visiting sites across Nigeria. I have been to Olumo Rock in Abeokuta, Usuma Dam in Niger state, Lekki Conversation Centre in Lagos state, and Oke Idanre Hills in Ondo state this year. I plan to visit other sites in Imo, Abia, Osun, Akwa Ibom and Calabar before the year runs out as part of my #DiscoverNigeria tour.
Nigeria is blessed with so many industries like technology and tourism which open up amazing opportunities for diversifying our revenue base from oil which has already run us into a recession.
For all intents and purposes of this post, I will focus on Tourism and my Oke Idanre hills experience. And I hope for every location I visit, I will be able to write a similar article about the potential of such locations as revenue earners.
Oke Idanre hills are a group of spectacular hills 3000 feet above sea level located in Idanre, Ondo state, South West Nigeria. The people of Idanre used the hills as a home in the 19th century when they were faced with a serious kidnapping crisis. The hills have a deeper place in Yoruba folklore with talk of Oduduwa, Olofin and other Yoruba founders having some contact with them. The area around the hill has numerous restored structures from the time the Idanre people lived on the hill and the town around the hill consists of structures such as the Owa of Idanre's palace, shrines, etc.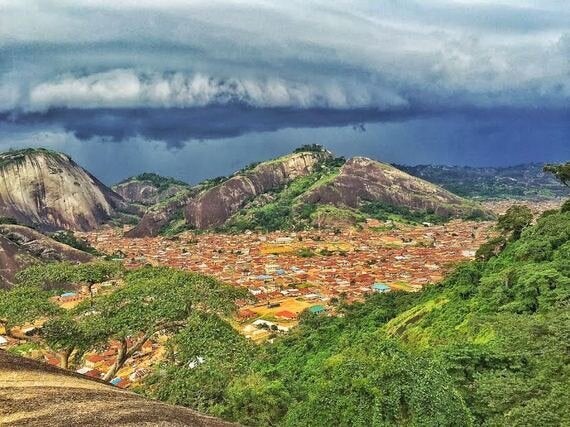 In recent times, stairs and resting points have been added to the hill to make it easier for tourists and researchers to access the hill. A total of 660 steps gets you to a vantage point on the hill from where you can see the town of Idanre. This is the point where most tourists stop, but our very enthusiastic tour guide decided to take us a bit deeper to show us the ancient city atop the hill as well as a higher point on the hill. The journey got a little trickier from here with thicker bush paths, foot paths to avoid for their ancestral significance (not sure if our guide was trying to create more mystery here) as well as higher plains that we could only access by climbing with our hands and feet. Some of us had a few injuries and scares during the climb but the spectacular view from the top as well as appreciation of the deep history and way of life of these people that had come before us was enough for everyone to forget the temporary body pains as we paused, smiled and reflected. Visiting, taking selfies and listening to the Owa of Idanre talk about the history of the people and the hills (In very good English to my surprise) the next day made everyone appreciate Idanre even more.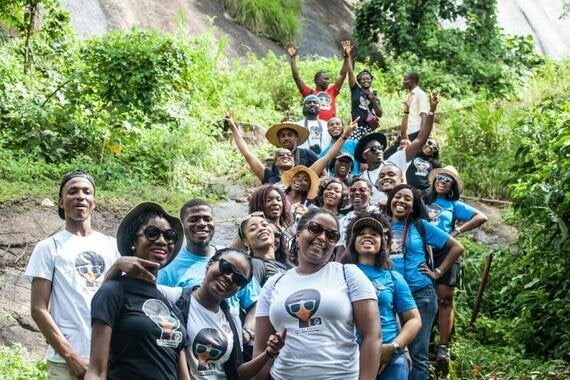 After the Idanre vacation, via the Whatsapp group we set up for the tour, my trip group came up with a couple of ideas on how Idanre can earn revenue for the government of Ondo state short term and long term.
1. Proper restoration of ancestral and historical sites without losing their essence/originality
2. Competitions and festivals around Idanre and Oke Idanre hills
3. Building a proper Idanre Hills Resort for tourists and researchers.
4. Sustainable revenue generating activities for the resort such as a mini amusement park, gaming facilities, etc.
5. Introduction of Ziplines for transportation across the hills.
6. Health services for tourists (We had a few injured people on our tour but no health facilities anywhere around).
7. Fee earning tour guides on site (our tour guide was very knowledgeable about the history and foot paths but he seemed to be alone and kept subtly asking for handouts)
8. Creating souvenirs and art works around the history of Idanre for sale to tourists
9. Rest and refreshing spots with eateries along the way as well as on top of the hills.
10. Special rebates to tourism companies that want to host tours to Idanre
11. Boosting of telecommunications infrastructure in Idanre (I had no Etisalat network for 2days)
12. Public-private sector partnership to finance development
These are a few thoughts on what can be done. I am sure there are so many others but until we start actively having this conversations and taking action, sites with historical relevance such as Idanre will continue to go to waste without proper maintenance or development. Folks during our Idanre tour kept talking about championing these activities and setting up committees which simply will be amazing. At this point however, I can only write and syndicate the content to the right platforms. I sincerely hope some action will be taken and ran to its fullest implementation course.
A big shout out to all the amazing people that made the tour an amazing one and contributed to this post; Yomi Adebule, Toyin Kehinde, Funmilola Kehinde, Ijeoma Onyejiuwa, Amaka Alua, Vivian Nwankwo , Akezhi Jomadughu, Kemi Onabanjo, Damilola Irewole, Tolu Oliyide, Azubuike Ukegbu, Niyi Okeowo, Bernard Kalu, Tracy Akpofure, Mercy Ahabue, Efunsola Osiyoye, Remi Coker, Tobi Andero, Stephanie Obi, Aramide Oliyide, Bella Adebola, Ojay, Ada, Aniefiok Ntia and Chiamaka Obuekwe(Social Prefect)
Special thanks to the epic photographers on the tour, Niyi Okeowo, Adedotun Soyebi(Puffy) and Bernard Kalu.
Enjoy more pictures from them below.