I was ten years old when you released Alright, Still in 2006. I have been an ardent fan of yours ever since, frequently declaring: "I just fucking love Lily". I have yet to be introduced to any artist who comes close to matching your breed of whimsical pop satire on an international scale; this is a testament to your intellectual and musical prowess. I'm now eighteen and I have grown up under your refreshing feminist influence and, oh Lily, I am glad you're back. The Feminist Movement needs you.
Thank you for representing the ideal role model for young women; a strong female who doesn't insist on jutting out her collar bones at every photo opportunity. You say what you think without any qualms and you're able to make fun of yourself. You may not be the typical 'Kate Middleton' stereotype of what a female celebrity should represent, but that's why I love you.
For instance, when you shared with the world that you felt so conscious of your weight that you considered liposuction; you showed us you are human. Firstly, thank you for not going through with it. Secondly, thank you for pointing out the vulnerability of celebrities, who fall victim to media-baiting most of all. And finally, thank you for writing an inspiring pop-culture satire on the subject.
Lily, those who consider you a braggart are those who have misunderstood the message you send. They're fools and I will fight them all for you.
You are ace and I vehemently protest to the assertion that Sheezus is simply a gimmick or ploy to get back in the press post-baby birthing.
I appreciate that you have taken on the responsibility of emphasising the danger of subconscious everyday sexism. I love that you don't dance around the subject, you battle it head on.You do more for the women of the world than any celebrity of your calibre.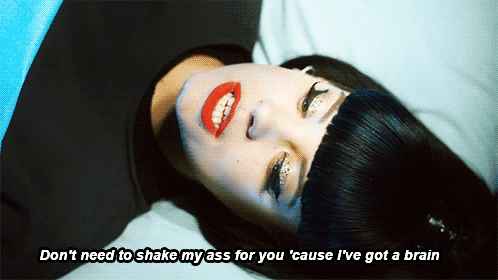 Also, you're funny as hell.
Alright, Still was genius.
It's Not Me, It's You was also a work of art (not to mention worthy of three Ivor Novello awards). I'm excited to listen to Sheezus in its entirety, as I'm sure it will be every bit as radical as your past albums.
I want to thank you finally, Lily, for getting back in the ring and for drawing attention to the fact that we're not done with the issue of sexual equality.
It's because of icons like you, Lily, that I now have the confidence to say 'I am a feminist' without the worry of being deemed anti-social or unlikeable by my peers. And you know what? It is hard out here for a bitch! So thanks for doing your bit; womankind is forever indebted to you.
PS - I really like your tattoo.
PPS - I'mma let you finish, but, the name of your album should win a Grammy, regardless of the content.