Nude is the new black. Nude is much brighter and feminine than black - perfect for this summer. It can be worn with all other colours and look great and it is just as versatile as black. All my basic day pieces I buy in black, white and mostly nude as it's such a wearable tone. This is one of the reasons why I designed this piece I am wearing for ivyekongfashion. A full nude ensemble is neutral, yet sexy and classy, subtle but always eye-catching. Kim Kardashian is of course huge style inspiration for this trend - she is the queen of the nude look! She plays around with all different shades, mixing with greys and khakis to achieve a tonal look, silhouettes fitting like a second layer of skin.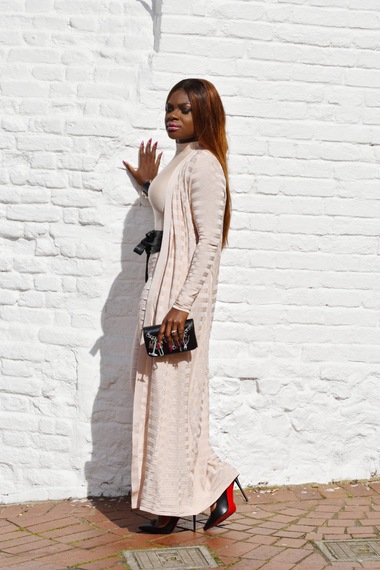 The nude trend has not only taken over fashion, but also beauty, with contouring and skin sculpting influencing the nude palette. For an everyday beauty look that says sophistication, using a nude lip with caramel colour eye shadow and a golden glow will work for any look - add lashes for extra glam.
Always choose nude shoes, try and match them to your skin tone to create an illusion of longer legs by creating an interrupted line on the leg. Whether it be suede pumps or strappy stilettos, even thigh high boots with a V cut to extend them further. This is a classic trick, seen on movie stars and celebrities for decades. You can pick up a simple chic nude heel from most fashion retailers from Zara to my personal favourite; Christian Louboutin.
The nude colour ensemble will never go out of style as it is easy and versatile yet elegant; I have added many nude pieces to my new collection, all simple to style.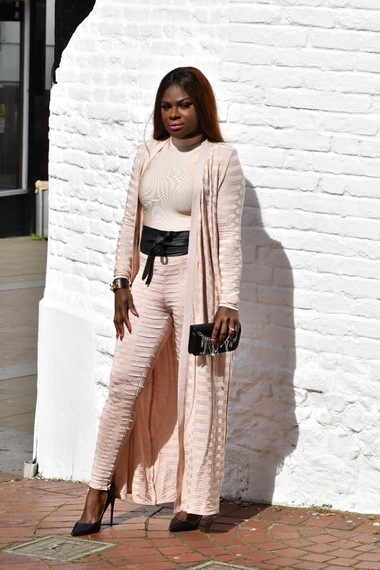 In a nutshell, nude ensembles can be dressed up or down. Experiment with accessories to make your outfit pop. Visit ivyekongfashion for more.
Photo credit @ivyekong