The now seemingly all too regular launch of a brand new Apple product, in particular one of their world-beating iPhones, has grown to become something much larger, much more feverish than many of us may have expected back at the dawn of the current line in 2007.
What is it that's so unquestionably desirable about the iPhone in the eyes so many people (Apple plan to shift as many as 80 million units in time for Christmas) year after year? Aside from the astronomical marketing budget that goes into making us all feel as though we're simply missing the party if we go without one, how are such figures possible, especially in light of the £539 - £699 (model depending) price tag?
With every newspaper, zine and blog raving about the two new models announced yesterday (iPhone 6 and iPhone 6Plus); from the Wall Street Journal's prestigious tech section to the satirical news and opinion columns of Sick Chirpse and straight-laced counter-source Huffington Post, I took it upon myself to unravel the mysteries- to look past the bizarre and unnecessary (yet somehow entirely predictable) involvement of U2 and get bogged down in the details in order to see what new features the i6 offers people like little old me.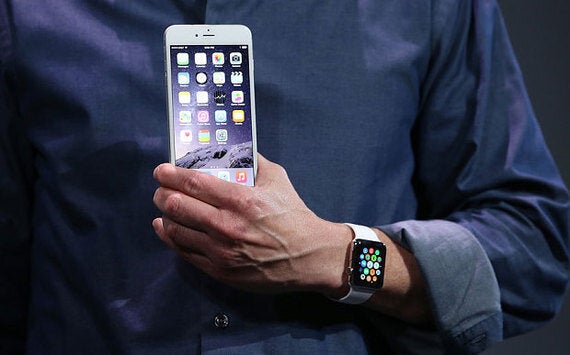 Some Interesting Features
You'll be extremely unsurprised to learn that the new iPhone showcases a calculated mixture of both brand new and improved-upon-since-previous-model features. Whilst some of these include .7 and 5.5inch 'Retina HD' displays, A8 processors (2nd gen 64-bit chip), and 326/401 pixels per inch resolution (1334x750pixels and 1920x1080 pixels), let's take a step sideways and concentrate on the things that matter, not to mention actually make sense, shall we?
Well, there's a reported 50% improvement in graphics performance which can hardly be ignored- for a start. Then there's the boosted battery life in comparison to the iPhone 5S, particularly on the 6Plus which offers a whole 3 hours of extra 3G browsing (all of you commuters will surely be thrilled to learn). For the social media junkies, those #hashtags will be utterly on form from now on with an all-new 8-megapixel camera which features an inbuilt improved sensor and 'Focus Pixels' - eliminating blurriness for good, at least #letshope.
On the whole it would seem that the real differences to be investigated here are not between the iPhones 6 and it's now hideously unfashionable older siblings the iPhone 5 and 5/c/s, but between the 6 and its seemingly slightly healthier/bigger/stronger twin, the 6Plus, not to mention the new magic it carries thanks to iOS6. This is either a classic case of smoke and mirrors from one of the world's most powerful brands, and therefore marketing forces, or a genuine effort to offer as much technological diversity and commercial choice to what is the largest consumer base the world has ever known.
Either way, I harbour no envy for the staff of the planets Apple Stores as they process the slinging of 80million units over the course of the coming weeks and months.