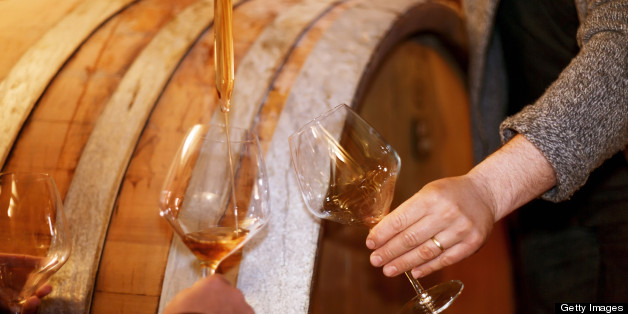 Getty Images
Since time began, love and dating have been doused in booze. Be it a romantic dinner and a bottle of pinot, a cheeky snog anointed by rum and coke or an outrageous one-night affair after slurping on a fishbowl cocktail - Brits' love affair with dating and drinking isn't going to fizzle out any time soon.
And at our many London bars we've seen it all - the whole shebang. Every kind of love, lust and life stage, played out in front of our well-stocked spirit racks.
Last week was a classic example. I was at our Balls Brothers' bar in Hays Galleria, helping out with the al fresco bar (hello outdoor drinking in London!) and a couple in particular caught my eye. They were clearly on a date, and watching their relationship progress was touching. In a bored-at-work, something-to-look-at kind of way.
As the wine flowed, the couple grew closer. And sillier. They even started playing on the petanque pitch. They started kissing. So far, so great date. But then another guy bumped into the girl on his way through to the bar, angering Date Guy, who squared up to him. No harm was done, but you could see the girl wasn't impressed - her date's modern show of chivalry wasn't hitting the mark. She made her excuses and left.
So, Oprah, where did this go wrong? It doesn't take Jessica Fletcher to deduce that the boozing played a role.
And we see so many good dates gone bad at Late Night London that we think we've pretty much got great date drinking etiquette covered.
• Kick off your evening with a carb-based snack before you meet up. It's an oldie but a goodie.
• If it's going well enough to be ordering your fourth round of drinks, it's going well enough to suggest dinner. It will mark a step-change in the evening, sure, but will mean you're less sloppy and might actually have a better conversation.
• Suggest moving to a bar a wee walk away. The air will clear your head.
• Wine is sociable and easy to share, but gets you drunker quicker. If you need to change the drinking pace, shift to juice based spirit and mixers. Juice fills you up quicker meaning you naturally slow your pace.
• Go to the bar yourself and get a tonic water in lieu of a G&T. Your date will never know.
• Take a loo break. Time to grab some water, freshen up and take stock of where you are at.
• Know your spirits. Malibu and Archers are both much less boozey than vodka, rum and gin.
Jack Williams works across Late Night London's 52 venues across the capital and the UK. This week he was at Balls Brothers Hays Galleria in London Bridge but you might just encounter him anywhere...