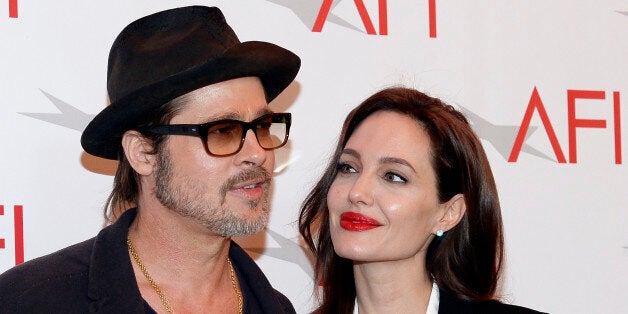 Angelina Jolie has filed for divorce from Brad Pitt, no fairy-tale ending then, looks like she got what she deserved. A marriage wrecker who stole another woman's man, we don't care if it was twelve years ago, we haven't forgotten.
This is the rhetoric and vitriol from a mainly female response to the latest news - Brangelina is broken.
The online comments include
Ohhhhh imagine how smug Jennifer Aniston is now......boot on other foot
Their relationship started with infidelity, it's not exactly role model behaviour
I bet Jennifer Aniston feels more upset than anything, humiliated by being cheated on, had her marriage broken and they didn't even make it worth it because they've called it a day
Brad met Angelina while he was still married to Jennifer Aniston. They've been together for twelve years and have six children. You'd be mistaken for imagining they'd had a one night stand given the amount of I told you so comments flying around.
Wronged women everywhere, and the morally superior, are relishing the opportunity to attack Angelina; placing the blame firmly at her door for the failure of Pitt's marriage to Aniston and now her own. This is a well-trodden path when a third, and female, party is involved in a relationship breakdown. Men are stolen, other women are evil temptresses and we must never let them forget it.
Jolie represented UNHCR, the UN Refugee Agency, as a Goodwill Ambassador from 2001-2012. She has worked tirelessly, carrying out over 50 field missions and becoming an influential advocate on refugee and displacement matters. In 2012 Angelina was appointed Special Envoy and only a matter of days ago visited Syrian refugees in Jordan where she called on world leaders to find a solution to the Syrian conflict.
She needn't think that cuts any ice with Team Jen though because twelve years ago Jolie stole Pitt and that makes her an enemy of the sisterhood forever.
This blame and shame attitude directed at women from women serves to keep the female race in conflict with one another, stops us addressing more important issues, and masks other problems. The further suggestion that the forever wronged Jennifer Aniston cuts a tragic figure, has been secretly pining for Brad for a decade, and deserves our pity serves only to demean her and all the other women left behind.
Jennifer Aniston got on with her life post Brad, she dated other men, her career flourished, and she looks just as stunning and gorgeous at 47 as she did at 25 playing Rachel in comedy classic Friends. Can we please stop this narrative that suggests women are incapable of recovering from failed relationships, or those that sadly run their course, and instead recognise many women not only survive but thrive without a partner?
Speculating about the reasons Pitt and Aniston split, and the happiness in their union pre-Jolie, is exactly that pure guesswork. Only the people in a marriage can know what's going on for sure but it's safe to assume men are not inanimate objects. Brad was not stolen by Angelina, he left of his own accord, and twelve years down the line Jennifer is not a pitiful and simpering mess. Absolving men of any responsibility when a relationship ends, and scapegoating other women, prevents us acknowledging or addressing problems. Uncomfortable as this may be it's also essential when things go wrong, helping us move on.
We don't need to fall for the You're nothing without a man brainwashing, and recognise other women are not our enemy. While the world speculates on the end of a fairy-tale marriage, and some suggest Jennifer Aniston will be feeling somewhat smug at the demise of Brangelina, this does women everywhere a great disservice.
Where children are involved most of us will derive no satisfaction from gloating. Instead this screen-star couple's final scenes are tinged with sadness, and not the happily ever after most of the audience would have wished for.