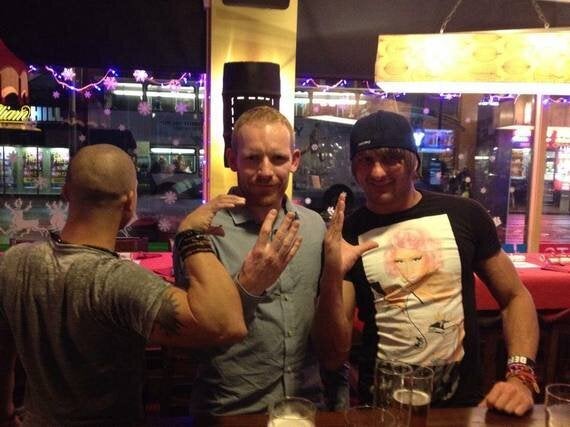 Firstly, my apologies for the lack of updates recently! A poor excuse, but I just have not had the time juggling wrestling, along with my other work! Wrestling has continued to be extremely busy working for Megaslam, along with Grapple continuing to flourish with a recent sell out show in Bradford and now offering an extra training session a week too.
The month of April was especially hard for the British wrestling community due to the passing of the 'Shooting Star' Kris Travis. An awesome wrestler and more importantly a family member and a close friend to a lot of people. Obviously a very tough time for all those who knew him and something I go into a bit more detail about below.
All the way back in late March, Grapple had its debut show at our new training facility at Fight Science. A small draw of 80, but considering this was essentially a show in a gym I was pleased. The show itself was decent too. I did double duty as firstly I masked up in a team called Ward 13 in a fun match against Ryden, Shadow Smith and Thomas Andrews. I then faced off against our champion the 'Ugandan Warrior' Nsereko as JC Thunder, which seemed to get a very positive reaction from the crowd so job well done on that too. Nsereko is definitely a guy to watch.
The weekend before Easter we had two shows. Firstly Boris faced Terry Isit at Rotherham football stadium (erm a conference room in the stadium) followed by a tag match with Cousin Jake against Terry and Bully Boy. The crowd was very much into the two matches and surprisingly a man named Bully Boy can be a huge fan favourite!
Later that weekend we were in Withernsea, a quick persona change and a good guy JC Thunder had a rematch with my Sebb Strife (housemates collide part 2!). I always enjoy wrestling Sebb and both matches have been great. Looking back I remember both these shows very fondly. Both smaller shows, but sometimes that can lead to the most fun type of matches and there was a great atmosphere at both of them!
The Easter Tour started in Bridlington where I faced off against The Muscle Cat Saxon again as a babyface (good guy). As with the day before I really enjoyed this and am fast becoming a lot more comfortable with this position. The only problem was a few fans at this venue were asking me why I'm not Russian anymore! Don't know what you're talking about!
The next two shows saw me in mixed tag action. Tuesday in Southport Boris, Cousin Jake and Lizzy Styles faced David Graves, Saxon and Nixon. From memory this was a bit dis-jointed. I enjoyed the start as I wrestled my old nemesis Graves, but then we were a bit all over the place and I managed to smash Dave's nose up which I felt very guilty about! The next day Styles and Boris faced Ligero and Nixon in Prestatyn. This one went a little better and the hot crowd at the Welsh Pontins was fully behind the team of Ligs and Nix.
On the Wednesday morning I received a phone call from Brad Taylor who broke the news that Kris Travis had passed away that morning. Kris was a good friend of mine and we used to be very close in our early days of wrestling. The news cut through me like a knife. I felt a mixture of sadness and guilt that I could have done more for him. Feelings I kept to myself as I ran our next show in Brean. I also had two matches that day, against Saxon and then another tag with Jake against Saxon and Terry. I don't think they were that good. I can't really remember now and I didn't really care as I just wanted to get through it if I'm honest. It was difficult being in this strange little place called Brean with no one that really knew Trav. I compensated by getting very drunk that evening and going to bed at 4am, maybe not the most sensible mid-way through a wrestling tour but that's how I dealt with it.
Quite rightly everything then became about Trav that weekend and the weeks that followed. The next day we travelled up to Nottingham for a Megaslam show. This was started by a 10 bell tribute with all the wrestlers out by the ring. I wrestled Joseph Conners, which was a good match given the circumstances and it was nice to wrestle against someone who had also been close to Trav. The night was capped off by an excellent main event of Ligero and CJ Banks in memory of their friend. It was a joy to watch.
After Nottingham we drove all the way to Camber Sands where we arrived at 7am! Drained in every sense, we were told there was no chalet for us! After waiting around for what seemed like forever we were finally able to get a few hours sleep before a midday show, which again I was running. It all seems quite crazy writing this down, but at the time we were just getting on with it and didn't really think too much about how tired we were or anything.
The next day we were in Pakefield, which I was running too (as well as being on the phone to Grapple who were running up in York). That evening we raced up to Derby where I was against CJ Banks for HOPE wrestling who were doing a show in memory of Trav. It certainly was a fun and entertaining match and I hope one that Trav would have enjoyed. Boris even joined Juice's life train as we downed vodka's from the bar as a toast! Great job by HOPE wrestling and Harvey Dale for dedicating this night to Trav.
This time certainly was difficult for many people. However, I must say how good it was to be around so many other people who knew and loved him. It was also amazing how the whole of British wrestling all came together and paid tribute that weekend and in the following weeks. C4l. RIP Trav!
This time was exhausting and emotional! It felt like a lot had happened, but in reality we were only half way through the Easter Tour. The next morning I would be up and off again to a different part of the UK. Check out my blog in a couple of days for part 2!