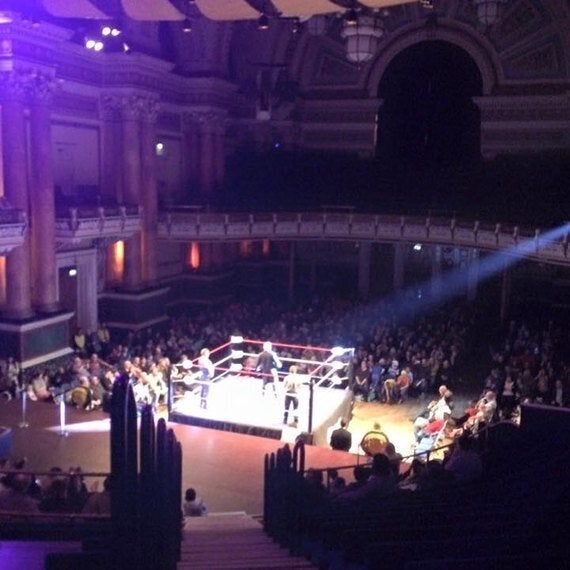 After the busy tour of Pontins I had a relatively quiet week with just two shows. However, they were both pivotal ones as the first was in the massive Leeds Town Hall and the second would be the first town show I ran myself for Megaslam.
I must admit during the week I was absolutely exhausted after the tour! Feeling run down and my shoulder not being right meant my gym workouts weren't as good as they could have been. I've taken a step back in that direction unfortunately. I suppose that's what you get for riding around in a van for a week and eating pizza!
Friday was a big day for Megaslam as they put on their biggest show to date at Leeds Town Hall. It is not cheap to run and I know promoter Brad Taylor must have been worried about ticket sales. However, the risk paid off as a whopping 750 came to watch. Bar WWE, this is by far the highest attended wrestling show in Leeds in years. A job well done by the team.
I would be facing Paul Malen and Frankie Sloan in a triple threat match in what I think was Megaslam's attempt at a Plus 30 category! Paul and I had wrestled a couple of times before and I always enjoyed it. This was my first opportunity to wrestle Frankie Sloan, who has a wealth of experience having wrestled for WWE and TNA and is generally a great person to have around the team as well.
The atmosphere was electric in the Town Hall! The acoustics were brilliant too, only to be ruined by my Russian National Anthem! The match was a triple threat. They can be a bit hit and miss sometimes, but I don't mind them as much as others seem to. Paul and I teamed up on Frankie until we fell out and he got the best of us with a cross body onto the pair of us for the win to an almighty roar of glee from the crowd.
Some feedback from other wrestlers watching was I lost my Russian accent a few times and for some reason was only waving half a flag. Not really sure why I did the latter and that can easily be rectified next time (note to self, unravel more!). The accent may need work. I have started to take it a bit more seriously this year and learnt a bit of Russian to add some authenticity to the gimmick. If you do see me wrestle as Boris and I sound like a bloke from Leeds, please do tell me!
Megaslam had a double the next night, so I was left in charge of managing the show in Lytham St Annes for the evening. As well as sorting out the card, music and other management stuff this also meant I would have a different role on the show for the evening as the ring announcer (usually done by Brad). This was certainly a fun and different experience. I usually try to watch as much of the show as possible, but this gave me a chance to actually see the show in its entirety.
It was an awesome show! I was really pleased with how well it went and how hard everyone worked. Half of the card was made up of Grapple wrestlers and they all did exceptionally well. David Graves and Nsereko were on good form as usual. Sebb Striffe had a brilliant match against Frankie Sloan and did a great job of antagonising the crowd before hand with his verbal onslaught. We also had JD Bryant and RJ McKenzie on the show, who are both extremely talented too. The night finished with a 6-man tag involving all 6 of them and the crowd left happy.
I was delighted too, to be referred to as WWE star Triple H by members of the crowd as I strutted out to the ring in my 3 piece suit microphone in hand ready to announce matches. Well, delighted until I thought about it and realised they are actually saying I look like a 46 year old man! For Gods sake, I'm only 32 everyone! Not even funny now....
An easy week on me physically, which is possibly what I needed after the previous week! However, with a tour of Scotland coming up in March and then the huge long tour of Pontins over Easter I won't have the opportunity to rest. More miles, more ring jobs, more sleepless nights and eating on the road. I've often heard veteran wrestlers say that wrestling is the easiest part of the job. I'm starting to see why, but ready for the challenges ahead and wouldn't change it for anything right now!