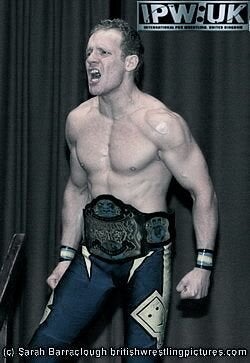 What a crazy week I am having so far. In four days I've covered well over a thousand miles on the road, had two rides in motorway recovery vehicles, wrestled every day, developed yet another alter ego that is probably the most ludicrous one yet and somehow developed a reputation as a McDonald's crazed tyrant (which I deny on all accounts your honor!). This was my first tour with Megaslam!
Before we get into that, Grapple wrestling did also put on another show at Garforth last weekend where I got to have a rematch with Toxic Jack from our match last week. Certainly signs of improvement from before and we coped with a lower than usual crowd. Match at the end of this blog from a 'fan cam'.
Right onto the Megaslam Madness!
On Monday I was back in Bridlington wrestling in the main event, as Russian me and Paul Malen took on El Ligero and Terry Isit. This match was a fun brawl that almost ended badly for me when I was thrown over a table and glasses smashed all around me. Luckily I missed out on landing in it and was victorious as my partner hit Terry with some brass knuckles (what bad asses!)
After the show it was off to the first Pontins camp down in Somerset. A 7 hour drive awaited crammed in the back of a ring van along with our cases, the merchandise and of course the ring. The team consisted of the promoter Brad Flash - who is doing great things with this company, Liam Lazarus - a young and very talented wrestler who has had a great year, Daniel Hudson - who does a country boy style gimmick but should really just act himself as he is absolutely ridiculous but very entertaining, Terry Isit - another young and talented wrestler (despite getting hit by brass knucks!) and Tasman and Olivia - a New Zealand wrestling couple who have taken the brave step to come and wrestle over in the UK.
We arrived in Brean Sands, Somerset about 6am in the morning after several hours on the road and a McDonalds stop. Not usually one for going to McDonalds I reluctantly ordered 6 chicken McNuggets whilst the others gorged on McMeals and Frappes. The team then thought it would be hilarious to insist on how much I love McDonalds. This comes into play again later....
After a few hours sleep we put the ring up and I faced Liam Lazarus where I sung my Russian National Anthem as usual. However, the big change was they actually played the anthem as I sang. Given I completely make this up usually and actually have no clue as to the words, I was more than a little unsure as I wailed along to the music playing. However it still achieved the desired result of major boos that were further intensified as I challenged Liam to a dance off. (Liam comes to the ring to Venga Boys 'We Like to Party' and has the whole audience doing dance style hand signals as he enters. It's infectious and massively popular with the crowds.) My dance - the traditional Russian Cossack dance as the Cheeky Girls played - what is my life!
The match itself was a lot of fun and a good start to the tour. We were both then part of a 4-way ladder match later on the show that was chaotic but also enjoyable. That finished with the Lazabus finally seeking revenge on me (I had won earlier by my usual cheating ways), climbing the ladder and becoming the new Pontins champion!! (It is unclear how many wrestlers are currently the Pontins champion, but it is a fair few!).
The next stop was Camber Sans near Hastings. However, disaster struck! At exactly 1 hour and 11 minutes left on the Sat Nav, the tyre on the van burst and Brad saved all our lives by keeping control of the vehicle, avoiding the nearby cars and mid-motorway wall. However, we were now stuck on the side of the motorway that had no layby.
Liam and I went off to use one of the emergency phones. Not as easy as you might think! Our journey involved climbing up through masses of vegetation, over a large metal fence in the dark to a bridge so we could cross to the other side and a plus mile walk along the edge of a busy motorway that had us dangerously close to passing 80mph lorries and involved mad sprints across bridges that had virtually no side area to walk in at all.
Whilst all this was happening the van was caught on CCTV and taken to the safe area by the authorities. As sod's law would dictate phone batteries died and we had no way of contacting each other as we continued our quest. We eventually found the safe area by foot, but not before the rest of our party had been called on the emergency phone to warn them of them of 'two strange men, running around on the motorway' - which yes that would be us!
Once all together again we were finally rescued by an interesting character named John who was a short man with a slight hunch-back, bulging eyes and a hearing aid that he kept taking out and drying on the heater in the rescue vehicle. He also made very odd grunting and growling noises, never answered the question you asked and told us of the time he had his way with someone's mother that he rescued on the dark roads of Scotland (possibly on the seats we were all sitting on it the back!). Despite this description he was a joy to be around and also had saved us!
Oh and of course whilst John had been trying to fix the van in a nearby service station there had of course been another McDonald's trip, which I had succumbed to - much to the delight of the team!
So finally we arrived in Camber Sans circa 7am. A few hours sleep were had and it was ring up at midday, as Dan went off to sort the tyre issue. This show would be the debut of our new tag team influenced by the night before - the 'Motorway Men' Big John Thunder and my younger brother Jon Boy Lazarus. The characters were ridiculous on many levels. They were essentially styled on John the recovery vehicle guy as we shouted with deep growling voices about how we'd been travelling the roads looking for fights etc etc. Amazingly the gimmick worked well. We even did the Mo-Bot M as our hand gesture (standing for Motorway), which people copied and kids even came up to us afterwards asking us 'if we really go on motorways?'. The Motorway Men are over! Merchandise may need to be made for the people of Camber Sands!
Also in a cruel coincidence the announcer teased me about having too many McDonalds, which I played along with and resulted in a 'Maccy D' chant by the 2,000 odd people watching. Everyone's giving me shit for that eh!
The wrestling itself involved a good little match with Terry Isit and the Motorway Men vs. Terry and one of the bluecoats with Ultimate Warrior face-paint on. A little part of me died as at the end of the match Terry kicked me in the head and the Bluecoat gave me a Stone Cold Stunner and a Warrior splash for the victory.
So an eventful day so far! Oh well we have a fixed van now and have a nice easy drive to Pakefield near Norwich. Wrong! Spookily at exactly 1 hour and 11 left on the Sat Nav again, the van's electrics went and we were stranded in a bloody McDonald's car park (which of course I love apparently!). Less than 24 hours later and we were back in another recovery vehicle heading towards our final Pontin's stop. The show must always go on!
We were soon putting the ring up again and I wrestled T K Cooper (Tasman of the New Zealand couple), as he pretended to be English and I pretended to be Russian. What an odd bundle of Nationality crisis we have here, but the match was over with the crowd and again I had a blast. A mechanic then came out and started our vehicle, which couldn't be stopped at all on the way back home. This involved the engine still running in a petrol station (I still don't believe the mechanic who advised this is safe, but I'm still here to tell the tale) and of course the inevitable McDonalds stop!
So a crazy but very enjoyable few days for MegaSlam with a great team who laughed a lot together and bonded through the various mishaps. It is now 2 am Friday and I will be meeting the team again in a few hours for another week of Pontins antics. For now I will say good-bye, as for some reason I suddenly have an urge for a Big Mac....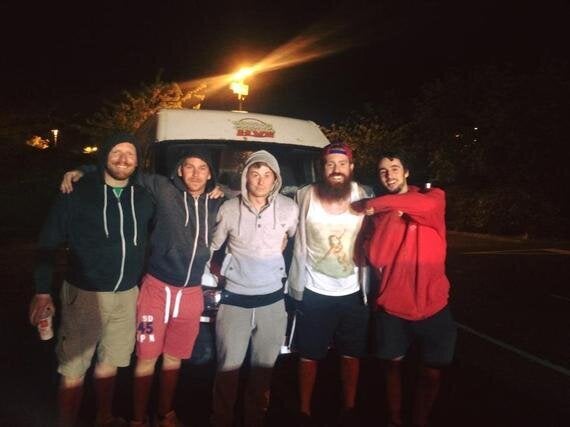 Popular in the Community