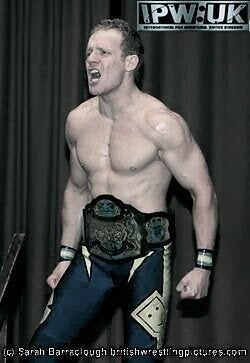 I'm currently sat in St Maarten airport back in the Caribbean reflecting on the last week I had wrestling for Megaslam. I continue to live my odd double life as I wrestle full time for a bit and then do contract work with the Accountancy. Not quite sure if this is what I expected or not when I made my initial return to wrestling, but it's working well for me right now and I'm certainly not complaining.
After finishing my last week I was battered and bruised from the 6 days of wrestling, carrying heavy bits of wrestling rings and sitting cramped up in the back of a van for miles on end. I was physically and mentally exhausted, but elated from another week well done. To me it is worth it, but you have to love wrestling to feel this way.
The first two shows were in Pontin's Southport and Pontin's Prestatyn Sands. The latter being one of the biggest shows they do in terms of the professional set up with tiered seating and special effects. The upper level management would also watch us, so it was important to put on a good show.
Both days it was a triple threat match with myself (Radik) vs. CJ Bank vs. Terry Isit. The match itself was fairly standard we all thought, but the heat was immense. Brad Taylor, the Megaslam promoter, told us after the first one it was the best match all Summer. I'm not sure it that's true, but it was a great compliment never the less. For me personally I enjoyed the match and loved the microphone work at the beginning. Great how much animosity that can be developed for this mad singing Russian.
The second of the two shows also saw me involved in a violent altercation with one of the Bluecoats (the Pontin's MCs) after my match (he laughed at me and I beat him up). The Bluecoat interaction has to be done carefully. If done without thought the whole show can lose credibility as an untrained smaller Bluecoat beats up a trained professional. However, there is a right way to do it and I felt we managed this. After the attack, the Bluecoat was then a surprise entrant into the Rumble and fluked an elimination on me to win. The Bluecoat was also an absolute star as he bravely took the beating dished out to him beforehand.
After the weekend it was back up to Bridlington where me and my new Russian tag partner Dara Diablo (see two blogs back for the start of this tale) took on James Mason and Robbie McKenzie. The match wasn't as fluid as it could have been in places, but it was great to work with James again and the finish was hot as young McKenzie dropped from the skies with a huge frog splash on me for the win.
It was then back in the van for that long drive down to Pontins Brean. Another near 6am arrival and then up in a few hours to be facing TNA superstar Robbie E. A simple, but very enjoyable match with the Jersey Shore inspired wrestler who was a nice guy too. He even managed to put up with team joker Daniel Hudson who kept berating him with Zack Ryder quotes and asking him such questions as 'will you be doing the Broski Boot today?' and 'how did it feel to be Internet champion?'. For those of you who don't know Zack Ryder is a different wrestler from WWE with a similar gimmick.
As mentioned previously 'Dirty' Daniel Hudson is an absolute prat sometimes, but also very entertaining and quite honestly the tour would not have been half as fun without him. He's a good lad really! Robbie took it all in jest and even did the Zack Ryder taunt as he came to the ring for a tag match we had later on the show. Bro's got my respect...
Next it was onto Camber Sands. This of course means the return of Big John Thunder, one half of the greatest tag team in the world - the Motorway Men! Words can't describe how much I enjoy doing this ridiculous gimmick inspired by our breakdown the previous week and also my supposed love for McDonalds. I was in a singles match with a Bluecoat this week, where I absolutely destroyed him in front of a packed out crowd of 2,000. Again hats off to the guy who was an absolute champ in this match.
Later on the show I was in a four way ladder match which I had just about won, but then the room went black, Ultimate Warrior's music hit and the 'Ultimate Bluecoat' I had decimated earlier ran to the ring and knocked me off the ladder, hit a Stone Cold Stunner and straight into a Super Kick from Terry Isit who climbed up and retrieved the belt. Damn those pesky Bluecoats!
The Pontins Champ is here!
The next day would be my last show of the Summer and I was set to be babyface JC Thunder at the request of Brad as apparently they had something planned for me. Myself and Terry Isit went up against T K Cooper and Josh Alden in a tag match, which if I'm honest I wasn't overly keen on. I don't think it flowed well and I was back to my old ways in being a bit of a crap babyface.
However, it didn't seem to matter as we finished with another ladder match as I would be the one this time being crowned the Pontin's Champ! The crowd went wild as I edged up the ladder rung by rung, reached up for the belt and then.....and then.......damn thing won't come off......as I perched on the top of a ladder in front of 1,000 plus people frantically tried to undo the belt as it had stuck on the bit of a string it was held on (they really shouldn't let me win these things!).
Eventually it came undone and I was crowned new Pontin's champion! Brad took the microphone and said some kind words about how much he had enjoyed having me on the team for the last few weeks. The rest of the wrestlers then broke character as they all came in the ring and hosted me on their shoulders and congratulated me. A really nice touch from Megaslam and Brad, even if the crowd probably did wonder what the hell was going on. Thank you Pontins! Thank you Mega Slam!
So another good Summer of wrestling. It has been great debuting for Mega Slam. I am looking forward to wrestling for them again when I return. They are really starting to come into their own and the shows have been excellent. Expect big things for this company over the next few years. Just make sure you guys have a Big Mac waiting for me when I'm back in the UK!
Popular in the Community