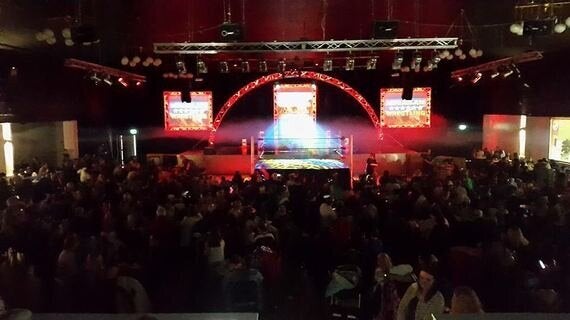 This week I am broken! Last week, over the course of 10 days I took part in 9 shows, had 13 matches and travelled over 1,700 miles. The reason for so many shows is it was half term and Megaslam were running Pontins all week, as well as some other town shows. Quite a lot to cover in this blog, let's start at the beginning!
Prior to the half term run, we would have two of Megaslam's normal town shows. The first of which was in Accrington. The venue was relatively small (wrestling venue wise) with a sunken dance floor with chairs and sofas around the side. We were informed that the place usually hosts dances and meals for pensioners and also is usually really quiet on Fridays (the day of our show!). Our initial reaction was this could be a bit disappointing. However, it ended up being one of the most fun shows I have done all year!
Boris would be against his old nemesis El Ligero - an International classic that never gets old! We were opening the show, so kept it simple. However, it ended up probably being the best one we have done together so far in 2016! Everything flowed right and the larger crowd than anticipated was loud. At one point I went to shake Ligero's hand. However, being the bad guy and sneakily crossing my fingers behind my back the audience knew I was not to be trusted! As you can imagine this is quite silly and pantomime esque, but was amazing how much the kids lapped it up and we milked it for an eternity! Eventually my plan was foiled, as I tried to kick him and he caught my leg - I would have got away with it too if it weren't for those pesky kids! Handshakes aside, we did also put on a decent wrestling match, which went down a treat with the Accrington fans.
Later in the evening I would be in a tag match teaming up with Peter Pumpkin (a slight and young looking wrestler dressed in a shirt and tie - a gimmick that actually works very well and is really funny to watch). We would be against rugby player David Graves and the Ugandan Warrior Nsereko. The match was hilarious to be a part of! We started off with a press up competition and a rugby type scrum. Following this promoter Brad Taylor thought it would be a good idea to announce an impromptu dance off, which is what we did! Luckily for me my terrible dancing works well for a bad guy and I can always fall back on my Cossack leg kicks as the Russian. Now it was time for the good guys to have a go. I whispered to Dave right before - 'don't worry, we'll attack you before you actually have to dance.' The music started and my mischievous side took over, as I said to Peter Pumpkin, 'nah let's leave them a bit'. To their credit they danced their little socks off! Eventually we had a proper match and had a fun evening all round. A small and intimate venue, but one that I will remember fondly!
The next night we were in Malton up near York. On this evening I would be facing Paul Malen in a King of the Ring style tournament. I had wrestled Paul for the first time recently and very much enjoyed the match. This one proved no different and we had the crowd roaring with glee as Paul triumphed over me and went on to be that night's winner! What a shame, King Koslov certainly does have a nice ring to it....
On Monday we would be starting the half-term tour in Bridlington, where it would be good guy JC Thunder and Rob Sharpe vs. the Family (Saxon and Cousin Jake). I was on a high after the weekend after my matches had gone so well. How would this match go? Well in the words of Brad...... 'absolutely rotten'. This was said in jest, but I have to admit I agree!
Certainly not my best performance, we had wrestlers all shouting over each other and it was just a bit of a confusing mess. Also, I managed to hurt a muscle in my shoulder doing an arm drag - which is one of the more simple moves in wrestling and not one I should be hurting myself on! This made the rest of the match difficult and didn't bode well for the rest of the tour either. It does however, keep my sports masseuse in regular work - so at least he is happy....
Rotten or not, I would then be driving the team in the Megaslam van to Southport for the first Pontins show of the week. We stayed over in the lovely sheet-less single beds, careful to avoid any suspicious looking stains - living the dream! The next morning we met up with the man who would have many names over the course of the week, including Duncan Donut, Duncan Disorderly and Slam Dunkun, it was Duncan the referee! Today's match would be a mixed tag with Boris, Cousin Jake and Lizzy Styles vs. David Graves, Saxon and Nixon. It was better than the day before, but the start of the match dragged and we lost the crowd a bit, which is of course the main thing. Also, I managed to bust Dave's nose up on my Cossack leg drop, a move that is usually very safe. Sorry buddy! Again I left slightly unhappy.
After Southport, we were off to Prestatyn in Wales, which is probably the largest of the Pontins shows we do with 2,000 odd people watching. It also features a stage, big screens and pyro; which makes the whole event seem a big deal. I would be facing Martin Kirby. Kirby and I started out with the same Yorkshire crowd in wrestling, but by the time he joined I had already moved to London. Despite our close connections, this would actually be the first time I'd ever wrestled him. It went well and I really enjoyed this match, as did the large crowd in attendance.
After Prestatyn there was no rest and we would quickly pack up the van and drive all the way to historic wrestling venue - The Blackpool Tower! We arrived with not a minute to spare and pushed the Duncster out of the van just as the show was starting so he could race to the ring to referee the first match. I had a bit of time, as I was in the main event. I spent most of that time frantically looking for a parking space and then negotiating the ring van through a cramped multi-story car park. Once back at the tower I got ready for my match where I would be facing another guy who I have known for years, but have never actually wrestled - CJ Banks. Facing two of the best wrestlers in the country and main eventing the Blackpool Tower. Not bad for a day's work! I was also glad that we had made the show on time and my chosen car park stayed open longer than 10pm (which was my sudden fear in the closing moments of my match with CJ). A successful day all round, I even broke my no beer rule for February, as Danny Hudson took over the driving to our next venue in Brean near Western-Super-Mare.
We arrived at 4am and then an hour wait for the security guard, who was clearly not doing his job as we roamed around Pontins looking for him. Finally we got some sleep and were soon up for the show. I was against CJ Banks again, which like the night before went really well (despite the second rope falling off after an exceptionally hard whip into the buckle on Banks). We finished off with another tag match, Boris and Jake against Banks and Saxon. I annoyed myself in this match, as I somehow managed to balls up picking up Banks on my shoulder so he could roll me up for a pin. I'm not sure if it was my hurt shoulder, tiredness.....or some other weak excuse!! It doesn't matter, I just hate messing up stuff! That said no one would have noticed except for us and the show was really good. So far everything running very smoothly for a Pontins run...
Things stop running smoothly!
So after the trip back to Leeds, a quick rest and gym visit, we were back off to Pontins. This time it would be Camber Sands and it was the return of Motorway Man Big John Thunder (refer to my blogs last Summer for the story behind this). I was against Saxon in a singles match and then would go on to face Saxon and the Ullllllltimate Bluecoat with my new tag partner.... erm Rugged John (played by Danny Hudson).
Saxon has a great look and being trained by Lance Storm and Brian Kendrick is a very technically sound wrestler. He just needs to get the crowd work down right and will have all the ingredients to do really well. The match with him and the tag at the end both went down well, although the Bluecoat stuff didn't seem to get over quite as well as last year.
Tired and hungry we were all ready for something to eat. Disaster struck as we couldn't find the van keys for about half an hour, but eventually we were on our way to Rye for a nice meal. After traipsing around several restaurants looking for a table (it was Saturday night), we ended up in an Indian restaurant where I again broke my no beer February rule (not going well that is it!). What started as quite a fun evening became increasingly frustrating as we watched others who ordered before us receive their food first (this is after no food, two wrestling matches, carrying a heavy ring up stairs, little sleep and losing keys remember!). When the food finally arrived, we then had to wait again for the rice, which you would assume would come out with the meal. It was then cold and had to be re-heated with added extra smarmy comments by the waiter included. We weren't happy!
After complaints fell on deaf ears, we took the mature approach and stormed out of the restaurant. That is, all of us but two of us did. Clearly Saxon and Duncan didn't get the memo on what was going on! We then had the awkward and strange situation of an Indian restaurant holding one of our wrestlers and the referee hostage. Half of us returned and a big argument erupted. The police were called and the doors were locked to stop us from escaping. Despite the tense situation, I did still find amusement in watching potential customers try to get into the restaurant, but failing as the door was locked. The Rye police arrived pretty quickly, presumably quite pleased something was actually happening in the small town in East Sussex. Luckily the police were sensible and could see our side. Details were exchanged and we agreed to pay just for the drinks, which was shook upon and if this ever goes to court (as the manager was threatening) I'm pretty sure was a binding agreement!
So after that episode, we went to get some food with a little less drama and we were on our way to Pakefield for the final show. 2am arrival this time, which is early by our standards! We woke up and we were ready for the next show! What's that bluecoats? You were never told we were coming?? The last show of the week and we weren't even expected. Initially they were hesitant to change it and even offered to pay anyway with no show. However, the show must always go on! It ended up being pretty decent despite the lower crowd due to it being the last day of half term. I faced Saxon again as Boris and we finished with a tag that involved Boris and Jake vs. Saxon and Banks. Every single bump on this day went right through my body and I was looking forward to a rest! It was also the last time we would be in the Mega Slam ring as a new one has been bought. An emotional day!
Following the show we went to Pizza Hut (yep my diet went to shit on this tour!). Hoping for a bit of peace, instead I got Rob Sharpe being a weirdo going on about how I should use bread-sticks as part of my Russian act and staring at me intensely with his big crazy eyes as I tried to indulge in my meat feast pizza. One day, one day I will have a nice relaxed meal with Megaslam I'm sure! Following the meal we set off for the big return ride home. Shortly into the trip we realised we weren't going anyway near the original drop off point and called the other car to change it so everyone could get home at a reasonable hour. I don't know if it was me refusing to do the bread-stick routine or what, but the usually friendly and helpful Rob Sharpe was adamant that he would not change his plans. This small disagreement escalated into a full-blown argument. Just what we needed after 10 days of travelling! I'd like to say to finish off the story by saying we all made up and lived happily ever after. We didn't.....Pontins will be the death of us all!
I'm not sure words do the last two days justice as they were pretty intense. At the same time, it was an experience and I do really enjoy wrestling for Megaslam. This was just one week and a small taster of what Easter will be like. I look forward to the challenges ahead!