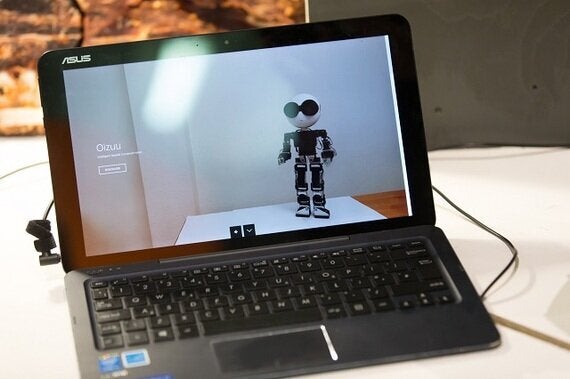 Computing student Osama Rama discusses his passion for robotics which brought him to London. Shortlisted for the Mayor of London's International Student Innovation Award for his robot, Oizuu, Osama is doing a masters course in Computing and AI at Imperial College London.
Originally from Pakistan, Osama explained his decision to study in London. "Imperial College London has secured top spots in multiple world university rankings and the Department of Computing is regarded as a leader in academic research. It has all the latest facilities and is known for its excellent relations with industry. Whilst universities in Pakistan are advancing they still lack in terms of AI, as much work is needed to be done in this particular area."
Discussing his passion for emerging technologies, Osama said: "I have been obsessed with AI and robotics from a young age. After graduating with a BSc in Computer Engineering, I decided to undertake a masters course in computing and AI to pursue my interest.
Commenting on his invention, Osama said: "I started working on my Oizuu project two and a half years ago, it developed from my graduate dissertation. The idea of creating a robot - which can blend in a human environment, does not needs to be taken care of and is self-conscious - acted as my motivation to build an intelligent humanoid personal assistant."
Explaining how Oizuu works, Osama said: "Oizuu is a powerful and intelligent humanoid robot that aims to address the growing demand for consumer robots. Apps can be downloaded enabling the robot to perform various tasks, such as reading children's stories, providing indoor security, or playing chess."
Commenting on why London is the place to be, Osama said: "London is regarded as Europe's capital for emerging technologies. If you are a passionate student, researcher or innovator - then London is the place where you can unlock your maximum potential and bring your ideas to life. London education has enabled me to develop in a vibrant and research-led environment. This motivated me towards the idea of commercializing Oizuu and also empowered me via a very supportive environment for entrepreneurship."
London is well known for its green spaces and Osama explained how one particular area gave him the space to develop his ideas. "I often found myself strolling down the tracks near the lush green gardens of Hyde Park. This proved to be very effective in helping me brainstorm new ideas and develop my ambition for this project, as well as attaining successful degree," he said.
Osama added: "London is one of the most unique and international cities. It offers the best student and professional life experience you can have, by blending the best of natural, classic and modern environments. In three words, I would describe London as: premium, international and intelligent."
Related