In September this year we are set to open a new studio theatre at Greenwich Theatre, and for the opening production we have chosen to develop Cassiah Joski-Jethi's Under My Thumb, a play first written as a 30 minute short piece and shortlisted for this year's inaugural RED Women's Theatre Awards.
We are set to co-produce the play with CultureClash Theatre. One of our supported companies, CultureClash was founded last year by Serin Ibrahim and Cassandra Hercules, two graduates from the MA programme at Guildford School of Acting, and this co-producing relationship revives the partnership that brought the acclaimed migration drama Hannah and Hanna to Edinburgh and London last year.
However, as is often the case, the script I chose for this important moment in the development of our building is not the play that audiences will see when we open on 21 September. When I speak to audiences about the range of new plays that we present here at Greenwich Theatre, there is a common misconception that writers sit in their back room for weeks or months and emerge at the end with a new play, polished and ready for production. In fact, whilst a writer's voice is clearly theirs and theirs alone, the process of developing a new script is often far more collaborative than people might think.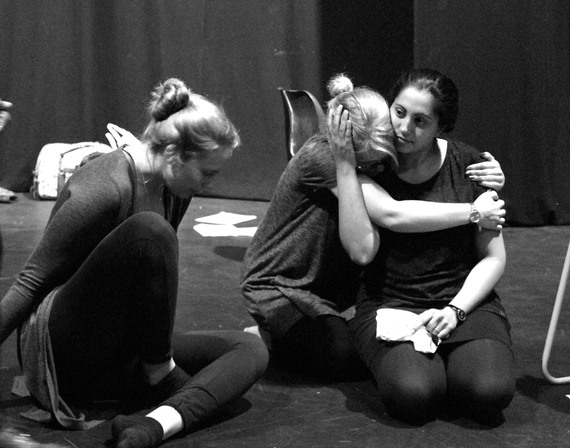 Jessica Aquilina, Sian Eleanor Green, Serin Ibrahim
For Under My Thumb, thanks to support from Arts Council England, I have just completed a week of development workshops with a cast of six fantastic performers, during which time we were able to direct and test sections of the play, and lead the actors to improvise around key events in the play to give our writer access to natural dialogue and a range of character reactions. Cassiah spent her evenings writing and rewriting based on the day's work, and would arrive in the rehearsal room the following day with new scenes for the cast to try out.
This is a common process for a new play, and gives an idea of the amount of work that goes into a new production. Long before the first day of rehearsal, actors, writers, directors and even designers, sound designers and lighting designers will often have come together to explore a play, testing characters and storylines, methods of production, the way in which a set may work or a series of special effects may or may not be possible.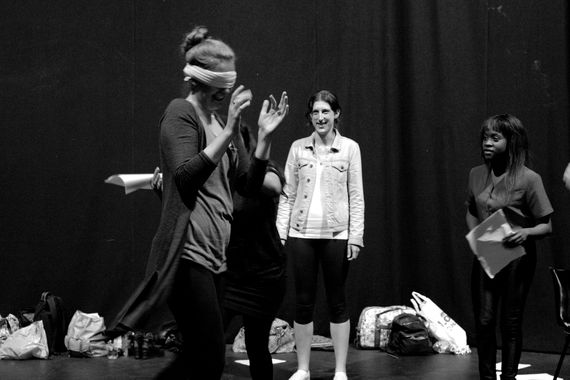 Jessica Aquilina, Charlotte Green, Cassandra Hercules
For Under My Thumb, the week was all about the characters, their storylines and their back stories. For a writer, so much of a character's life has to be known and understood, so that their motivations and decisions make sense, even if the details of their previous life experience aren't revealed in the play itself. For Cassiah's play, set in a non-descript bunker in which six women have been imprisoned for speaking out against an unjust society, we had the opportunity for six performers to take on those characters and improvise a range of earlier events. Those events won't be seen in the play, but having played them out in the rehearsal room will certainly help Cassiah in writing the events of the play.
For this play, the development process won't end when we start rehearsals in September, or even when we open for the first performance. Our run of 11 performances at Greenwich Theatre have been designed as test performances in anticipation of a future tour, so every night we will be asking audiences for their feedback - what worked and what didn't, who they empathised with and who they wanted to know more about - and if necessary Cassiah will then have the opportunity to go back to her script and work on it again.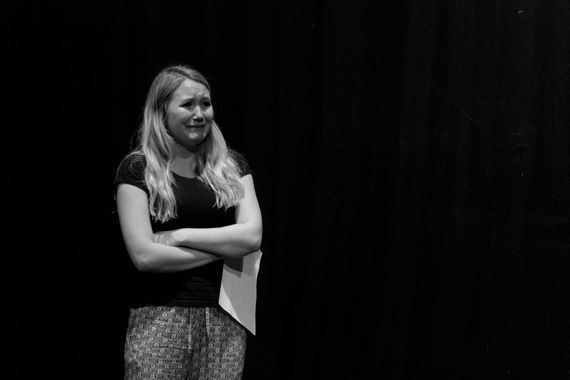 Alice De-Warrenne
As one of this country's leading supporters of young and emerging theatre companies, at Greenwich Theatre we spend a lot of time supporting the creation of new plays. However, whatever the value of rehearsal space for this kind of development, mentoring for writers as they go through the process of drafting and redrafting, and support in fundraising to cover the costs of all the various stages, the most valuable opportunity in the development of any company or artist is the chance to have their work seen by an audience - and to be able to speak to that audience and gather their responses. This September CultureClash Theatre and writer Cassiah Joski-Jethi have eleven chances to do that, with eleven different audiences, and I can't wait to hear what those audiences make of the play that we're all working to produce.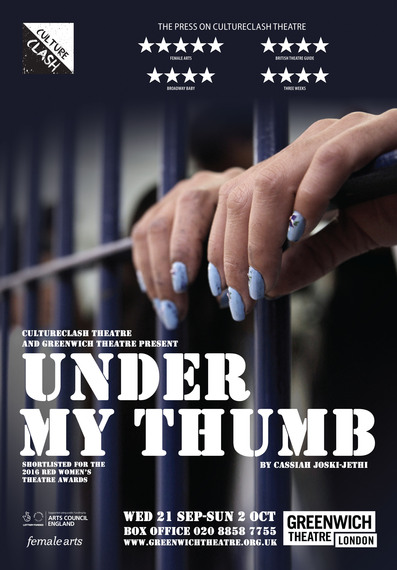 Under My Thumb by Cassiah Joski-Jethi, produced by CultureClash Theatre and Greenwich Theatre, plays from 21 Sep-2 Oct 2016. Book tickets at www.greenwichtheatre.org.uk.